Categories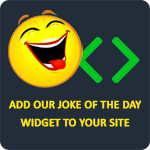 Q: What did one saggy boob say to the other saggy boob?
A: "We better get some support before someone thinks we're nuts!"
ScillaB03
Yo momma is so fat, I took a picture of her last Christmas and it's still printing.
Its More Fun In The Philippines!
A young woman was taking golf lessons and had just started playing her first round of golf when she suffered a bee sting. Her pain was so intense that she decided to return to the clubhouse for medical assistance. The golf pro saw her heading back and said, "You are back early, what's wrong?" "I was stung by a bee!" she said. "Where?" he asked. "Between the first and second hole." she replied. He nodded and said, "Your stance is far too wide."
Anonymous
A guy was driving in a car with a blonde. He told her to stick her head out the window and see if the blinker worked. She stuck her head out and said, "Yes, No, Yes, No, Yes..."
ajax62605
Teacher: "Kids,what does the chicken give you?"
Student: "Meat!"
Teacher: "Very good! Now what does the pig give you?"
Student: "Bacon!"
Teacher: "Great! And what does the fat cow give you?"
Student: "Homework!"
Anonymous