Categories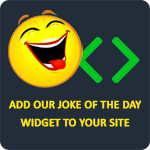 What happens to a frog's car when it breaks down?
It gets toad away.
ZDW
Wife: "How would you describe me?"
Husband: "ABCDEFGHIJK."
Wife: "What does that mean?"
Husband: "Adorable, beautiful, cute, delightful, elegant, fashionable, gorgeous, and hot."
Wife: "Aw, thank you, but what about IJK?"
Husband: "I'm just kidding!"
tiya
After picking her son up from school one day, the mother asks him what he did at school. The kid replies, "I had sex with my teacher." She gets so mad that when they get home, she orders him to go straight to his room. When the father returns home that evening, the mother angrily tells him the news of what their son had done. As the father hears the news, a huge grin spreads across his face. He walks to his son's room and asks him what happened at school, the son tells him, "I had sex with my teacher." The father tells the boy that he is so proud of him, and he is going to reward him with the bike he has been asking for. On the way to the store, the dad asks his son if he would like to ride his new bike home. His son responds, "No thanks Dad, my butt still hurts."
MISSDIONE02
A family is at the dinner table. The son asks the father, "Dad, how many kinds of boobs are there?" The father, surprised, answers, "Well, son, a woman goes through three phases. In her 20s, a woman's breasts are like melons, round and firm. In her 30s and 40s, they are like pears, still nice, hanging a bit. After 50, they are like onions." "Onions?" the son asks. "Yes. You see them and they make you cry." This infuriated his wife and daughter. The daughter asks, "Mom, how many different kinds of willies are there?" The mother smiles and says, "Well, dear, a man goes through three phases also. In his 20s, his willy is like an oak tree, mighty and hard. In his 30s and 40s, it's like a birch, flexible but reliable. After his 50s, it's like a Christmas tree." "A Christmas tree?" the daughter asks. "Yes, dead from the root up and the balls are just for decoration."
astghik
A boy is selling fish on a corner. To get his customers' attention, he is yelling, "Dam fish for sale! Get your dam fish here!" A pastor hears this and asks, "Why are you calling them 'dam fish.'" The boy responds, "Because I caught these fish at the local dam." The pastor buys a couple fish, takes them home to his wife, and asks her to cook the dam fish. The wife responds surprised, "I didn't know it was acceptable for a preacher to speak that way." He explains to her why they are dam fish. Later at the dinner table, he asks his son to pass the dam fish. He responds, "That's the spirit, Dad! Now pass the f*cking potatoes!"
bandajoey92