Categories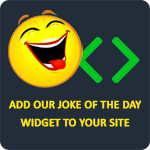 Q: How do trees access the internet?
A: They log in.
Kimberly Mauldin
Yo momma is so fat, I took a picture of her last Christmas and it's still printing.
Its More Fun In The Philippines!
Wife: "I look fat. Can you give me a compliment?"
Husband: "You have perfect eyesight."
coloured pencils
Yo momma is so fat when she got on the scale it said, "I need your weight not your phone number."
swaggerboy
At a wedding party recently, someone yelled, "All the married men, please stand next to the one person who has made your life worth living!" The bartender was crushed to death.
mlevin1958