Categories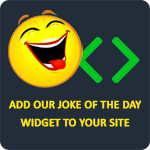 A man kills a deer and takes it home to cook for dinner. Both he and his wife decide that they won't tell the kids what kind of meat it is, but will give them a clue and let them guess. The dad said, "Well it's what Mommy calls me sometimes." The little girl screamed to her brother, "Don't eat it. Its an asshole!
blackray
A boy is selling fish on a corner. To get his customers' attention, he is yelling, "Dam fish for sale! Get your dam fish here!" A pastor hears this and asks, "Why are you calling them 'dam fish.'" The boy responds, "Because I caught these fish at the local dam." The pastor buys a couple fish, takes them home to his wife, and asks her to cook the dam fish. The wife responds surprised, "I didn't know it was acceptable for a preacher to speak that way." He explains to her why they are dam fish. Later at the dinner table, he asks his son to pass the dam fish. He responds, "That's the spirit, Dad! Now pass the f*cking potatoes!"
bandajoey92
Why do women make better soldiers? Because they can bleed for a week and not die.
srehak1
As an airplane is about to crash, a female passenger jumps up frantically and announces, "If I'm going to die, I want to die feeling like a woman." She removes all her clothing and asks, "Is there someone on this plane who is man enough to make me feel like a woman?" A man stands up, removes his shirt and says, "Here, iron this!".
cdiesel1208
A young woman was taking golf lessons and had just started playing her first round of golf when she suffered a bee sting. Her pain was so intense that she decided to return to the clubhouse for medical assistance. The golf pro saw her heading back and said, "You are back early, what's wrong?" "I was stung by a bee!" she said. "Where?" he asked. "Between the first and second hole." she replied. He nodded and said, "Your stance is far too wide."
Anonymous