Categories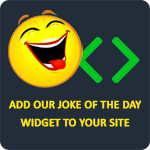 Yo mamma is so ugly when she tried to join an ugly contest they said, "Sorry, no professionals."
Anonymous
What happens to a frog's car when it breaks down?
It gets toad away.
ZDW
Q: Why can't a blonde dial 911?
A: She can't find the eleven.
TheLaughFactory
A family is at the dinner table. The son asks the father, "Dad, how many kinds of boobs are there?" The father, surprised, answers, "Well, son, a woman goes through three phases. In her 20s, a woman's breasts are like melons, round and firm. In her 30s and 40s, they are like pears, still nice, hanging a bit. After 50, they are like onions." "Onions?" the son asks. "Yes. You see them and they make you cry." This infuriated his wife and daughter. The daughter asks, "Mom, how many different kinds of willies are there?" The mother smiles and says, "Well, dear, a man goes through three phases also. In his 20s, his willy is like an oak tree, mighty and hard. In his 30s and 40s, it's like a birch, flexible but reliable. After his 50s, it's like a Christmas tree." "A Christmas tree?" the daughter asks. "Yes, dead from the root up and the balls are just for decoration."
astghik
A mom of an eight year old boy is awaiting her son's arrival from school. As he runs in, he says he needs to talk to her about making babies. He claims he knows about the development of a fetus, but doesn't understand the answer to the million dollar question. Namely, how does the sperm get into the woman? The mom asks the boy what he thinks the answer is. The boy says that the sperm is manufactured in the man's stomach, rises up to his chest, then throat, and into his mouth, where he then kisses the woman and deposits the sperm into her mouth. The mom tells her boy that it is a good guess, but it's wrong. She gives him a hint by telling him that the sperm comes out of the man's penis. Suddenly, the boy's face becomes quite red and he says, "You mean you put your mouth on that thing?"
julia