Categories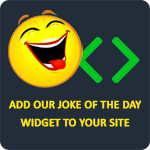 A blonde, a redhead, and a brunette were all lost in the desert. They found a lamp and rubbed it. A genie popped out and granted them each one wish. The redhead wished to be back home. Poof! She was back home. The brunette wished to be at home with her family. Poof! She was back home with her family. The blonde said, "Awwww, I wish my friends were here."
Donovan
Yo momma's so fat and old when God said, "Let there be light," he asked your mother to move out of the way.
Anonymous
Yo momma is so fat that when she went to the beach a whale swam up and sang, "We are family, even though you're fatter than me."
Anonymous
What happens to a frog's car when it breaks down?
It gets toad away.
ZDW
An elderly couple are in church. The wife leans over and whispers to her husband, "I just let out a long, silent fart. What should I do?" The husband replies, "First off, replace the batteries in your hearing aid!"
mtelloibew