Categories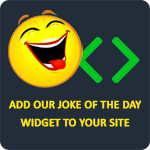 Yo momma is so fat that when she went to the beach a whale swam up and sang, "We are family, even though you're fatter than me."
Anonymous
Yo momma's so fat and old when God said, "Let there be light," he asked your mother to move out of the way.
Anonymous
As an airplane is about to crash, a female passenger jumps up frantically and announces, "If I'm going to die, I want to die feeling like a woman." She removes all her clothing and asks, "Is there someone on this plane who is man enough to make me feel like a woman?" A man stands up, removes his shirt and says, "Here, iron this!".
cdiesel1208
A girl realized that she had grown hair between her legs. She got worried and asked her mom about that hair. Her mom calmly said, "That part where the hair has grown is called your monkey. Be proud that your monkey has grown hair." The girl smiled. At dinner, she told her sister, "My monkey has grown hair." Her sister smiled and said, "That's nothing; mine is already eating bananas."
Anna Fox
Q: What did one saggy boob say to the other saggy boob?
A: "We better get some support before someone thinks we're nuts!"
ScillaB03