Categories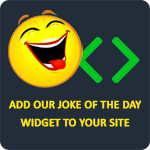 Do not be racist; be like Mario. He's an Italian plumber, who was made by the Japanese, speaks English, looks like a Mexican, jumps like a black man, and grabs coins like a Jew!
Andrew
What happens to a frog's car when it breaks down?
It gets toad away.
ZDW
Wife: "I look fat. Can you give me a compliment?"
Husband: "You have perfect eyesight."
coloured pencils
What did God say when he made the first black man? "Damn, I burnt one."
joe to good
How did the blonde die drinking milk? The cow fell on her.
A Redhead