Categories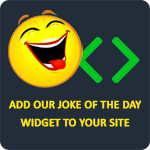 Yo momma is so fat that Dora can't even explore her!
Haydenjr1
Blonde: "What does IDK stand for?"
Brunette: "I don't know."
Blonde: "OMG, nobody does!"
Anonymous
Q: What did the big chimney say to the little chimney?
A: "You're too young to smoke."
Terence Olivier
A blonde, a redhead, and a brunette were all lost in the desert. They found a lamp and rubbed it. A genie popped out and granted them each one wish. The redhead wished to be back home. Poof! She was back home. The brunette wished to be at home with her family. Poof! She was back home with her family. The blonde said, "Awwww, I wish my friends were here."
Donovan
Q: Why can't a blonde dial 911?
A: She can't find the eleven.
TheLaughFactory