Categories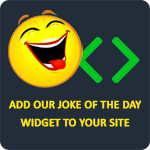 A blonde goes into a nearby store and asks a clerk if she can buy the TV in the corner. The clerk looks at her and says that he doesn't serve blondes, so she goes back home and dyes her hair black. The next day she returns to the store and asks the same thing, and again, the clerk said he doesn't serve blondes. Frustrated, the blonde goes home and dyes her hair yet again, to a shade of red. Sure that a clerk would sell her the TV this time, she returns and asks a different clerk this time. To her astonishment, this clerk also says that she doesn't serve blondes. The blonde asks the clerk, "How in the world do you know I am a blonde?" The clerk looks at her disgustedly and says,"That's not a TV, it's a microwave!"
oscarbejarano
Yo momma's so fat and old when God said, "Let there be light," he asked your mother to move out of the way.
Anonymous
After picking her son up from school one day, the mother asks him what he did at school. The kid replies, "I had sex with my teacher." She gets so mad that when they get home, she orders him to go straight to his room. When the father returns home that evening, the mother angrily tells him the news of what their son had done. As the father hears the news, a huge grin spreads across his face. He walks to his son's room and asks him what happened at school, the son tells him, "I had sex with my teacher." The father tells the boy that he is so proud of him, and he is going to reward him with the bike he has been asking for. On the way to the store, the dad asks his son if he would like to ride his new bike home. His son responds, "No thanks Dad, my butt still hurts."
MISSDIONE02
How did the medical community come up with the term "PMS"? "Mad Cow Disease" was already taken.
TheLaughFactory
Two blondes fell down a hole. One said, "It's dark in here isn't it?" The other replied, "I don't know; I can't see."
Anonymous