Categories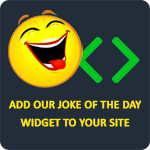 Wife: "I look fat. Can you give me a compliment?"
Husband: "You have perfect eyesight."
coloured pencils
What do you get when you cross an elephant and a rhino? Ell-if-I-no (Hell if I know).
Anonymous
Q: What is a Mexican 7-course dinner?
A: A taco and a six-pack.
Mulachack
Roses are red.
Your blood is too.
You look like a monkey
And belong in a zoo.
Do not worry,
I'll be there too.
Not in the cage,
But laughing at you.
Anonymous
Yo momma is so fat that when she went to the beach a whale swam up and sang, "We are family, even though you're fatter than me."
Anonymous