Categories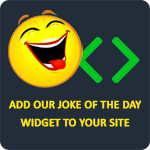 What did one saggy boob say to the other saggy boob? "We better get some support before someone thinks we're nuts!"
ScillaB03
What did God say when he made the first black man? "Damn, I burnt one."
joe to good
Your momma is so ugly she made One Direction go another direction.
Anonymous
How do you blindfold a Chinese person? Put floss over their eyes.
kallen007
Yo momma's so stupid, she put two quarters in her ears and thought she was listening to 50 Cent.
marquez007