Categories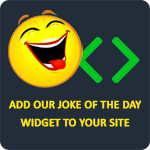 A man gets on a bus, and ends up sitting next to a very attractive nun. Enamored with her, he asks if he can have sex with her. Naturally, she says no, and gets off the bus. The man goes to the bus driver and asks him if he knows of a way for him to have sex with the nun. "Well," says the bus driver, "every night at 8 o'clock, she goes to the cemetery to pray. If you dress up as God, I'm sure you could convince her to have sex with you." The man decides to try it, and dresses up in his best God costume. At eight, he sees the nun and appears before her. "Oh, God!" she exclaims. "Take me with you!" The man tells the nun that she must first have sex with him to prove her loyalty. The nun says yes, but tells him she prefers anal sex. Before you know it, they're getting down to it, having nasty, grunty, loud sex. After it's over, the man pulls off his God disguise. "Ha, ha!" he says, "I'm the man from the bus!" "Ha, ha!" says the nun, removing her costume, "I'm the bus driver!"
Monty & Sam
A few months after his parents were divorced, little Johnny passed by his mom's bedroom and saw her rubbing her body and moaning, "I need a man, I need a man!" Over the next couple of months, he saw her doing this several times. One day, he came home from school and heard her moaning. When he peeked into her bedroom, he saw a man on top of her. Little Johnny ran into his room, took off his clothes, threw himself on his bed, started stroking himself, and moaning, "Ohh, I need a bike! I need a bike!"
kandue0962
Reaching the end of a job interview, the Human Resources Officer asks a young engineer fresh out of the Massachusetts Institute of Technology, "And what starting salary are you looking for?" The engineer replies, "In the region of $125,000 a year, depending on the benefits package." The interviewer inquires, "Well, what would you say to a package of five weeks vacation, 14 paid holidays, full medical and dental, company matching retirement fund to 50% of salary, and a company car leased every two years, say, a red Corvette?" The engineer sits up straight and says, "Wow! Are you kidding?" The interviewer replies, "Yeah, but you started it."
lauren
A man kills a deer and takes it home to cook for dinner. Both he and his wife decide that they won't tell the kids what kind of meat it is, but will give them a clue and let them guess. The dad said, "Well it's what Mommy calls me sometimes." The little girl screamed to her brother, "Don't eat it. Its an asshole!
blackray
A wife comes home late one night and quietly opens the door to her bedroom. From under the blanket, she sees four legs instead of just her husband's two. She reaches for a baseball bat and starts hitting the blanket as hard as she can. Once she's done, she goes to the kitchen to have a drink. As she enters, she sees her husband there, reading a magazine. He says, "Hi darling, your parents have come to visit us, so let them stay in our bedroom. Did you say hello?"
Eddie k