Categories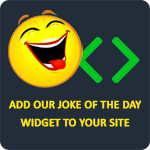 Two blondes fell down a hole. One said, "It's dark in here isn't it?" The other replied, "I don't know; I can't see."
Anonymous
Little Sally came home from school with a smile on her face, and told her mother, "Frankie Brown showed me his weenie today at the playground!" Before the mother could raise a concern, Sally went on to say, "It reminded me of a peanut." Relaxing with a hidden smile, Sally's mom asked, "Really small, was it?" Sally replied, "No, salty." Mom fainted.
ezmoney
Q: What stays in one corner but travels around the world?
A: A stamp.
Maja Zajac
Yo momma's so stupid, she put two quarters in her ears and thought she was listening to 50 Cent.
marquez007
Why did I get divorced? Well, last week was my birthday. My wife didn't wish me a happy birthday. My parents forgot and so did my kids. I went to work and even my colleagues didn't wish me a happy birthday. As I entered my office, my secretary said, "Happy birthday, boss!" I felt so special. She asked me out for lunch. After lunch, she invited me to her apartment. We went there and she said, "Do you mind if I go into the bedroom for a minute?" "Okay," I said. She came out 5 minutes later with a birthday cake, my wife, my parents, my kids, my friends, & my colleagues all yelling, "SURPRISE!!!" while I was waiting on the sofa... naked.
Anonymous