Categories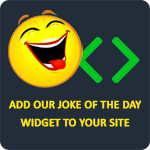 Q: Why is diarrhea hereditary?
A: It runs in your genes.
Hamid
Q: What do eggs do for fun?
A: Karayolke (karaoke).
big will
A few months after his parents were divorced, little Johnny passed by his mom's bedroom and saw her rubbing her body and moaning, "I need a man, I need a man!" Over the next couple of months, he saw her doing this several times. One day, he came home from school and heard her moaning. When he peeked into her bedroom, he saw a man on top of her. Little Johnny ran into his room, took off his clothes, threw himself on his bed, started stroking himself, and moaning, "Ohh, I need a bike! I need a bike!"
kandue0962
There are three blondes who are on a road trip. As they are driving through the desert, their car breaks down. They have no phone to call anyone, so they decide to walk to the nearest city, several miles away. They each decide to take one thing to make the journey better. The first blonde takes the radio and says, "If we get bored, we can put the radio on and listen to music." The second blonde decides to take a wheel, "In case one of us gets really tired, we can go inside the wheel and be rolled." The third blonde takes the car door, "In case it gets too hot, we can roll down the window!"
badassantos
Why did I get divorced? Well, last week was my birthday. My wife didn't wish me a happy birthday. My parents forgot and so did my kids. I went to work and even my colleagues didn't wish me a happy birthday. As I entered my office, my secretary said, "Happy birthday, boss!" I felt so special. She asked me out for lunch. After lunch, she invited me to her apartment. We went there and she said, "Do you mind if I go into the bedroom for a minute?" "Okay," I said. She came out 5 minutes later with a birthday cake, my wife, my parents, my kids, my friends, & my colleagues all yelling, "SURPRISE!!!" while I was waiting on the sofa... naked.
Anonymous