Categories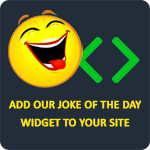 Why are asprins white? Because they work!
ScottBackman
Two blondes fell down a hole. One said, "It's dark in here isn't it?" The other replied, "I don't know; I can't see."
Anonymous
One day, a blonde went to the doctor with both sides of her face burned. The doctor asked, "What happened?" The blonde said, "Well, I was ironing my husband's shirt until the phone rang. I picked it up and half my face was burnt!" The doctor replied, "What about the other half?" The blonde answered, "They called back."
Ellen Kohl
Roses are red.
Your blood is too.
You look like a monkey
And belong in a zoo.
Do not worry,
I'll be there too.
Not in the cage,
But laughing at you.
Anonymous
Q: Why do black people hate country music?
A: Because when they hear the word "hoedown" they think their sister got shot.
Daniel S.