Categories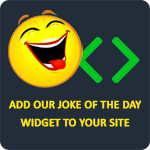 Q: Why is diarrhea hereditary?
A: It runs in your genes.
Hamid
There are three blondes who are on a road trip. As they are driving through the desert, their car breaks down. They have no phone to call anyone, so they decide to walk to the nearest city, several miles away. They each decide to take one thing to make the journey better. The first blonde takes the radio and says, "If we get bored, we can put the radio on and listen to music." The second blonde decides to take a wheel, "In case one of us gets really tired, we can go inside the wheel and be rolled." The third blonde takes the car door, "In case it gets too hot, we can roll down the window!"
badassantos
A little boy caught his mom and dad having sex. After, he asked, "What were you and daddy doing?" The mom said, "We were baking a cake." A few days later, the little boy asked his mom, "Were you and daddy baking a cake?" She said yes, and asked him how he knew. He answered, "Because I licked the frosting off the couch."
jbaby143
Why do women make better soldiers? Because they can bleed for a week and not die.
srehak1
There is a cucumber, a pickle, and a penis. They are complaining about their lives. The cucumber says, "My life sucks. I'm put in salads, and to top it off, they put ranch on me as well. My life sucks." The pickle says, "That's nothing compared to my life. I'm put in vinegar and stored away. Boy my life boring. I hate life." The penis says, "Why are you guys complaining? My life is so messed up that I feel like shooting myself. They put me in a plastic bag, put me in a cave, and make me do push-ups until I throw up."
jerryfrontier07