Categories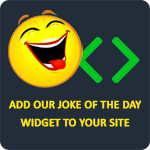 How do you blindfold a Chinese person? Put floss over their eyes.
kallen007
Yo momma's so fat, that when she fell, no one was laughing but the ground was cracking up.
LaughFactory
Yo momma is so fat when she sat on WalMart, she lowered the prices.
zacky
Blonde: "What does IDK stand for?"
Brunette: "I don't know."
Blonde: "OMG, nobody does!"
Anonymous
Yo' Mama is so ugly, yo' daddy takes her to work with him so he doesn't have to kiss her goodbye.
mikayla davis