Categories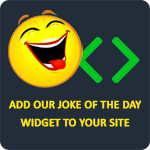 Yo momma's so fat and old when God said, "Let there be light," he asked your mother to move out of the way.
Anonymous
The difference between like and love is spit and swallow.
Mark My Words
Q: What did the duck say when he bought lipstick?
A: "Put it on my bill."
TheLaughFactory
A little boy caught his mom and dad having sex. After, he asked, "What were you and daddy doing?" The mom said, "We were baking a cake." A few days later, the little boy asked his mom, "Were you and daddy baking a cake?" She said yes, and asked him how he knew. He answered, "Because I licked the frosting off the couch."
jbaby143
Q: Why did Barbie never get pregnant?
A: Ken always came in another box.
TheLaughFactory