Categories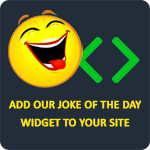 Your momma is so ugly she made One Direction go another direction.
Anonymous
If money doesn't grow on trees, why do banks have branches?
chris
A boy says to a girl, "So, sex at my place?" "Yeah!" "Okay, but I sleep in a bunk bed with my younger brother, and he thinks we're making sandwiches, so we have to have a code. Cheese means faster and tomato means harder, okay?" Later on the girl is yelling, "Cheese cheese, tomato tomato!" The younger brother says, "Stop making sandwiches! You're getting mayo all over my bed!"
jalvarez100
There was a blonde who just got sick and tired of all the blonde jokes. One evening, she went home and memorized all the state capitals. Back in the office the next day, some guy started telling a dumb blonde joke. She interrupted him with a shrill announcement, "I've had it up to here with these blonde jokes. I want you to know that this blonde went home last night and did something probably none of you could do. I memorized all the state capitals." One of the guys, of course, said, "I don't believe you. What is the capital of Nevada?" "N," she answered.
katmaxeykim
20 years ago we had Johnny Cash, Bob Hope, and Steve Jobs. Now we have no cash, no hope, and no jobs.
james wilson