Categories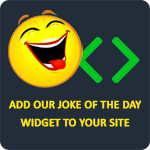 On Thanksgiving day, a little boy overhears his mom and dad fighting. He hears his mom call his dad a bastard and hears his dad call his mom a bitch. He asks, "Mommy, what does bastard mean?" She answers, "Um, it means boy." Then he asks, "Daddy, what does bitch mean?" He says, "Uh, it means girl." Later that day, the boy sees his father in the bathroom shaving; the dad accidentally cuts himself and says, "Shit." The son asks, "What does shit mean?" The dad says, "It means shaving cream." Then he sees his mom in the kitchen carving the turkey; she accidentally cuts herself and says, "Fuck." The son asks her what that word means and she says, "It means carving." That evening, the family's guests arrive for Thanksgiving dinner. The son opens the door to welcome them and says, "Welcome bitches and bastards! My dad is in the bathroom rubbing shit on his face and my mom is in the kitchen fucking the turkey."
JackIsPigs
Q: Why can't a blonde dial 911?
A: She can't find the eleven.
TheLaughFactory
A teacher wanted to teach her students about self-esteem, so she asked anyone who thought they were stupid to stand up. One kid stood up and the teacher was surprised. She didn't think anyone would stand up so she asked him, "Why did you stand up?" He answered, "I didn't want to leave you standing up by yourself."
ronald34
Q: Why are most hurricanes named after women?
A: Because when they come they are wet and wild and when they leave they take your house and your car.
Anonymous
Yo momma's so fat and old when God said, "Let there be light," he asked your mother to move out of the way.
Anonymous