Categories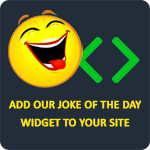 A husband exclaims to his wife one day, "Your butt is getting really big. It's bigger than the BBQ grill!" Later that night in bed, the husband makes some advances towards his wife who completely brushes him off. "What's wrong?" he asks. She answers, "Do you really think I'm going to fire up this big-ass grill for one little weenie?"
Anonymous
A blonde, wanting to earn some money, decided to hire herself out as a handyman-type and started canvassing a wealthy neighborhood. She went to the front door of the first house and asked the owner if he had any jobs for her to do. "Well, you can paint my porch. How much will you charge?" The blonde said, "How about 50 dollars?" The man agreed and told her that the paint and ladders that she might need were in the garage. The man's wife, inside the house, heard the conversation and said to her husband, "Does she realize that the porch goes all the way around the house?" The man replied, "She should. She was standing on the porch." A short time later, the blonde came to the door to collect her money. "You're finished already?" he asked. "Yes," the blonde answered, "and I had paint left over, so I gave it two coats. "Impressed, the man reached in his pocket for the $50. "And by the way," the blonde added, "that's not a Porch, it's a Ferrari."
muffinman1986
Reaching the end of a job interview, the Human Resources Officer asks a young engineer fresh out of the Massachusetts Institute of Technology, "And what starting salary are you looking for?" The engineer replies, "In the region of $125,000 a year, depending on the benefits package." The interviewer inquires, "Well, what would you say to a package of five weeks vacation, 14 paid holidays, full medical and dental, company matching retirement fund to 50% of salary, and a company car leased every two years, say, a red Corvette?" The engineer sits up straight and says, "Wow! Are you kidding?" The interviewer replies, "Yeah, but you started it."
lauren
What did one saggy boob say to the other saggy boob? "We better get some support before someone thinks we're nuts!"
ScillaB03
NASA put a bunch of cows into orbit. They call it the herd shot round the world.
jschrier