Categories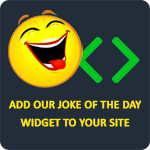 A proud and confident genius makes a bet with an idiot. The genius says, "Hey idiot, every question I ask you that you don't know the answer, you have to give me $5. And if you ask me a question and I can't answer yours I will give you $5,000." The idiot says, "Okay." The genius then asks, "How many continents are there in the world?" The idiot doesn't know and hands over the $5. The idiot says, "Now me ask: what animal stands with two legs but sleeps with three?" The genius tries and searches very hard for the answer but gives up and hands over the $5000. The genius says, "Dang it, I lost. By the way, what was the answer to your question?" The idiot hands over $5.
Anonymous
You are on a horse, galloping at a constant speed. On your right side is a sharp drop off, and on your left side is an elephant traveling at the same speed as you. Directly in front of you is another galloping horse but your horse is unable to overtake it. Behind you is a lion running at the same speed as you and the horse in front of you. What must you do to safely get out of this highly dangerous situation? Get your drunk ass off the merry-go-round!
Anonymous
How do you blindfold a Chinese person? Put floss over their eyes.
kallen007
Yo momma is so stupid she climbed over a glass wall to see what was on the other side.
Anonymous
What happens to a frog's car when it breaks down?
It gets toad away.
ZDW