Categories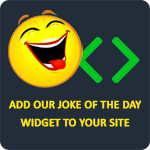 A few months after his parents were divorced, little Johnny passed by his mom's bedroom and saw her rubbing her body and moaning, "I need a man, I need a man!" Over the next couple of months, he saw her doing this several times. One day, he came home from school and heard her moaning. When he peeked into her bedroom, he saw a man on top of her. Little Johnny ran into his room, took off his clothes, threw himself on his bed, started stroking himself, and moaning, "Ohh, I need a bike! I need a bike!"
kandue0962
Yo momma's so stupid, she put two quarters in her ears and thought she was listening to 50 Cent.
marquez007
Blonde: "What does IDK stand for?"
Brunette: "I don't know."
Blonde: "OMG, nobody does!"
Anonymous
A little kids sends a letter to Santa that says: "Dear Santa I want a brother for Christmas." Santa writes back, "Dear Timmy send me me your mommy."
fps23laugh
Your momma is so ugly she made One Direction go another direction.
Anonymous