Categories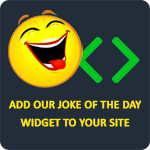 Mr. and Mrs. Brown had two sons. One was named Mind Your Own Business & the other was named Trouble. One day the two boys decided to play hide and seek. Trouble hid while Mind Your Own Business counted to one hundred. Mind Your Own Business began looking for his brother behind garbage cans and bushes. Then he started looking in and under cars until a police man approached him and asked, "What are you doing?" "Playing a game," the boy replied. "What is your name?" the officer questioned. "Mind Your Own Business." Furious the policeman inquired, "Are you looking for trouble?!" The boy replied, "Why, yes."
Anonymous
I never wanted to believe that my Dad was stealing from his job as a road worker. But when I got home, all the signs were there.
Anonymous
A farmer buys a young rooster. As soon as he brings the bird to the farm, it rushes & fucks all 150 hens. The farmer is impressed thinking about all the eggs the hens would hatch. At lunch, the rooster again screws all 150 hens. The farmer gets a bit worried now. The next day, he finds the rooster fucking the ducks, geese, & a parrot too which is now scaring him. Later that day, he finds the rooster lying pale, half-dead with vultures circling over its head. The farmer says, "You horny bastard, you deserve this." The rooster opens one eye, points up, & whispers, "Shh! Don't shout, let them land!"
Awesome or a piece of sheet
A teacher wanted to teach her students about self-esteem, so she asked anyone who thought they were stupid to stand up. One kid stood up and the teacher was surprised. She didn't think anyone would stand up so she asked him, "Why did you stand up?" He answered, "I didn't want to leave you standing up by yourself."
ronald34
After picking her son up from school one day, the mother asks him what he did at school. The kid replies, "I had sex with my teacher." She gets so mad that when they get home, she orders him to go straight to his room. When the father returns home that evening, the mother angrily tells him the news of what their son had done. As the father hears the news, a huge grin spreads across his face. He walks to his son's room and asks him what happened at school, the son tells him, "I had sex with my teacher." The father tells the boy that he is so proud of him, and he is going to reward him with the bike he has been asking for. On the way to the store, the dad asks his son if he would like to ride his new bike home. His son responds, "No thanks Dad, my butt still hurts."
MISSDIONE02