Categories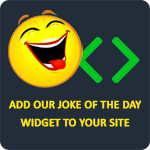 Yo momma's so fat, that when she fell, no one was laughing but the ground was cracking up.
LaughFactory
Q: What did the big chimney say to the little chimney?
A: You're too young to smoke.
Anonymous
Two drunks are sitting in a bar when one of them turns to the other one and asks, "Hey, isn't that Hortense?" The other drunk chimes in and says, "No, she looks pretty relaxed to me."
Mark My Words
Yo momma so stupid she stuck a battery up her ass and said, "I GOT THE POWER!"
GIovanni pinto ramos
Teacher: "I asked you to draw a cow and grass, but I only see a cow. Where is grass?"
Student: "The cow ate the grass, sir."
Anonymous