Categories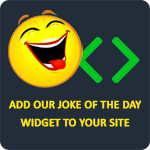 Yo momma's so dumb, when y'all were driving to Disneyland, she saw a sign that said "Disneyland left," so she went home.
LaughFactory
Yo momma is so hairy, when she went to the movie theater to see Star Wars, everybody screamed and said, "IT'S CHEWBACCA!"
Angel Stalone
Blonde: "What does IDK stand for?"
Brunette: "I don't know."
Blonde: "OMG, nobody does!"
Anonymous
Q: What's the difference between a Jew and a boy scout?
A: A boy scout comes home from camp.
Anonymous
Yo momma is so stupid when an intruder broke into her house, she ran downstairs, dialed 9-1-1 on the microwave, and couldn't find the "CALL" button.
Anonymous