Categories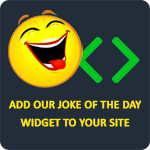 Q: How do Chinese people name their babies?
A: They throw them down the stairs to see what noise they make.
Anonymous
How do you blindfold a Chinese person? Put floss over their eyes.
kallen007
A blind guy on a bar stool shouts to the bartender, "Wanna hear a blonde joke?" In a hushed voice, the guy next to him says, "Before you tell that joke, you should know something. Our bartender is blonde, the bouncer is blonde. I'm a six foot tall, 200 lb black belt. The guy sitting next to me is six foot two, weighs 225, and he's a rugby player. The fella to your right is six foot five, pushing 300, and he's a wrestler. Each one of us is blonde. Think about it, Mister. Do you still wanna tell that joke?" The blind guy says, "Nah, not if I'm gonna have to explain it five times."
sendmeluck
Q: What did the duck say when he bought lipstick?
A: "Put it on my bill."
TheLaughFactory
Yo momma is so stupid when an intruder broke into her house, she ran downstairs, dialed 9-1-1 on the microwave, and couldn't find the "CALL" button.
Anonymous