Categories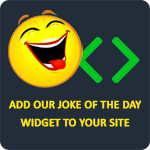 Q: What's the difference between a Jew and a boy scout?
A: A boy scout comes home from camp.
Anonymous
Yo momma's so dumb, when your aunt had twins, she asked yo momma to name them. She named one Denise, and the other Denephew.
LaughFactory
How do you blindfold a Chinese person? Put floss over their eyes.
kallen007
Reaching the end of a job interview, the Human Resources Officer asks a young engineer fresh out of the Massachusetts Institute of Technology, "And what starting salary are you looking for?" The engineer replies, "In the region of $125,000 a year, depending on the benefits package." The interviewer inquires, "Well, what would you say to a package of five weeks vacation, 14 paid holidays, full medical and dental, company matching retirement fund to 50% of salary, and a company car leased every two years, say, a red Corvette?" The engineer sits up straight and says, "Wow! Are you kidding?" The interviewer replies, "Yeah, but you started it."
lauren
Q: Why do Mexicans eat beans for dinner?
A: So they can take bubble baths.
TheLaughFactory