Categories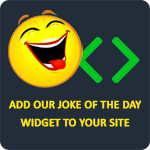 A teacher wanted to teach her students about self-esteem, so she asked anyone who thought they were stupid to stand up. One kid stood up and the teacher was surprised. She didn't think anyone would stand up so she asked him, "Why did you stand up?" He answered, "I didn't want to leave you standing up by yourself."
ronald34
Your momma is so ugly she made One Direction go another direction.
Anonymous
A young woman was taking golf lessons and had just started playing her first round of golf when she suffered a bee sting. Her pain was so intense that she decided to return to the clubhouse for medical assistance. The golf pro saw her heading back and said, "You are back early, what's wrong?" "I was stung by a bee!" she said. "Where?" he asked. "Between the first and second hole." she replied. He nodded and said, "Your stance is far too wide."
Anonymous
Yo momma is so fat when she sat on WalMart, she lowered the prices.
zacky
Why are asprins white? Because they work!
ScottBackman