Categories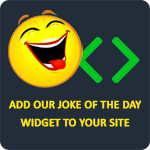 Teacher: "Kids, what does the chicken give you?"
Student: "Meat!"
Teacher: "Very good! Now what does the pig give you?"
Student: "Bacon!"
Teacher: "Great! And what does the fat cow give you?"
Student: "Homework!"
Anonymous
A husband and wife are trying to set up a new password for their computer. The husband puts, "Mypenis," and the wife falls on the ground laughing because on the screen it says, "Error. Not long enough."
Jilbo
My friend thinks he is smart. He told me an onion is the only food that makes you cry, so I threw a coconut at his face.
funny jokes
Q: Is Google male or female?
A: Female, because it doesn't let you finish a sentence before making a suggestion.
Montgomery2004
Yo momma is so fat when she got on the scale it said, "I need your weight not your phone number."
swaggerboy