Categories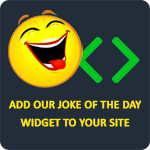 Yo momma's so stupid, she put two quarters in her ears and thought she was listening to 50 Cent.
marquez007
A boy says to a girl, "So, sex at my place?" "Yeah!" "Okay, but I sleep in a bunk bed with my younger brother, and he thinks we're making sandwiches, so we have to have a code. Cheese means faster and tomato means harder, okay?" Later on the girl is yelling, "Cheese cheese, tomato tomato!" The younger brother says, "Stop making sandwiches! You're getting mayo all over my bed!"
jalvarez100
Our last fight was my fault. My wife asked me,"What's on the TV?" I said, "Dust."
LaughFactory
Blonde: "What does IDK stand for?"
Brunette: "I don't know."
Blonde: "OMG, nobody does!"
Anonymous
Q: Why can't a blonde dial 911?
A: She can't find the eleven.
TheLaughFactory