Categories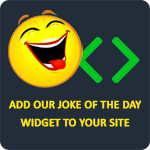 Why did Hitler kill himself? Because he saw his gas bill.
Mahachoo
Yo momma is so hairy, when she went to the movie theater to see Star Wars, everybody screamed and said, "IT'S CHEWBACCA!"
Angel Stalone
Yo momma so stupid she stuck a battery up her ass and said, "I GOT THE POWER!"
GIovanni pinto ramos
Yo momma's so fat she needs cheat codes for Wii Fit.
joshdavis1991
Yo momma's so fat, she got baptized at Sea World.
LaughFactory