Categories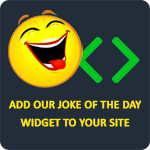 Josey wasn't the best pupil at Sunday school. She often fell asleep and one day while she was sleeping, the teacher asked her a question. "Who is the creator of the universe?" Joe was sitting next to Josey and decided to poke her with a pin to wake her up. Josey jumped and yelled, "God almighty!" The teacher congratulated her. A little later the teacher asked her another question, "Tell me who is our lord and savior?" Joe poked Josey again and she yelled out, "Jesus Christ!" The teacher congratulated her again. Later on the teacher asked, "What did Eve say to Adam after their 26th child?" Joe poked Josey again and she shouted, "If you stick that thing in me again, I'll snap it in half and stick it up your ass!"
I\\\'m hilarious
Q: Why shouldn't you give Elsa a balloon?
A: Because she'll let it go!
SCOCBEE33
A blonde, brunette and redhead were smoking cigarettes one afternoon. The blonde had Camels, redhead had Marlboros, and the brunette had Kools. It began to pour down raining, so the redhead and brunette both pull out condoms and put them on their cigarettes. The blonde asks, "What are you doing?" and they reply, "We're saving it for later." Impressed, and in a hurry, the blonde goes to the nearest store and asks for a condom. The clerk says "What size: small, medium, or large?" She answers, "I don't know, one to fit a camel?"
Tom K.
Yo momma is so fat when she sat on WalMart, she lowered the prices.
zacky
Bob was in trouble. He forgot his wedding anniversary. His wife was really angry. She told him "Tomorrow morning, I expect to find a gift in the driveway that goes from 0 to 200 in 6 seconds AND IT BETTER BE THERE!" The next morning he got up early and left for work. When his wife woke up, she looked out the window and sure enough there was a box gift-wrapped in the middle of the driveway. Confused, the wife put on her robe and ran out to the driveway, brought the box back in the house. She opened it and found a brand new bathroom scale. Bob has been missing since Friday.
meriwether12