Categories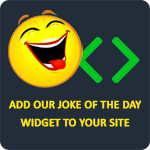 Sarah goes to school, and the teacher says, "Today we are going to learn multi-syllable words, class. Does anybody have an example of a multi-syllable word?" Sarah waves her hand, "Me, Miss Rogers, me, me!" Miss Rogers says, "All right, Sarah, what is your multi-syllable word?" Sarah says, "Mas-tur-bate." Miss Rogers smiles and says, "Wow, Sarah, that's a mouthful." Sarah says, "No, Miss Rogers, you're thinking of a blowjob."
Rodderiqus11
Yo mamma is so fat she doesn't need the internet, because she's already world wide.
Anonymous
Q: How do Chinese people name their babies?
A: They throw them down the stairs to see what noise they make.
Anonymous
Why are asprins white? Because they work!
ScottBackman
There is a black man, a white man, and a Mexican man on a plane that is too heavy to fly and they are about to crash. They each have to throw something off the plane to save them from crashing. The black man throws out his Jordan shoes and says, "We have too many in our country." The Mexican tosses out his lawn mower and says, "We have too many in our country." The white man puts his item down, grabs the Mexican, throws him out the window and says, "We have too many in our country."
airlike23