Categories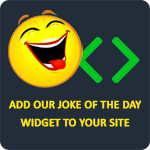 Blonde: Today must be Sunday.
Brunette: Why?
Blonde: Because the sun is up.
Sara Ghechi 4 Grade
An old couple is ready to go to sleep. The old man lies on the bed but the old woman lies down on the floor. The old man asks, ''Why are you going to sleep on the floor?'' The old woman says, "Because I want to feel something hard for a change."
Tanyaenp
A man and woman had been married for 30 years, and in those 30 years, they always left the lights off when having sex. He was embarrassed and scared that he couldn't please her, so he always used a big dildo on her. All these years she had no clue. One day, she decided to reach over and flip the light switch on and saw that he was using a dildo. She said "I knew it, asshole, explain the dildo!" He said, "Explain the kids!"
skylertouchet
A little boy caught his mom and dad having sex. After, he asked, "What were you and daddy doing?" The mom said, "We were baking a cake." A few days later, the little boy asked his mom, "Were you and daddy baking a cake?" She said yes, and asked him how he knew. He answered, "Because I licked the frosting off the couch."
jbaby143
Yo momma's so fat she needs cheat codes for Wii Fit.
joshdavis1991