Categories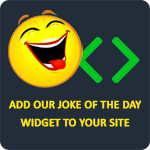 A husband exclaims to his wife one day, "Your butt is getting really big. It's bigger than the BBQ grill!" Later that night in bed, the husband makes some advances towards his wife who completely brushes him off. "What's wrong?" he asks. She answers, "Do you really think I'm going to fire up this big-ass grill for one little weenie?"
Anonymous
What happens to a frog's car when it breaks down?
It gets toad away.
ZDW
A boy says to a girl, "So, sex at my place?" "Yeah!" "Okay, but I sleep in a bunk bed with my younger brother, and he thinks we're making sandwiches, so we have to have a code. Cheese means faster and tomato means harder, okay?" Later on the girl is yelling, "Cheese cheese, tomato tomato!" The younger brother says, "Stop making sandwiches! You're getting mayo all over my bed!"
jalvarez100
Q: Why is diarrhea hereditary?
A: It runs in your genes.
Hamid
There is a cucumber, a pickle, and a penis. They are complaining about their lives. The cucumber says, "My life sucks. I'm put in salads, and to top it off, they put ranch on me as well. My life sucks." The pickle says, "That's nothing compared to my life. I'm put in vinegar and stored away. Boy my life boring. I hate life." The penis says, "Why are you guys complaining? My life is so messed up that I feel like shooting myself. They put me in a plastic bag, put me in a cave, and make me do push-ups until I throw up."
jerryfrontier07