Categories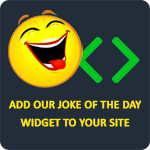 How do you blindfold a Chinese person? Put floss over their eyes.
kallen007
Yo momma's so dumb, when y'all were driving to Disneyland, she saw a sign that said "Disneyland left," so she went home.
LaughFactory
A woman gets on a bus with her baby. The bus driver says, "That's the ugliest baby that I've ever seen. Ugh!" The woman goes to the rear of the bus and sits down, fuming. She says to a man next to her, "The driver just insulted me!" The man says, "You go right up there and tell him off – go ahead, I'll hold your monkey for you."
avre1
Two factory workers are talking. The woman says, "I can make the boss give me the day off." The man replies, "And how would you do that?" The woman says, "Just wait and see." She then hangs upside down from the ceiling. The boss comes in and says, "What are you doing?" The woman replies, "I'm a light bulb." The boss then says, "You've been working so much that you've gone crazy. I think you need to take the day off." The man starts to follow her and the boss says, "Where are you going?" The man says, "I'm going home, too. I can't work in the dark."
enilda78
Yo Momma's so fat when I told her to touch her toes she said, "What are those"?
Repor9