Categories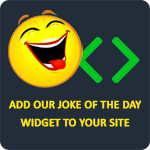 A child asked his father, "How were people born?" So his father said, "Adam and Eve made babies, then their babies became adults and made babies, and so on." The child then went to his mother, asked her the same question and she told him, "We were monkeys then we evolved to become like we are now." The child ran back to his father and said, "You lied to me!" His father replied, "No, your mom was talking about her side of the family."
Anonymous
Yo momma is so fat, I took a picture of her last Christmas and it's still printing.
Its More Fun In The Philippines!
Yo momma is so short, you can see her feet on her driver's license.
TheLaughFactory
My friend asked me, "Why are you getting a divorce?" I responded, "My wife wasn't home the entire night and in the morning she said she spent the night at her sister's house." He said, "So?" And I responded, "She's lying. I spent the night at her sister's house!"
Curonian
Q: Why is diarrhea hereditary?
A: It runs in your genes.
Hamid