Categories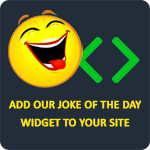 A man escapes from prison where he has been for 15 years. He breaks into a house to look for money and guns, and finds a young couple in bed. He orders the guy out of bed and ties him to a chair. He ties the girl to the bed and he gets on top of her, kisses her neck, and then gets up and goes into the bathroom. While he's in there, the husband tells his wife, "Listen, this guy is an escaped convict, look at his clothes! He probably spent lots of time in jail and hasn't seen a woman in years. I saw how he kissed your neck. If he wants sex, don't resist, don't complain, do whatever he tells you. Satisfy him no matter how much he nauseates you. This guy is probably very dangerous. If he gets angry, he'll kill us. Be strong, honey. I love you." His wife responds, "He wasn't kissing my neck. He was whispering in my ear. He told me he was gay, thought you were cute, and asked me if we had any Vaseline. I told him it was in the bathroom. Be strong honey. I love you, too!"
peeh
A child asked his father, "How were people born?" So his father said, "Adam and Eve made babies, then their babies became adults and made babies, and so on." The child then went to his mother, asked her the same question and she told him, "We were monkeys then we evolved to become like we are now." The child ran back to his father and said, "You lied to me!" His father replied, "No, your mom was talking about her side of the family."
Anonymous
Wife: "I look fat. Can you give me a compliment?"
Husband: "You have perfect eyesight."
coloured pencils
I was at my bank today waiting in a short line. There was just one lady in front of me, an Asian lady, who was trying to exchange yen for dollars. It was obvious she was a little irritated. She asked the teller, "Why it change? Yesterday, I get two hunat dolla of yen. Today I only get hunat eighty? Why it change?" The teller shrugged his shoulders and said, "Fluctuations." The Asian lady says, "Fluc you white people too!"
deanjchou
Yo momma is so fat, I took a picture of her last Christmas and it's still printing.
Its More Fun In The Philippines!