Categories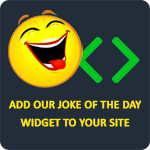 Yo momma is so fat that Dora can't even explore her!
Haydenjr1
Yo momma is so fat when she sat on WalMart, she lowered the prices.
zacky
Yo momma's so fat, that when she fell, no one was laughing but the ground was cracking up.
LaughFactory
Q: Why doesn't Dracula have any friends?
A: Because he is a pain in the neck.
Anonymous
Yo momma is so stupid when an intruder broke into her house, she ran downstairs, dialed 9-1-1 on the microwave, and couldn't find the "CALL" button.
Anonymous