Categories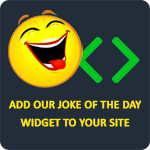 Yo momma is so fat that when she went to the beach a whale swam up and sang, "We are family, even though you're fatter than me."
Anonymous
A doctor reaches into his smock to get a pen to write a prescription and pulls out a rectal thermometer. "Oh, damn it," he proclaims, "Some asshole has my pen!"
Mark My Words
Do not be racist , be like Mario. He's an italian plumber, made by Japanese people, who speaks english, looks like a mexican, jumps like a black man, and grabs coins like a jew!
Andrew
What did one saggy boob say to the other saggy boob? "We better get some support before someone thinks we're nuts!"
ScillaB03
Yo momma's so fat and old when God said, "Let there be light," he asked your mother to move out of the way.
Anonymous