Categories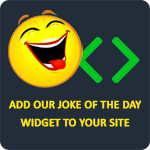 Why do women make better soldiers? Because they can bleed for a week and not die.
srehak1
Maria, a devout Catholic, got married and had 15 children. After her first husband died, she remarried and had 15 more children. A few weeks after her second husband died, Maria also passed away. At Maria's funeral, the priest looked skyward and said, "At last, they're finally together." Her sister sitting in the front row said, "Excuse me, Father, but do you mean she and her first husband, or she and her second husband?" The priest replied, "I mean her legs."
Otto Stewart
Q: What did one saggy boob say to the other saggy boob?
A: "We better get some support before someone thinks we're nuts!"
ScillaB03
Yo momma is so fat when she got on the scale it said, "I need your weight not your phone number."
swaggerboy
As an airplane is about to crash, a female passenger jumps up frantically and announces, "If I'm going to die, I want to die feeling like a woman." She removes all her clothing and asks, "Is there someone on this plane who is man enough to make me feel like a woman?" A man stands up, removes his shirt and says, "Here, iron this!".
cdiesel1208