Categories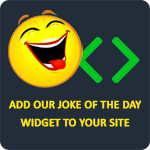 A boy asks his father, "Dad, are bugs good to eat?" "That's disgusting. Don't talk about things like that over dinner," the dad replies. After dinner the father asks, "Now, son, what did you want to ask me?" "Oh, nothing," the boy says. "There was a bug in your soup, but now it's gone."
John Ocallaghan
A man is angry because he has it in his head that someone stole his wallet. He walks into a church to steal someone else's wallet, but he has a change of heart during the service. He confesses to the priest afterwards about what his intentions had initially been. The priest asks, "What made you change your mind?" The man says, "In your sermon on the Ten Commandments when you got to 'Thou shall not commit adultery,' I remembered where I left my wallet!"
Mark My Words
A girl realized that she had grown hair between her legs. She got worried and asked her mom about that hair. Her mom calmly said, "That part where the hair has grown is called your monkey. Be proud that your monkey has grown hair." The girl smiled. At dinner, she told her sister, "My monkey has grown hair." Her sister smiled and said, "That's nothing; mine is already eating bananas."
Anna Fox
Yo momma is so fat, I took a picture of her last Christmas and it's still printing.
Its More Fun In The Philippines!
Yo momma is so fat when she got on the scale it said, "I need your weight not your phone number."
swaggerboy