Categories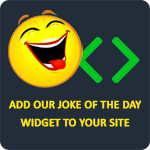 Yo momma's so fat, she's on both sides of the family.
Darlene
A boy is selling fish on a corner. To get his customers' attention, he is yelling, "Dam fish for sale! Get your dam fish here!" A pastor hears this and asks, "Why are you calling them 'dam fish.'" The boy responds, "Because I caught these fish at the local dam." The pastor buys a couple fish, takes them home to his wife, and asks her to cook the dam fish. The wife responds surprised, "I didn't know it was acceptable for a preacher to speak that way." He explains to her why they are dam fish. Later at the dinner table, he asks his son to pass the dam fish. He responds, "That's the spirit, Dad! Now pass the f*cking potatoes!"
bandajoey92
How do Mexicans take a family portrait? They all gather together on the back of a pickup truck and run a red light!
staciebean2007
A guy and girl had sex poem competition.
Guy: "Two times two is four, four plus five is nine. I can put mine in yours, but you can't put yours in mine."
Girl: "Two times two is four, four plus five is nine. I know the length of yours, but you won't know the depth of mine."
marcus walker
Blonde: "What does IDK stand for?"
Brunette: "I don't know."
Blonde: "OMG, nobody does!"
Anonymous