Categories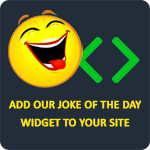 There was a blonde, a redhead, and a brunette. They were all trapped on an island and the nearest shore was 50 miles away. The redhead swam trying to make it to the other shore she swam 15 miles, drowned, and died. The brunette swam 24 miles, drowned, and died. The blonde swam 25 miles, got tired, and swam back.
Donovan
Yo mama so black, I shot at her and the bullet came back and asked for a flashlight
Anonymous
As an airplane is about to crash, a female passenger jumps up frantically and announces, "If I'm going to die, I want to die feeling like a woman." She removes all her clothing and asks, "Is there someone on this plane who is man enough to make me feel like a woman?" A man stands up, removes his shirt and says, "Here, iron this!".
cdiesel1208
Police arrested two kids yesterday, one was drinking battery acid, the other was eating fireworks. They charged one, and let the other one off.
SusuM
A typical macho man married a typical good looking lady, and after the wedding, he laid down the following rules. "I'll be home when I want, if I want, what time I want, and I don't expect any hassle from you. I expect a great dinner to be on the table, unless I tell you that I won't be home for dinner. I'll go hunting, fishing, boozing, and card playing when I want with my old buddies, and don't you give me a hard time about it. Those are my rules. Any comments?" His new bride said, "No, that's fine with me. Just understand that there will be sex here at seven o'clock every night, whether you're here or not."
Mariana13