Categories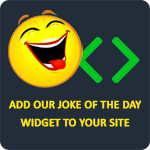 Yo mamma is so ugly when she tried to join an ugly contest they said, "Sorry, no professionals."
Anonymous
Q: Why is a river rich? A: Because it has two banks.
ISHA KHANNA
Q: What did the duck say when he bought lipstick?
A: "Put it on my bill."
TheLaughFactory
What did God say when he made the first black man? "Damn, I burnt one."
joe to good
Two blondes fell down a hole. One said, "It's dark in here isn't it?" The other replied, "I don't know; I can't see."
Anonymous