Categories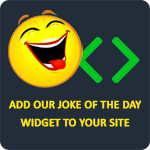 Wife: "How would you describe me?"
Husband: "ABCDEFGHIJK."
Wife: "What does that mean?"
Husband: "Adorable, beautiful, cute, delightful, elegant, fashionable, gorgeous, and hot."
Wife: "Aw, thank you, but what about IJK?"
Husband: "I'm just kidding!"
tiya
What did God say when he made the first black man? "Damn, I burnt one."
joe to good
A man got hit in the head with a can of Coke, but he was alright because it was a soft drink.
Anonymous
How did the medical community come up with the term "PMS"? "Mad Cow Disease" was already taken.
TheLaughFactory
A young woman was taking golf lessons and had just started playing her first round of golf when she suffered a bee sting. Her pain was so intense that she decided to return to the clubhouse for medical assistance. The golf pro saw her heading back and said, "You are back early, what's wrong?" "I was stung by a bee!" she said. "Where?" he asked. "Between the first and second hole." she replied. He nodded and said, "Your stance is far too wide."
Anonymous