Categories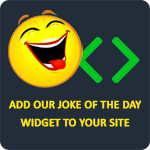 How do you make five pounds of fat look good? Put a nipple on it!
Dyslexa
Yo mamma is so ugly when she tried to join an ugly contest they said, "Sorry, no professionals."
Anonymous
Yo momma's so fat and old when God said, "Let there be light," he asked your mother to move out of the way.
Anonymous
What do you have when 100 lawyers are buried up to their necks in sand? Not enough sand.
Anonymous
Q: Why can't a blonde dial 911?
A: She can't find the eleven.
TheLaughFactory