Categories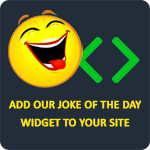 A husband exclaims to his wife one day, "Your butt is getting really big. It's bigger than the BBQ grill!" Later that night in bed, the husband makes some advances towards his wife who completely brushes him off. "What's wrong?" he asks. She answers, "Do you really think I'm going to fire up this big-ass grill for one little weenie?"
Washingpound
Two blondes fell down a hole. One said, "It's dark in here isn't it?" The other replied, "I don't know; I can't see."
Anonymous
Girlfriend: "Am I pretty or ugly?"
Boyfriend: "You're both."
Girlfriend: "What do you mean?"
Boyfriend: "You're pretty ugly."
squatter dude
Q: What did the duck say when he bought lipstick?
A: "Put it on my bill."
TheLaughFactory
A man goes to a pet shop and buys a talking parrot. He takes the parrot home and tries to teach the parrot how to say a few things, but instead, the parrot just swears at him. After a few hours of trying to teach the bird, the man finally says, "If you don't stop swearing, I'm going to put you in the freezer as punishment." The parrot continues, so finally the man puts the bird in the freezer. About an hour later, the parrot asks the man to please open the door. As the man takes the shivering bird out of the freezer, it says, "I promise to never swear again. Just tell me what that turkey did!"
Alphabeat