Categories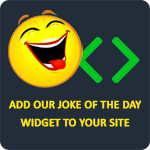 Yo momma is so stupid she took a ruler to bed to see how long she slept.
TheLaughFactory
Yo momma is so hairy, when she went to the movie theater to see Star Wars, everybody screamed and said, "IT'S CHEWBACCA!"
Angel Stalone
Yo mamma is so ugly when she took a bath the water jumped out.
zacky
Yo momma's so fat, that when she went to the zoo, the hippos got jealous.
Anonymous
Yo momma's so stupid, she put two quarters in her ears and thought she was listening to 50 Cent.
marquez007