Categories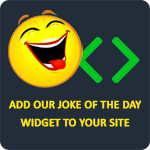 If I wanted to kill myself, I would climb up to your ego and jump down to your IQ level.
Anal Avenger
Q: Why can't a blonde dial 911?
A: She can't find the eleven.
TheLaughFactory
A blonde, a redhead, and a brunette were all lost in the desert. They found a lamp and rubbed it. A genie popped out and granted them each one wish. The redhead wished to be back home. Poof! She was back home. The brunette wished to be at home with her family. Poof! She was back home with her family. The blonde said, "Awwww, I wish my friends were here."
Donovan
I asked a Chinese girl for her number. She said, "Sex! Sex! Sex! Free sex tonight!" I said, "Wow!" Then her friend said, "She means 666-3629."
Anonymous
Son: "Dad, there is someone at the door to collect donations
for a community swimming pool."
Father: "Okay, give him a glass of water."
looloo