Categories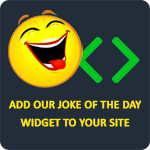 Yo momma's so stupid, she put two quarters in her ears and thought she was listening to 50 Cent.
marquez007
One day, a man came home and was greeted by his wife dressed in stunningly sexy lingerie. "Tie me up," she purred, "And you can do anything you want." So he tied her up and went golfing.
Zinga
Wife: "How would you describe me?"
Husband: "ABCDEFGHIJK."
Wife: "What does that mean?"
Husband: "Adorable, beautiful, cute, delightful, elegant, fashionable, gorgeous, and hot."
Wife: "Aw, thank you, but what about IJK?"
Husband: "I'm just kidding!"
tiya
After picking her son up from school one day, the mother asks him what he did at school. The kid replies, "I had sex with my teacher." She gets so mad that when they get home, she orders him to go straight to his room. When the father returns home that evening, the mother angrily tells him the news of what their son had done. As the father hears the news, a huge grin spreads across his face. He walks to his son's room and asks him what happened at school, the son tells him, "I had sex with my teacher." The father tells the boy that he is so proud of him, and he is going to reward him with the bike he has been asking for. On the way to the store, the dad asks his son if he would like to ride his new bike home. His son responds, "No thanks Dad, my butt still hurts."
MISSDIONE02
A teacher wanted to teach her students about self-esteem, so she asked anyone who thought they were stupid to stand up. One kid stood up and the teacher was surprised. She didn't think anyone would stand up so she asked him, "Why did you stand up?" He answered, "I didn't want to leave you standing up by yourself."
ronald34