Categories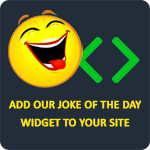 Roses are red.
Your blood is too.
You look like a monkey
And belong in a zoo.
Do not worry,
I'll be there too.
Not in the cage,
But laughing at you.
Anonymous
A young woman was taking golf lessons and had just started playing her first round of golf when she suffered a bee sting. Her pain was so intense that she decided to return to the clubhouse for medical assistance. The golf pro saw her heading back and said, "You are back early, what's wrong?" "I was stung by a bee!" she said. "Where?" he asked. "Between the first and second hole." she replied. He nodded and said, "Your stance is far too wide."
Anonymous
Q: What do you call 10 blondes in a freezer?
A: Frosted Flakes!
Anonymous
So two Irishmen are traveling to Australia. Before they leave home, one of their dads gives them both a bit of advice: "You watch them Aussie cab drivers. They'll rob you blind. Don't you go paying them what they ask. You haggle." At the Sydney airport, the Irishmen catch a cab to their hotel. When they reach their destination, the cabbie says, "That'll be twenty dollars, lads." "Oh no you don't! My dad warned me about you. You'll only be getting fifteen dollars from me," says one of the men. "And you'll only be getting fifteen from me too," adds the other.
Rústi Strønzö
How did the medical community come up with the term "PMS"? "Mad Cow Disease" was already taken.
TheLaughFactory