Categories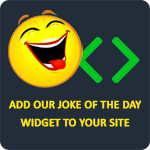 There was a blonde, a redhead, and a brunette. They were all trapped on an island and the nearest shore was 50 miles away. The redhead swam trying to make it to the other shore she swam 15 miles, drowned, and died. The brunette swam 24 miles, drowned, and died. The blonde swam 25 miles, got tired, and swam back.
Donovan
Doctor: "You'll live to be 60!"
Patient: "I am 60!"
Doctor: "See! What did I tell you?"
Bookworm
What did God say when he made the first black man? "Damn, I burnt one."
joe to good
What happens to a frog's car when it breaks down?
It gets toad away.
ZDW
I just got back from a pleasure trip. I took my mother-in-law to the airport.
Bookworm