Categories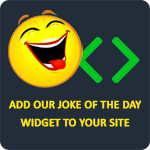 Yo mamma is so ugly when she tried to join an ugly contest they said, "Sorry, no professionals."
Anonymous
A guy was driving in a car with a blonde. He told her to stick her head out the window and see if the blinker worked. She stuck her head out and said, "Yes, No, Yes, No, Yes..."
ajax62605
This is the true story of George Phillips of Meridian, Mississippi, who was going to bed when his wife told him that he'd left the light on in the shed. George opened the door to go turn off the light but saw there were people in the shed in the process of stealing things.

He immediately phoned the police, who asked, "Is someone in your house?" and George said, "No," and explained the situation. Then they explained that all patrols were busy, and that he should simply lock his door and an officer would be there when available.

George said, "Okay," hung up, counted to 30, and phoned the police again.

"Hello, I just called you a few seconds ago because there were people in my shed. Well, you don't have to worry about them now because I've just shot them all."

Then he hung up. Within five minutes three squad cars, an Armed Response unit, and an ambulance showed up. Of course, the police caught the burglars red-handed.

One of the policemen said to George, "I thought you said that you'd shot them!"

George said, "I thought you said there was nobody available!"
Anonymous
There are three blondes who are on a road trip. As they are driving through the desert, their car breaks down. They have no phone to call anyone, so they decide to walk to the nearest city, several miles away. They each decide to take one thing to make the journey better. The first blonde takes the radio and says, "If we get bored, we can put the radio on and listen to music." The second blonde decides to take a wheel, "In case one of us gets really tired, we can go inside the wheel and be rolled." The third blonde takes the car door, "In case it gets too hot, we can roll down the window!"
badassantos
I was at my bank today waiting in a short line. There was just one lady in front of me, an Asian lady, who was trying to exchange yen for dollars. It was obvious she was a little irritated. She asked the teller, "Why it change? Yesterday, I get two hunat dolla of yen. Today I only get hunat eighty? Why it change?" The teller shrugged his shoulders and said, "Fluctuations." The Asian lady says, "Fluc you white people too!"
deanjchou