Categories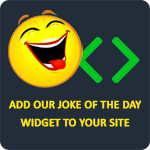 There is a black man, a white man, and a Mexican man on a plane that is too heavy to fly and they are about to crash. They each have to throw something off the plane to save them from crashing. The black man throws out his Jordan shoes and says, "We have too many in our country." The Mexican tosses out his lawn mower and says, "We have too many in our country." The white man puts his item down, grabs the Mexican, throws him out the window and says, "We have too many in our country."
airlike23
Wife: "I look fat. Can you give me a compliment?"
Husband: "You have perfect eyesight."
coloured pencils
There was a blonde, a redhead, and a brunette. They were all trapped on an island and the nearest shore was 50 miles away. The redhead swam trying to make it to the other shore she swam 15 miles, drowned, and died. The brunette swam 24 miles, drowned, and died. The blonde swam 25 miles, got tired, and swam back.
Donovan
Roses are red.
Your blood is too.
You look like a monkey
And belong in a zoo.
Do not worry,
I'll be there too.
Not in the cage,
But laughing at you.
Anonymous
One day, a blonde went to the doctor with both sides of her face burned. The doctor asked, "What happened?" The blonde said, "Well, I was ironing my husband's shirt until the phone rang. I picked it up and half my face was burnt!" The doctor replied, "What about the other half?" The blonde answered, "They called back."
Ellen Kohl