Categories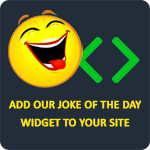 Q: What did the duck say when he bought lipstick?
A: "Put it on my bill."
TheLaughFactory
Q: How do Chinese people name their babies?
A: They throw them down the stairs to see what noise they make.
Anonymous
At school, Little Johnny's classmate tells him that most adults are hiding at least one dark secret, so it's very easy to blackmail them by saying, "I know the whole truth." Little Johnny decides to go home and try it out.

Johnny's mother greets him at home, and he tells her, "I know the whole truth." His mother quickly hands him $20 and says, "Just don't tell your father." Quite pleased, the boy waits for his father to get home from work, and greets him with, "I know the whole truth." The father promptly hands him $40 and says, "Please don't say a word to your mother."

Very pleased, the boy is on his way to school the next day when he sees the mailman at his front door. The boy greets him by saying, "I know the whole truth." The mailman immediately drops the mail, opens his arms, and says, "Then come give your Daddy a great big hug!"
Anonymous
After picking her son up from school one day, the mother asks him what he did at school. The kid replies, "I had sex with my teacher." She gets so mad that when they get home, she orders him to go straight to his room. When the father returns home that evening, the mother angrily tells him the news of what their son had done. As the father hears the news, a huge grin spreads across his face. He walks to his son's room and asks him what happened at school, the son tells him, "I had sex with my teacher." The father tells the boy that he is so proud of him, and he is going to reward him with the bike he has been asking for. On the way to the store, the dad asks his son if he would like to ride his new bike home. His son responds, "No thanks Dad, my butt still hurts."
MISSDIONE02
Yo mamma is so fat she doesn't need the internet, because she's already world wide.
Anonymous