Categories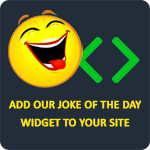 A black Jewish boy runs home from school one day and asks his father, "Daddy, am I more Jewish or more black?" The dad replies, "Why do you want to know, son?" "Because a kid at school is selling a bike for $50 and I want to know if I should talk him down to $40 or just steal it!"
Anonymous
Blonde: "What does IDK stand for?"
Brunette: "I don't know."
Blonde: "OMG, nobody does!"
Anonymous
Q: How do Chinese people name their babies?
A: They throw them down the stairs to see what noise they make.
Anonymous
Yo momma is so stupid when an intruder broke into her house, she ran downstairs, dialed 9-1-1 on the microwave, and couldn't find the "CALL" button.
Anonymous
Yo momma's so dumb, when y'all were driving to Disneyland, she saw a sign that said "Disneyland left," so she went home.
LaughFactory