Categories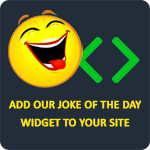 Whenever your ex says, "You'll never find someone like me," the answer to that is, "That's the point."
Ascelyn
A black Jewish boy runs home from school one day and asks his father, "Daddy, am I more Jewish or more black?" The dad replies, "Why do you want to know, son?" "Because a kid at school is selling a bike for $50 and I want to know if I should talk him down to $40 or just steal it!"
Anonymous
Yo' Mama is so ugly, yo' daddy takes her to work with him so he doesn't have to kiss her goodbye.
mikayla davis
Your momma is so ugly she made One Direction go another direction.
Anonymous
There was a blonde, a redhead, and a brunette. They were all trapped on an island and the nearest shore was 50 miles away. The redhead swam trying to make it to the other shore she swam 15 miles, drowned, and died. The brunette swam 24 miles, drowned, and died. The blonde swam 25 miles, got tired, and swam back.
Donovan