Categories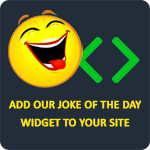 There was a blonde, a redhead, and a brunette. They were all trapped on an island and the nearest shore was 50 miles away. The redhead swam trying to make it to the other shore she swam 15 miles, drowned, and died. The brunette swam 24 miles, drowned, and died. The blonde swam 25 miles, got tired, and swam back.
Donovan
Q: How do Chinese people name their babies?
A: They throw them down the stairs to see what noise they make.
Anonymous
Yo momma is so fat when she went to KFC the cashier asked, "What size bucket?" and yo momma said, "The one on the roof."
jaelynn leonen
Yo momma's so fat she needs cheat codes for Wii Fit.
joshdavis1991
Yo momma is so ugly even Hello Kitty said, "Goodbye" to her
mariela sapon