Categories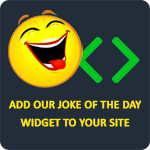 My friend asked me, "Why are you getting a divorce?" I responded, "My wife wasn't home the entire night and in the morning she said she spent the night at her sister's house." He said, "So?" And I responded, "She's lying. I spent the night at her sister's house!"
Curonian
Maria went home happy, telling her mother about how she earned $20 by climbing a tree. Her mom responded, "Maria, they just wanted to see your panties!" Maria replied, "See Mom, I was smart, I took them off!"
yohel
Sarah goes to school, and the teacher says, "Today we are going to learn multi-syllable words, class. Does anybody have an example of a multi-syllable word?" Sarah waves her hand, "Me, Miss Rogers, me, me!" Miss Rogers says, "All right, Sarah, what is your multi-syllable word?" Sarah says, "Mas-tur-bate." Miss Rogers smiles and says, "Wow, Sarah, that's a mouthful." Sarah says, "No, Miss Rogers, you're thinking of a blowjob."
Rodderiqus11
Yo momma is so fat her bellybutton gets home 15 minutes before she does.
Anonymous
A bride tells her husband, "Honey, you know I'm a virgin and I don't know anything about sex. Can you explain it to me first?" "Okay, sweetheart. Putting it simply, we will call your private place 'the prison' and call my private thing 'the prisoner'. So what we do is put the prisoner in the prison." And they made love for the first time and the husband was smiling with satisfaction. Nudging him, his bride giggles, "Honey the prisoner seems to have escaped." Turning on his side, he smiles and says, "Then we will have to re-imprison him." After the second time, the bride says, "Honey, the prisoner is out again!" The husband rises to the occasion and they made love again. The bride again says, "Honey, the prisoner escaped again," to which the husband yelled, "Hey, it's not a life sentence!!!"
MrsChinchilla