Categories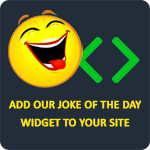 Q: What did the big chimney say to the little chimney?
A: You're too young to smoke.
Anonymous
Your momma is so ugly she made One Direction go another direction.
Anonymous
Q: What kind of candy do Indians give out on Halloween?
A: Dots.
Tyler Harrison
Yo mamma is so fat she doesn't need the internet, because she's already world wide.
Anonymous
Brunette: "Where were you born?"
Blonde: "California."
Brunette: "Which part?"
Blonde: "All of me."
Laughat28