Categories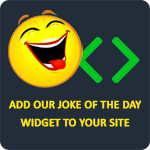 A brunette goes into a doctor's office and says that her body hurts wherever she touches it. "Impossible," says the doctor. "Show me." She takes her finger, presses on her elbow, and screams in agony. She pushes her knee and screams, pushes her ankle and screams, and so it goes on; everywhere she touches makes her scream with pain. The doctor says, "You're not really a brunette are you?" She says, "No, I dyed my hair. I'm naturally blonde." "I thought so," he says. "Your finger is broken."
A Blonde
Wife: "How would you describe me?"
Husband: "ABCDEFGHIJK."
Wife: "What does that mean?"
Husband: "Adorable, beautiful, cute, delightful, elegant, fashionable, gorgeous, and hot."
Wife: "Aw, thank you, but what about IJK?"
Husband: "I'm just kidding!"
tiya
Q: What did the cannibal do after dumping his girlfriend?
A: He wiped his bum.
That Wright
A teacher wanted to teach her students about self-esteem, so she asked anyone who thought they were stupid to stand up. One kid stood up and the teacher was surprised. She didn't think anyone would stand up so she asked him, "Why did you stand up?" He answered, "I didn't want to leave you standing up by yourself."
ronald34
A black Jewish boy runs home from school one day and asks his father, "Daddy, am I more Jewish or more black?" The dad replies, "Why do you want to know, son?" "Because a kid at school is selling a bike for $50 and I want to know if I should talk him down to $40 or just steal it!"
Anonymous