Categories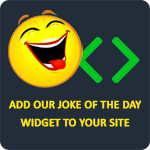 How do you blindfold a Chinese person? Put floss over their eyes.
kallen007
Yo momma is so fat, when she sat on an iPod, she made the iPad!
My mom
Q: My boyfriend is as beautiful as Frank Sinatra and as intelligent as Albert Einstein; what is his name?
A: Frankenstein.
Alejandro Jodorowsky
Yo momma is so fat that Dora can't even explore her!
Haydenjr1
Yo momma is so fat her bellybutton gets home 15 minutes before she does.
Anonymous