Categories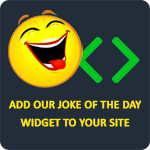 A policeman sees a little girl riding her bike and says, "Did Santa get you that?" "Yes," replies the little girl. "Well," says the policeman, "tell Santa to put a reflector light on it next year," and fines her five dollars. The little girl looks up at the policeman and says, "Nice horse you've got there, did Santa bring you that?" The policeman chuckles and replies, "He sure did!" "Well," says the little girl, "next year, tell Santa the d*ck goes under the horse and not on it."
ohninaa
Yo momma is so stupid when an intruder broke into her house, she ran downstairs, dialed 9-1-1 on the microwave, and couldn't find the "CALL" button.
Anonymous
A black boy walks into the kitchen where his mother is baking and accidentally pulls the flour over onto his head. He turns to his mother and says, "Look Mama, I'm a white boy!" His mother smacks him and says, "Go tell your Daddy what you just said!" The boy finds his father and says, "Look Daddy, I'm a white boy!" His Daddy bends him over, spanks him, stands the boy back up, and says, "Now, what do you have to say for yourself?" The boy replies, "I've only been a white boy for five minutes and I already hate you black people!"
nghtvisn
A little girl and boy are fighting about the differences between the sexes, and which one is better. Finally, the boy drops his pants and says, "Here's something I have that you'll never have!" The little girl is pretty upset by this, since it is clearly true, and runs home crying. A while later, she comes running back with a smile on her face. She drops her pants and says, "My mommy says that with one of these, I can have as many of those as I want!"
Anonymous
Q: Why doesn't Dracula have any friends?
A: Because he is a pain in the neck.
Anonymous