Categories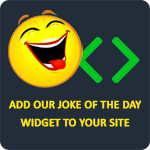 A girl realized that she had grown hair between her legs. She got worried and asked her mom about that hair. Her mom said, "Don't worry. That part where the hair has grown is called a Monkey. Be proud that your monkey has grown hair." At dinner, the girl told her sister, "My monkey has grown hair." Her sister replied, "That's nothing. Mine is already eating bananas."
Anonymous
Reaching the end of a job interview, the Human Resources Officer asks a young engineer fresh out of the Massachusetts Institute of Technology, "And what starting salary are you looking for?" The engineer replies, "In the region of $125,000 a year, depending on the benefits package." The interviewer inquires, "Well, what would you say to a package of five weeks vacation, 14 paid holidays, full medical and dental, company matching retirement fund to 50% of salary, and a company car leased every two years, say, a red Corvette?" The engineer sits up straight and says, "Wow! Are you kidding?" The interviewer replies, "Yeah, but you started it."
lauren
Yo mamma so stupid that when you you were born and she saw your cord, she said, "Oh, it comes with cable!"
cherrypopie
Yo momma's so stupid, she put two quarters in her ears and thought she was listening to 50 Cent.
marquez007
Q: What did the duck say when he bought lipstick?
A: "Put it on my bill."
TheLaughFactory