Categories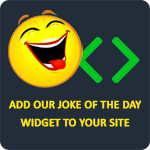 Your momma is so ugly she made One Direction go another direction.
Anonymous
Q: Why do witches wear name tags?
A: To know which witch is which!
Dhruv Garg
Yo momma is so fat her bellybutton gets home 15 minutes before she does.
Anonymous
What did the farmer get when he crossed a centipede with a Turkey? 100 Drumsticks.
Susan7777
Q: Why can't a blonde dial 911?
A: She can't find the eleven.
TheLaughFactory