Categories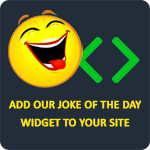 Yo momma is so fat when she sat on WalMart, she lowered the prices.
zacky
After picking her son up from school one day, the mother asks him what he did at school. The kid replies, "I had sex with my teacher." She gets so mad that when they get home, she orders him to go straight to his room. When the father returns home that evening, the mother angrily tells him the news of what their son had done. As the father hears the news, a huge grin spreads across his face. He walks to his son's room and asks him what happened at school, the son tells him, "I had sex with my teacher." The father tells the boy that he is so proud of him, and he is going to reward him with the bike he has been asking for. On the way to the store, the dad asks his son if he would like to ride his new bike home. His son responds, "No thanks Dad, my butt still hurts."
MISSDIONE02
A black boy walks into the kitchen where his mother is baking and accidentally pulls the flour over onto his head. He turns to his mother and says, "Look Mama, I'm a white boy!" His mother smacks him and says, "Go tell your Daddy what you just said!" The boy finds his father and says, "Look Daddy, I'm a white boy!" His Daddy bends him over, spanks him, stands the boy back up, and says, "Now, what do you have to say for yourself?" The boy replies, "I've only been a white boy for five minutes and I already hate you black people!"
nghtvisn
Once there was a farmer that was very protective of his three daughters. When they told him they were going to go out on dates one night, the farmer decided to wait outside with a shotgun. The first boy arrived for the first daughter, and he said, "Hi, my name is Freddy. I'm here for Betty. We're going for spaghetti. Is she ready?" The farmer decided he was decent enough, and let them go. The second boy arrived for the second daughter, and said, "Hi, my name is Joe. I'm here for Flo. We're going to a show. Is she good to go?" Again, the farmer decided he was decent enough and let them go. Finally, the last boy came, and he said, "Hi, my name is Chuck..." and the farmer shot him.
Mothertrucker
Q: Why can't a blonde dial 911?
A: She can't find the eleven.
TheLaughFactory