Categories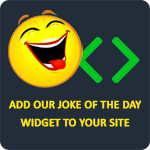 A blonde woman, a priest, a pilot, and a high schooler are all on a crashing plane. There are only enough parachutes to save three of them, and the pilot is the first to jump out. He grabs a parachute and says, "I'm a pilot! People need me to fly planes!" and then jumps out. The blonde is next to jump out. She grabs a parachute and says, "My hair won't look pretty if I'm dead!" and then jumps out. The priest then says to the high schooler, "Son, I've lived my life to its fullest and I am surely ready to join God in heaven." The high schooler then hands a parachute to the priest and puts another parachute on himself. The priest is shocked and asks the high schooler, "Oh Lord! Where did you find this extra parachute?" The high schooler replies, "The blonde lady took my backpack!"
Anonymous Comedian
Q: How do Chinese people name their babies?
A: They throw them down the stairs to see what noise they make.
Anonymous
Teacher: "Which book has helped you the most in your life?"
Student: "My father's check book!"
Anonymous
A teacher wanted to teach her students about self-esteem, so she asked anyone who thought they were stupid to stand up. One kid stood up and the teacher was surprised. She didn't think anyone would stand up so she asked him, "Why did you stand up?" He answered, "I didn't want to leave you standing up by yourself."
ronald34
One day Jimmy got home early from school and his mom asked, "Why are you home so early?" He answered, "Because I was the only one that answered a question in my class." She said, "Wow, my son is a genius. What was the question?" Jimmy replied, "The question was 'Who threw the trash can at the principal's head?'"
Anonymous