Categories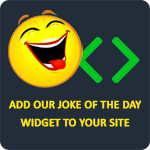 A lady goes to the doctor and complains that her husband is losing interest in sex. The doctor gives her a pill, but warns her that it's still experimental. He tells her to slip it into his mashed potatoes at dinner, so that night, she does just that. About a week later, she's back at the doctor, where she says, "Doc, the pill worked great! I put it in the potatoes like you said! It wasn't five minutes later that he jumped up, raked all the food and dishes onto the floor, grabbed me, ripped all my clothes off, and ravaged me right there on the table!" The doctor says, "I'm sorry, we didn't realize the pill was that strong! The foundation will be glad to pay for any damages." "Nah," she says, "that's okay. We're never going back to that restaurant anyway."
Mariah
Two blondes walk beside each other down the street. One of them sees a broken piece of mirror on the ground, grabs it, looks at it and says, "This girl looks so familiar, but I can't remember where I know her from." The other girl grabs it from her hand, takes a look at it, and says, "It's me you idiot!"
alice10
Q: What kind of key opens a banana?
A: A monkey.
neshika
Two students were arguing when their teacher entered the classroom. The teacher says, "Why are you arguing?" One boy answers, "We found a ten dollar bill and decided to give it to whoever tells the biggest lie." "You should be ashamed of yourselves," said the teacher, "When I was your age I didn't even know what a lie was." The boys gave the ten dollars to the teacher.
Saarah jabbar<3
An old lady went to visit her dentist. When it was her turn, she sat in the chair, lowered her underpants, and raised her legs. The dentist said, "Excuse me, but I'm not a gynecologist." "I know," said the old lady. "I want you to take my husband's teeth out."
Anonymous