Categories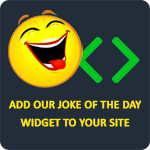 A cowboy walks into a bar, sits down, and asks for a shot. Across the bar, a Mexican man is sitting and glaring at the cowboy. The cowboy takes the shot and slams the shot glass down on the counter, yelling, "TGIF!" The Mexican orders a shot, takes it, and slams his glass down, yelling, "SPIT!" The cowboy looks over at him and notices the Mexican guy is still staring at him. The cowboy once again orders a shot, slams it down, and yells again "TGIF!" Once again, the Mexican orders a shot, slams it down after consuming it, and yells out, "SPIT!" This goes on for a while, and the bartender stands puzzled and annoyed. Finally, the bartender asks the cowboy, "Just checking, but do you know what TGIF means?" and the cowboy replies, "Hell ya I know what it means, 'Thank God It's Friday!'" The bartender asks the Mexican guy, "Okay, so what does 'SPIT' mean?" and the Mexican replies, "Stupid Pendejo It's Thursday!"
raulg
Your momma is so ugly she made One Direction go another direction.
Anonymous
There was a blonde who just got sick and tired of all the blonde jokes. One evening, she went home and memorized all the state capitals. Back in the office the next day, some guy started telling a dumb blonde joke. She interrupted him with a shrill announcement, "I've had it up to here with these blonde jokes. I want you to know that this blonde went home last night and did something probably none of you could do. I memorized all the state capitals." One of the guys, of course, said, "I don't believe you. What is the capital of Nevada?" "N," she answered.
katmaxeykim
Yo momma is so stupid when an intruder broke into her house, she ran downstairs, dialed 9-1-1 on the microwave, and couldn't find the "CALL" button.
Anonymous
There is a senior citizen driving on the highway. His wife calls him on his cell phone and in a worried voice says, ''Herman, be careful! I just heard on the radio that there is a madman driving the wrong way on Route 280!'' Herman says, ''I know, but there isn't just one, there are hundreds!''
nngriffin