Categories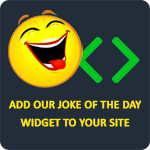 A black Jewish boy runs home from school one day and asks his father, "Daddy, am I more Jewish or more black?" The dad replies, "Why do you want to know, son?" "Because a kid at school is selling a bike for $50 and I want to know if I should talk him down to $40 or just steal it!"
Anonymous
At the doctor's office, Tom was getting a check up. "I have good news and bad news," says the doctor. "The good news is you have 24 hours left to live." Tom replies, "That's the good news?!" Then the doctor says, "The bad news is I should have told you that yesterday."
Anonymous
At a wedding party recently, someone yelled, "All the married men, please stand next to the one person who has made your life worth living!" The bartender was crushed to death.
mlevin1958
How do you blindfold a Chinese person? Put floss over their eyes.
kallen007
My friend asked me, "Why are you getting a divorce?" I responded, "My wife wasn't home the entire night and in the morning she said she spent the night at her sister's house." He said, "So?" And I responded, "She's lying. I spent the night at her sister's house!"
Curonian