Categories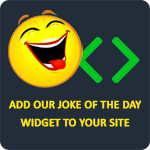 My friend thinks he is smart. He told me an onion is the only food that makes you cry, so I threw a coconut at his face.
funny jokes
Yo momma's so fat and old when God said, "Let there be light," he asked your mother to move out of the way.
Anonymous
A mother is in the kitchen making dinner for her family when her daughter walks in. "Mother, where do babies come from?" The mother thinks for a few seconds and says, "Well dear, Mommy and Daddy fall in love and get married. One night they go into their bedroom, they kiss and hug, and have sex." The daughter looks puzzled so the mother continues, "That means the daddy puts his penis in the mommy's vagina. That's how you get a baby, honey." The child seems to comprehend. "Oh, I see, but the other night when I came into your room you had daddy's penis in your mouth. What do you get when you do that?" "Jewelry, my dear. Jewelry."
Tatauaje13
Sarah goes to school, and the teacher says, "Today we are going to learn multi-syllable words, class. Does anybody have an example of a multi-syllable word?" Sarah waves her hand, "Me, Miss Rogers, me, me!" Miss Rogers says, "All right, Sarah, what is your multi-syllable word?" Sarah says, "Mas-tur-bate." Miss Rogers smiles and says, "Wow, Sarah, that's a mouthful." Sarah says, "No, Miss Rogers, you're thinking of a blowjob."
Rodderiqus11
I asked a Chinese girl for her number. She said, "Sex! Sex! Sex! Free sex tonight!" I said, "Wow!" Then her friend said, "She means 666-3629."
Anonymous