Categories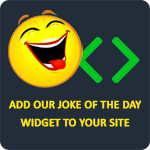 What did God say when he made the first black man? "Damn, I burnt one."
joe to good
What did one saggy boob say to the other saggy boob? "We better get some support before someone thinks we're nuts!"
ScillaB03
There was a blonde, a redhead, and a brunette. They were all trapped on an island and the nearest shore was 50 miles away. The redhead swam trying to make it to the other shore she swam 15 miles, drowned, and died. The brunette swam 24 miles, drowned, and died. The blonde swam 25 miles, got tired, and swam back.
Donovan
Q: Why can't a blonde dial 911?
A: She can't find the eleven.
TheLaughFactory
A man kills a deer and takes it home to cook for dinner. Both he and his wife decide that they won't tell the kids what kind of meat it is, but will give them a clue and let them guess. The dad said, "Well it's what Mommy calls me sometimes." The little girl screamed to her brother, "Don't eat it. Its an asshole!
blackray