Categories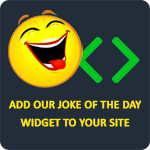 A man goes to his doctor complaining about migraines. His doctor tells him, "I also suffer from the same ailment. Every time I get one, I give my wife oral sex. When she has an orgasm, she tightens her legs around my head which gets rid of the pain. You should try it sometime." Two weeks later on a return visit, the patient tells his doctor, "Your suggestion worked and I'd like to tell you that you have a very nice house."
Mark My Words
Blonde: "What does IDK stand for?"
Brunette: "I don't know."
Blonde: "OMG, nobody does!"
Anonymous
A blonde, a redhead, and a brunette were all lost in the desert. They found a lamp and rubbed it. A genie popped out and granted them each one wish. The redhead wished to be back home. Poof! She was back home. The brunette wished to be at home with her family. Poof! She was back home with her family. The blonde said, "Awwww, I wish my friends were here."
Donovan
A black Jewish boy runs home from school one day and asks his father, "Daddy, am I more Jewish or more black?" The dad replies, "Why do you want to know, son?" "Because a kid at school is selling a bike for $50 and I want to know if I should talk him down to $40 or just steal it!"
Anonymous
Q: What's the difference between a guitar and a fish?
A: You can tune a guitar, but you can't tuna fish.
Lauren P.