Categories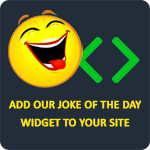 Two blondes fell down a hole. One said, "It's dark in here isn't it?" The other replied, "I don't know; I can't see."
Anonymous
Q: What did the duck say when he bought lipstick?
A: "Put it on my bill."
TheLaughFactory
If I wanted to kill myself, I would climb up to your ego and jump down to your IQ level.
Anal Avenger
Q: Why can't a blonde dial 911?
A: She can't find the eleven.
TheLaughFactory
A married couple are out one night at a dance club. There's a guy on the dance floor giving it large: break dancing, moon walking, back flips, the works. The wife turns to her husband and says, "See that guy? Twenty years ago he proposed to me and I turned him down." The husband says, "Looks like he's still celebrating!"
Penelope Snyder