Categories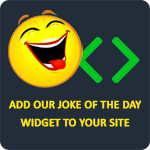 Reaching the end of a job interview, the Human Resources Officer asks a young engineer fresh out of the Massachusetts Institute of Technology, "And what starting salary are you looking for?" The engineer replies, "In the region of $125,000 a year, depending on the benefits package." The interviewer inquires, "Well, what would you say to a package of five weeks vacation, 14 paid holidays, full medical and dental, company matching retirement fund to 50% of salary, and a company car leased every two years, say, a red Corvette?" The engineer sits up straight and says, "Wow! Are you kidding?" The interviewer replies, "Yeah, but you started it."
lauren
As an airplane is about to crash, a female passenger jumps up frantically and announces, "If I'm going to die, I want to die feeling like a woman." She removes all her clothing and asks, "Is there someone on this plane who is man enough to make me feel like a woman?" A man stands up, removes his shirt and says, "Here, iron this!".
cdiesel1208
How do you blindfold a Chinese person? Put floss over their eyes.
kallen007
A teacher asked her students to use the word "beans" in a sentence. "My father grows beans," said one girl. "My mother cooks beans," said a boy. A third student spoke up, "We are all human beans."
XD XD XD XD
There is an overweight guy who is watching TV. A commercial comes on for a guaranteed weight loss of 10 pounds in a week. So the guy, thinking what the hell, signs up for it. Next morning an incredibly beautiful woman is standing at his door in nothing but a pair of running shoes and a sign about her neck that reads, "If you can catch me, you can have me." As soon as he sees her, she takes off running. He tries to catch her, but is unable. This continues for a week, at the end of which, the man has lost 10 pounds. After this he tries the next weight loss plan, 15 pounds in a week. The next morning an even more beautiful woman is standing at the door, in similar conditions. The same happens with her as the first woman, except he almost catches her. This continues for a week, at the end of which he, as suspected, weighs 15 pounds less. Excited about this success, he decides to do the master program. Before he signs up, he is required to sign a waiver and is warned about the intensity of this plan. Still he signs up. The next morning, waiting at the door, is a hulking 300 pound muscle man with nothing but a pair of running shoes, a raging erection, and a sign around his neck that says, "If I catch you, you're mine!" The man was supposed to lose 25 pounds in the week; he lost 34.
Anonymous