Categories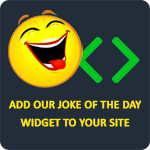 Your momma is so ugly she made One Direction go another direction.
Anonymous
Q: How do you count cows?
A: With a cowculator.
Anonymous
A policeman sees a little girl riding her bike and says, "Did Santa get you that?" "Yes," replies the little girl. "Well," says the policeman, "tell Santa to put a reflector light on it next year," and fines her five dollars. The little girl looks up at the policeman and says, "Nice horse you've got there, did Santa bring you that?" The policeman chuckles and replies, "He sure did!" "Well," says the little girl, "next year, tell Santa the d*ck goes under the horse and not on it."
ohninaa
How do you blindfold a Chinese person? Put floss over their eyes.
kallen007
A little kids sends a letter to Santa that says: "Dear Santa I want a brother for Christmas." Santa writes back, "Dear Timmy send me me your mommy."
fps23laugh