Categories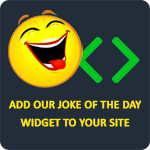 How do you blindfold a Chinese person? Put floss over their eyes.
kallen007
Yo momma's so dumb, when y'all were driving to Disneyland, she saw a sign that said "Disneyland left," so she went home.
LaughFactory
Yo Momma's so fat when I told her to touch her toes she said, "What are those"?
Repor9
Why are asprins white? Because they work!
ScottBackman
Yo momma's so fat she needs cheat codes for Wii Fit.
joshdavis1991