Categories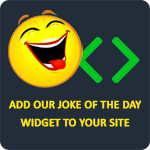 A man and woman had been married for 30 years, and in those 30 years, they always left the lights off when having sex. He was embarrassed and scared that he couldn't please her, so he always used a big dildo on her. All these years she had no clue. One day, she decided to reach over and flip the light switch on and saw that he was using a dildo. She said "I knew it, asshole, explain the dildo!" He said, "Explain the kids!"
skylertouchet
A boy says to a girl, "So, sex at my place?" "Yeah!" "Okay, but I sleep in a bunk bed with my younger brother, and he thinks we're making sandwiches, so we have to have a code. Cheese means faster and tomato means harder, okay?" Later on the girl is yelling, "Cheese cheese, tomato tomato!" The younger brother says, "Stop making sandwiches! You're getting mayo all over my bed!"
jalvarez100
Sarah goes to school, and the teacher says, "Today we are going to learn multi-syllable words, class. Does anybody have an example of a multi-syllable word?" Sarah waves her hand, "Me, Miss Rogers, me, me!" Miss Rogers says, "All right, Sarah, what is your multi-syllable word?" Sarah says, "Mas-tur-bate." Miss Rogers smiles and says, "Wow, Sarah, that's a mouthful." Sarah says, "No, Miss Rogers, you're thinking of a blowjob."
Rodderiqus11
My friend asked me, "Why are you getting a divorce?" I responded, "My wife wasn't home the entire night and in the morning she said she spent the night at her sister's house." He said, "So?" And I responded, "She's lying. I spent the night at her sister's house!"
Curonian
Maria went home happy, telling her mother about how she earned $20 by climbing a tree. Her mom responded, "Maria, they just wanted to see your panties!" Maria replied, "See Mom, I was smart, I took them off!"
yohel