Categories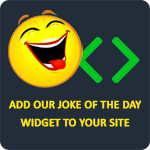 One night a lady came home from her weekly prayer meeting, found she was being robbed, and she shouted out, "Acts 2:38: 'Repent & be baptized & your sins will be forgiven.'" The robber quickly gave up & the lady rang the police. While handcuffing the criminal, a policeman said, "Gee mate, you gave up pretty easily. How come you gave up so quickly?" The robber said, "She said she had an axe and two 38's!"
Nina Jobling
Yo momma is so fat when she sat on WalMart, she lowered the prices.
zacky
Q: How do Chinese people name their babies?
A: They throw them down the stairs to see what noise they make.
Anonymous
A boy says to a girl, "So, sex at my place?" "Yeah!" "Okay, but I sleep in a bunk bed with my younger brother, and he thinks we're making sandwiches, so we have to have a code. Cheese means faster and tomato means harder, okay?" Later on the girl is yelling, "Cheese cheese, tomato tomato!" The younger brother says, "Stop making sandwiches! You're getting mayo all over my bed!"
jalvarez100
Yo momma's so fat, that when she fell, no one was laughing but the ground was cracking up.
LaughFactory