Categories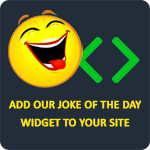 Wife: "I look fat. Can you give me a compliment?"
Husband: "You have perfect eyesight."
coloured pencils
I asked a Chinese girl for her number. She said, "Sex! Sex! Sex! Free sex tonight!" I said, "Wow!" Then her friend said, "She means 666-3629."
Anonymous
Yo mamma is so fat she doesn't need the internet, because she's already world wide.
Anonymous
Yo momma's so fat she needs cheat codes for Wii Fit.
joshdavis1991
Yo momma so stupid she stuck a battery up her ass and said, "I GOT THE POWER!"
GIovanni pinto ramos