Categories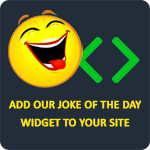 Why do women make better soldiers? Because they can bleed for a week and not die.
srehak1
Q: What did the duck say when he bought lipstick?
A: "Put it on my bill."
TheLaughFactory
A little girl and boy are fighting about the differences between the sexes, and which one is better. Finally, the boy drops his pants and says, "Here's something I have that you'll never have!" The little girl is pretty upset by this, since it is clearly true, and runs home crying. A while later, she comes running back with a smile on her face. She drops her pants and says, "My mommy says that with one of these, I can have as many of those as I want!"
Anonymous
Wife: "Our new neighbor always kisses his wife when he leaves for work. Why don't you do that?"
Husband: "How can I? I don't even know her."
Anonymous
A man and woman had been married for 30 years, and in those 30 years, they always left the lights off when having sex. He was embarrassed and scared that he couldn't please her, so he always used a big dildo on her. All these years she had no clue. One day, she decided to reach over and flip the light switch on and saw that he was using a dildo. She said "I knew it, asshole, explain the dildo!" He said, "Explain the kids!"
skylertouchet