Categories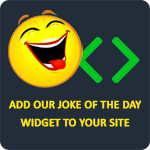 Q: Why can't a blonde dial 911?
A: She can't find the eleven.
TheLaughFactory
Two blondes fell down a hole. One said, "It's dark in here isn't it?" The other replied, "I don't know; I can't see."
Anonymous
Two men were talking. "So, how's your sex life?"
"Oh, nothing special. I'm having Social Security sex."
"Social Security sex?"
"Yeah, you know, I get a little each month, but not enough to live on."
blanky
Q: How come oysters never donate to charity?
A: Because they are shellfish.
me
A boy says to a girl, "So, sex at my place?" "Yeah!" "Okay, but I sleep in a bunk bed with my younger brother, and he thinks we're making sandwiches, so we have to have a code. Cheese means faster and tomato means harder, okay?" Later on the girl is yelling, "Cheese cheese, tomato tomato!" The younger brother says, "Stop making sandwiches! You're getting mayo all over my bed!"
jalvarez100