Categories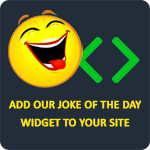 Yo mamma is so ugly when she took a bath the water jumped out.
zacky
Yo momma so stupid she stuck a battery up her ass and said, "I GOT THE POWER!"
GIovanni pinto ramos
Yo mamma is so fat she doesn't need the internet, because she's already world wide.
Anonymous
Wife: "I look fat. Can you give me a compliment?"
Husband: "You have perfect eyesight."
coloured pencils
Q: Why couldn't the leopard play hide and seek?
A: Because he was always spotted.
lovebite