Categories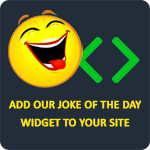 Yo momma is so fat when she sat on WalMart, she lowered the prices.
zacky
There is an overweight guy who is watching TV. A commercial comes on for a guaranteed weight loss of 10 pounds in a week. So the guy, thinking what the hell, signs up for it. Next morning an incredibly beautiful woman is standing at his door in nothing but a pair of running shoes and a sign about her neck that reads, "If you can catch me, you can have me." As soon as he sees her, she takes off running. He tries to catch her, but is unable. This continues for a week, at the end of which, the man has lost 10 pounds. After this he tries the next weight loss plan, 15 pounds in a week. The next morning an even more beautiful woman is standing at the door, in similar conditions. The same happens with her as the first woman, except he almost catches her. This continues for a week, at the end of which he, as suspected, weighs 15 pounds less. Excited about this success, he decides to do the master program. Before he signs up, he is required to sign a waiver and is warned about the intensity of this plan. Still he signs up. The next morning, waiting at the door, is a hulking 300 pound muscle man with nothing but a pair of running shoes, a raging erection, and a sign around his neck that says, "If I catch you, you're mine!" The man was supposed to lose 25 pounds in the week; he lost 34.
Anonymous
Sarah goes to school, and the teacher says, "Today we are going to learn multi-syllable words, class. Does anybody have an example of a multi-syllable word?" Sarah waves her hand, "Me, Miss Rogers, me, me!" Miss Rogers says, "All right, Sarah, what is your multi-syllable word?" Sarah says, "Mas-tur-bate." Miss Rogers smiles and says, "Wow, Sarah, that's a mouthful." Sarah says, "No, Miss Rogers, you're thinking of a blowjob."
Rodderiqus11
A guy took his blonde girlfriend to her first football game. They had great seats right behind their team's bench. After the game, he asked her how she liked the experience. "Oh, I really liked it," she replied, "especially the tight pants and all the big muscles, but I just couldn't understand why they were killing each other over 25 cents." Dumbfounded, her date asked, "What do you mean?" "Well, they flipped a coin, one team got it, and then for the rest of the game, all they kept screaming was, 'Get the quarterback! Get the quarterback!' I'm like, hello? It's only 25 cents!"
laurieleebrown
A lady comes home from her doctor's appointment grinning from ear to ear. Her husband asks, "Why are you so happy?" The wife says, "The doctor told me that for a forty-five year old woman, I have the breasts of a eighteen year old." "Oh yeah?" quipped her husband, "What did he say about your forty-five year old ass?" She said, "Your name never came up in the conversation."
Mark My Words