Categories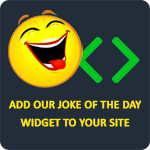 Your momma is so ugly she made One Direction go another direction.
Anonymous
A police officer attempts to stop a car for speeding and the guy gradually increases his speed until he's topping 100 mph. The man eventually realizes he can't escape and finally pulls over. The cop approaches the car and says, "It's been a long day and my shift is almost over, so if you can give me a good excuse for your behavior, I'll let you go." The guy thinks for a few seconds and then says, "My wife ran away with a cop about a week ago. I thought you might be that officer trying to give her back!"
James Harris
A boy walks in on his mom and dad having sex. He asks, "What are you doing?" The dad replies, "Making you a brother or sister!" The boy says, "Well, do her doggy style I want a puppy."
Lydia Hatch
Maria, a devout Catholic, got married and had 15 children. After her first husband died, she remarried and had 15 more children. A few weeks after her second husband died, Maria also passed away. At Maria's funeral, the priest looked skyward and said, "At last, they're finally together." Her sister sitting in the front row said, "Excuse me, Father, but do you mean she and her first husband, or she and her second husband?" The priest replied, "I mean her legs."
Otto Stewart
Q: Why can't a blonde dial 911?
A: She can't find the eleven.
TheLaughFactory