Categories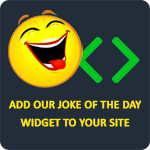 A guy believed that his wife is cheating on him, so he hired a private investigator. The cheapest he could find was a Chinese man. This was the Chinese PI's report about what he found: "Most honorable, sir. You leave house. I watch house. He come to house. I watch. He and she leave house. I follow. He and she go in hotel. I climb tree. I look in window. He kiss she. He strip she. She strip he. He play with she. She play with he. I play with me. I fall out tree. I not see. No fee. Cheng Lee."
lexi moss
Yo momma is so stupid she took a ruler to bed to see how long she slept.
TheLaughFactory
A black Jewish boy runs home from school one day and asks his father, "Daddy, am I more Jewish or more black?" The dad replies, "Why do you want to know, son?" "Because a kid at school is selling a bike for $50 and I want to know if I should talk him down to $40 or just steal it!"
Anonymous
Yo momma is so fat when she went to KFC the cashier asked, "What size bucket?" and yo momma said, "The one on the roof."
jaelynn leonen
Yo momma is so fat that when she saw a yellow school bus go by full of white kids she ran after it yelling, "TWINKIE!"
the master