Categories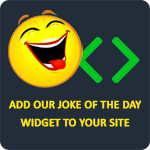 Your momma is so ugly she made One Direction go another direction.
Anonymous
Little Sally came home from school with a smile on her face, and told her mother, "Frankie Brown showed me his weenie today at the playground!" Before the mother could raise a concern, Sally went on to say, "It reminded me of a peanut." Relaxing with a hidden smile, Sally's mom asked, "Really small, was it?" Sally replied, "No, salty." Mom fainted.
ezmoney
Instead of "the John," I call my toilet "the Jim." That way it sounds better when I say I go to the Jim first thing every morning.
Rudy T. Monkey
Q: What is the Mexican version of One Direction?
A: Juan Direction.
Anonymous
So a man dies, goes to Heaven, and sees St. Peter. There are many clocks surrounding him so the man asks, "What are these clocks for?" St. Peter replies, "These are lie clocks, they tick once for every lie you tell. Here we have Mother Teresa's clock. She has never lied so the clock has not moved. Honest Abe has only lied twice in his life, so it has only ticked twice." The man then asks, "So where is George Bush's clock?" St. Peter replies, "Oh, that is in Jesus' office, he is using it as a ceiling fan!"
Shady