Categories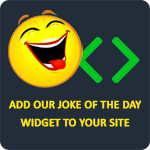 Q: What did the duck say when he bought lipstick?
A: "Put it on my bill."
TheLaughFactory
How do you blindfold a Chinese person? Put floss over their eyes.
kallen007
A black Jewish boy runs home from school one day and asks his father, "Daddy, am I more Jewish or more black?" The dad replies, "Why do you want to know, son?" "Because a kid at school is selling a bike for $50 and I want to know if I should talk him down to $40 or just steal it!"
Anonymous
An elderly couple are in church. The wife leans over and whispers to her husband, "I just let out a long, silent fart. What should I do?" The husband replies, "First off, replace the batteries in your hearing aid!"
mtelloibew
Q: Why was six scared of seven?
A: Because seven "ate" nine.
Anonymous