Categories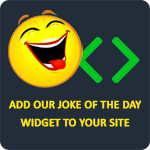 20 years ago we had Johnny Cash, Bob Hope, and Steve Jobs. Now we have no cash, no hope, and no jobs.
james wilson
A boy says to a girl, "So, sex at my place?" "Yeah!" "Okay, but I sleep in a bunk bed with my younger brother, and he thinks we're making sandwiches, so we have to have a code. Cheese means faster and tomato means harder, okay?" Later on the girl is yelling, "Cheese cheese, tomato tomato!" The younger brother says, "Stop making sandwiches! You're getting mayo all over my bed!"
jalvarez100
Q: What do you call the space between Kim Kardashian's breasts and butt cheeks?
A: Silicon Valley.
Peuade
On Thanksgiving day, a little boy overhears his mom and dad fighting. He hears his mom call his dad a bastard and hears his dad call his mom a bitch. He asks, "Mommy, what does bastard mean?" She answers, "Um, it means boy." Then he asks, "Daddy, what does bitch mean?" He says, "Uh, it means girl." Later that day, the boy sees his father in the bathroom shaving; the dad accidentally cuts himself and says, "Shit." The son asks, "What does shit mean?" The dad says, "It means shaving cream." Then he sees his mom in the kitchen carving the turkey; she accidentally cuts herself and says, "Fuck." The son asks her what that word means and she says, "It means carving." That evening, the family's guests arrive for Thanksgiving dinner. The son opens the door to welcome them and says, "Welcome bitches and bastards! My dad is in the bathroom rubbing shit on his face and my mom is in the kitchen fucking the turkey."
JackIsPigs
Q: Who is the poorest guy in the south?
A: The Tooth Fairy.
mum