Categories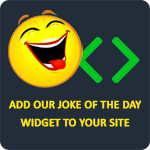 Q: What did the duck say when he bought lipstick?
A: "Put it on my bill."
TheLaughFactory
Your momma is so ugly she made One Direction go another direction.
Anonymous
A woman gets on a bus with her baby. The bus driver says, "That's the ugliest baby that I've ever seen. Ugh!" The woman goes to the rear of the bus and sits down, fuming. She says to a man next to her, "The driver just insulted me!" The man says, "You go right up there and tell him off – go ahead, I'll hold your monkey for you."
avre1
A blonde woman, a priest, a pilot, and a high schooler are all on a crashing plane. There are only enough parachutes to save three of them, and the pilot is the first to jump out. He grabs a parachute and says, "I'm a pilot! People need me to fly planes!" and then jumps out. The blonde is next to jump out. She grabs a parachute and says, "My hair won't look pretty if I'm dead!" and then jumps out. The priest then says to the high schooler, "Son, I've lived my life to its fullest and I am surely ready to join God in heaven." The high schooler then hands a parachute to the priest and puts another parachute on himself. The priest is shocked and asks the high schooler, "Oh Lord! Where did you find this extra parachute?" The high schooler replies, "The blonde lady took my backpack!"
Anonymous Comedian
Q: How do Chinese people name their babies?
A: They throw them down the stairs to see what noise they make.
Anonymous