Categories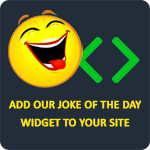 There is more money being spent on breast implants and Viagra today, than on Alzheimer's research. This means that by 2040, there should be a large elderly population with perky boobs, huge erections, and absolutely no recollection of what to do with them.
Todd9978
Blonde: "What does IDK stand for?"
Brunette: "I don't know."
Blonde: "OMG, nobody does!"
Anonymous
Yo momma's so fat, that when she fell, no one was laughing but the ground was cracking up.
LaughFactory
Wife: "How would you describe me?"
Husband: "ABCDEFGHIJK."
Wife: "What does that mean?"
Husband: "Adorable, beautiful, cute, delightful, elegant, fashionable, gorgeous, and hot."
Wife: "Aw, thank you, but what about IJK?"
Husband: "I'm just kidding!"
tiya
Q: What's the difference between a black man and a park bench?
A: A park bench can support a family of four.
Anonymous