Categories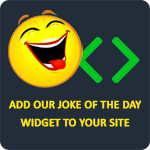 There are three blondes who are on a road trip. As they are driving through the desert, their car breaks down. They have no phone to call anyone, so they decide to walk to the nearest city, several miles away. They each decide to take one thing to make the journey better. The first blonde takes the radio and says, "If we get bored, we can put the radio on and listen to music." The second blonde decides to take a wheel, "In case one of us gets really tired, we can go inside the wheel and be rolled." The third blonde takes the car door, "In case it gets too hot, we can roll down the window!"
badassantos
Maria went home happy, telling her mother about how she earned $20 by climbing a tree. Her mom responded, "Maria, they just wanted to see your panties!" Maria replied, "See Mom, I was smart, I took them off!"
yohel
Sarah goes to school, and the teacher says, "Today we are going to learn multi-syllable words, class. Does anybody have an example of a multi-syllable word?" Sarah waves her hand, "Me, Miss Rogers, me, me!" Miss Rogers says, "All right, Sarah, what is your multi-syllable word?" Sarah says, "Mas-tur-bate." Miss Rogers smiles and says, "Wow, Sarah, that's a mouthful." Sarah says, "No, Miss Rogers, you're thinking of a blowjob."
Rodderiqus11
The Lone Ranger and Tonto were hunting buffalo one day to no avail. Tonto jumps off his horse, puts his ear to ground and says, "Buffalo come." The Lone Ranger asks, "How do you know that?" Tonto replies, "Ear sticky."
Shawn Bates
Q: Why is a river rich? A: Because it has two banks.
ISHA KHANNA