Categories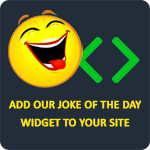 A guy took his blonde girlfriend to her first football game. They had great seats right behind their team's bench. After the game, he asked her how she liked the experience. "Oh, I really liked it," she replied, "especially the tight pants and all the big muscles, but I just couldn't understand why they were killing each other over 25 cents." Dumbfounded, her date asked, "What do you mean?" "Well, they flipped a coin, one team got it, and then for the rest of the game, all they kept screaming was, 'Get the quarterback! Get the quarterback!' I'm like, hello? It's only 25 cents!"
laurieleebrown
A little girl and boy are fighting about the differences between the sexes, and which one is better. Finally, the boy drops his pants and says, "Here's something I have that you'll never have!" The little girl is pretty upset by this, since it is clearly true, and runs home crying. A while later, she comes running back with a smile on her face. She drops her pants and says, "My mommy says that with one of these, I can have as many of those as I want!"
Anonymous
Four nuns are in line to go into heaven. God asks the first nun if she has ever sinned. She says, "Well, I've seen a penis." So God puts holy water on her eyes and lets her enter. He asks the second nun the same thing and she says, "I've held a penis," so he puts holy water on her hands and lets her enter. Then the fourth nun skips the third nun in line and God asks why she did that. The 4th nun replies, "Well, I need to gargle it before she sits in it."
Anonymous
How do you blindfold a Chinese person? Put floss over their eyes.
kallen007
A penguin takes his car to the shop, and the mechanic says he needs an hour to check it out. So the penguin goes across the street to the 7-Eleven to kill some time and get an ice cream. Since the penguin has no hands, the poor little guy gets the ice cream all over his beak. He returns to the mechanic and the guy tells him, "Looks like you blew a seal." "Oh no," says the penguin, "this is just a little ice cream."
JackPaar