Categories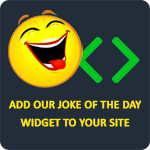 A man and woman had been married for 30 years, and in those 30 years, they always left the lights off when having sex. He was embarrassed and scared that he couldn't please her, so he always used a big dildo on her. All these years she had no clue. One day, she decided to reach over and flip the light switch on and saw that he was using a dildo. She said "I knew it, asshole, explain the dildo!" He said, "Explain the kids!"
skylertouchet
My friend thinks he is smart. He told me an onion is the only food that makes you cry, so I threw a coconut at his face.
funny jokes
A mother comes home from work to find that her kids are hiding behind the couch. She asks what's wrong, and the kids reply that aunt Sally was in the house naked. So she goes to her bedroom to investigate, and she finds her husband lying on the bed naked and sweaty. She asks, "What's going on?" He replies, "I'm having a heart attack." She says "I'm going to call 911, while I'm really looking for my sister." She discovers the aunt in the bathroom closet in the nude, and gives her a slap, "How dare you! My husband is having a heart attack and you're running around scaring the kids!"
jokester01
Little Sally came home from school with a smile on her face, and told her mother, "Frankie Brown showed me his weenie today at the playground!" Before the mother could raise a concern, Sally went on to say, "It reminded me of a peanut." Relaxing with a hidden smile, Sally's mom asked, "Really small, was it?" Sally replied, "No, salty." Mom fainted.
ezmoney
There is an overweight guy who is watching TV. A commercial comes on for a guaranteed weight loss of 10 pounds in a week. So the guy, thinking what the hell, signs up for it. Next morning an incredibly beautiful woman is standing at his door in nothing but a pair of running shoes and a sign about her neck that reads, "If you can catch me, you can have me." As soon as he sees her, she takes off running. He tries to catch her, but is unable. This continues for a week, at the end of which, the man has lost 10 pounds. After this he tries the next weight loss plan, 15 pounds in a week. The next morning an even more beautiful woman is standing at the door, in similar conditions. The same happens with her as the first woman, except he almost catches her. This continues for a week, at the end of which he, as suspected, weighs 15 pounds less. Excited about this success, he decides to do the master program. Before he signs up, he is required to sign a waiver and is warned about the intensity of this plan. Still he signs up. The next morning, waiting at the door, is a hulking 300 pound muscle man with nothing but a pair of running shoes, a raging erection, and a sign around his neck that says, "If I catch you, you're mine!" The man was supposed to lose 25 pounds in the week; he lost 34.
Anonymous