Categories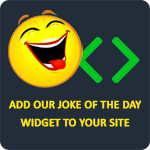 Bob was in trouble. He forgot his wedding anniversary. His wife was really pissed. She told him "Tomorrow morning, I expect to find a gift in the driveway that goes from 0 to 200 in 6 seconds AND IT BETTER BE THERE !!" The next morning he got up early and left for work. When his wife woke up, she looked out the window and sure enough there was a box gift-wrapped in the middle of the driveway. Confused, the wife put on her robe and ran out to the driveway, brought the box back in the house. She opened it and found a brand new bathroom scale. Bob has been missing since Friday.
meriwether12
A clear conscience is usually the sign of a bad memory.
Anonymous
There is a cucumber, a pickle, and a penis. They are complaining about their lives. The cucumber says, "My life sucks. I'm put in salads, and to top it off, they put ranch on me as well. My life sucks." The pickle says, "That's nothing compared to my life. I'm put in vinegar and stored away. Boy my life boring. I hate life." The penis says, "Why are you guys complaining? My life is so messed up that I feel like shooting myself. They put me in a plastic bag, put me in a cave, and make me do push-ups until I throw up."
jerryfrontier07
After picking her son up from school one day, the mother asks him what he did at school. The kid replies, "I had sex with my teacher." She gets so mad that when they get home, she orders him to go straight to his room. When the father returns home that evening, the mother angrily tells him the news of what their son had done. As the father hears the news, a huge grin spreads across his face. He walks to his son's room and asks him what happened at school, the son tells him, "I had sex with my teacher." The father tells the boy that he is so proud of him, and he is going to reward him with the bike he has been asking for. On the way to the store, the dad asks his son if he would like to ride his new bike home. His son responds, "No thanks Dad, my butt still hurts."
MISSDIONE02
Instead of "the John," I call my toilet "the Jim." That way it sounds better when I say I go to the Jim first thing every morning.
Rudy T. Monkey