Categories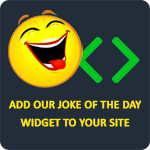 Yo momma is so stupid when an intruder broke into her house, she ran downstairs, dialed 9-1-1 on the microwave, and couldn't find the "CALL" button.
Anonymous
A little girl and boy are fighting about the differences between the sexes, and which one is better. Finally, the boy drops his pants and says, "Here's something I have that you'll never have!" The little girl is pretty upset by this, since it is clearly true, and runs home crying. A while later, she comes running back with a smile on her face. She drops her pants and says, "My mommy says that with one of these, I can have as many of those as I want!"
Anonymous
Your momma is so ugly she made One Direction go another direction.
Anonymous
On his first visit to the zoo, a little boy stared at the caged stork for a long time and asked his dad, "Why doesn't the stork recognize me?"
Dickie
Reaching the end of a job interview, the Human Resources Officer asks a young engineer fresh out of the Massachusetts Institute of Technology, "And what starting salary are you looking for?" The engineer replies, "In the region of $125,000 a year, depending on the benefits package." The interviewer inquires, "Well, what would you say to a package of five weeks vacation, 14 paid holidays, full medical and dental, company matching retirement fund to 50% of salary, and a company car leased every two years, say, a red Corvette?" The engineer sits up straight and says, "Wow! Are you kidding?" The interviewer replies, "Yeah, but you started it."
lauren