Categories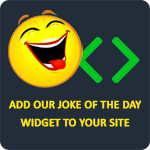 Yo momma's so fat, that when she fell, no one was laughing but the ground was cracking up.
LaughFactory
Q: How do Chinese people name their babies?
A: They throw them down the stairs to see what noise they make.
Anonymous
How I learned to mind my own business: I was walking past the mental hospital the other day, and I could hear all the patients shouting, "13! 13! 13!" The fence was too high to see over, but I saw a little gap in the planks, so I looked through to see what was going on. Someone poked me in the eye with a stick! Then they all started shouting, "14! 14! 14!"
archie
Teacher: "I asked you to draw a cow and grass, but I only see a cow. Where is grass?"
Student: "The cow ate the grass, sir."
Ponyboy
A boy is selling fish on a corner. To get his customers' attention, he is yelling, "Dam fish for sale! Get your dam fish here!" A pastor hears this and asks, "Why are you calling them 'dam fish.'" The boy responds, "Because I caught these fish at the local dam." The pastor buys a couple fish, takes them home to his wife, and asks her to cook the dam fish. The wife responds surprised, "I didn't know it was acceptable for a preacher to speak that way." He explains to her why they are dam fish. Later at the dinner table, he asks his son to pass the dam fish. He responds, "That's the spirit, Dad! Now pass the f*cking potatoes!"
bandajoey92