Categories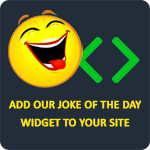 Yo mamma is so ugly when she took a bath the water jumped out.
zacky
Q: What did the duck say when he bought lipstick?
A: "Put it on my bill."
TheLaughFactory
Yo momma's so fat she needs cheat codes for Wii Fit.
joshdavis1991
Yo mamma is so fat she doesn't need the internet, because she's already world wide.
Anonymous
Yo Momma's so fat when I told her to touch her toes she said, "What are those"?
Repor9