Categories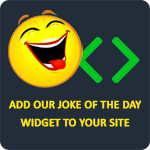 Two drunks are sitting in a bar when one of them turns to the other one and asks, "Hey, isn't that Hortense?" The other drunk chimes in and says, "No, she looks pretty relaxed to me."
Mark My Words
Q: What did the Black Eyed Peas do at Wiz Khalifa's costume party?
A: They dressed up in black and yellow, black and yellow, and said, "I'm a bee, I'm a bee, I'm a I'm a I'm a bee!"
Anonymous
Yo momma is so fat her bellybutton gets home 15 minutes before she does.
Anonymous
Q: How do Chinese people name their babies?
A: They throw them down the stairs to see what noise they make.
Anonymous
A few months after his parents were divorced, little Johnny passed by his mom's bedroom and saw her rubbing her body and moaning, "I need a man, I need a man!" Over the next couple of months, he saw her doing this several times. One day, he came home from school and heard her moaning. When he peeked into her bedroom, he saw a man on top of her. Little Johnny ran into his room, took off his clothes, threw himself on his bed, started stroking himself, and moaning, "Ohh, I need a bike! I need a bike!"
kandue0962