Categories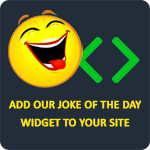 A man was walking down the street and saw a sign in a store window that said "Help Wanted," so the man ran in the store and yelled out, "What's wrong?!"
animal p.
Why did Hitler kill himself? Because he saw his gas bill.
Mahachoo
Q: How do Chinese people name their babies?
A: They throw them down the stairs to see what noise they make.
Anonymous
Yo momma is so fat when she went to KFC the cashier asked, "What size bucket?" and yo momma said, "The one on the roof."
jaelynn leonen
Yo momma's so fat, that when she went to the zoo, the hippos got jealous.
Anonymous