Categories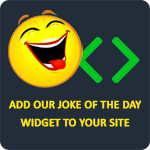 A blonde, a redhead, and a brunette were all lost in the desert. They found a lamp and rubbed it. A genie popped out and granted them each one wish. The redhead wished to be back home. Poof! She was back home. The brunette wished to be at home with her family. Poof! She was back home with her family. The blonde said, "Awwww, I wish my friends were here."
Donovan
A mother is in the kitchen making dinner for her family when her daughter walks in. "Mother, where do babies come from?" The mother thinks for a few seconds and says, "Well dear, Mommy and Daddy fall in love and get married. One night they go into their bedroom, they kiss and hug, and have sex." The daughter looks puzzled so the mother continues, "That means the daddy puts his penis in the mommy's vagina. That's how you get a baby, honey." The child seems to comprehend. "Oh, I see, but the other night when I came into your room you had daddy's penis in your mouth. What do you get when you do that?" "Jewelry, my dear. Jewelry."
Tatauaje13
A child asked his father, "How were people born?" So his father said, "Adam and Eve made babies, then their babies became adults and made babies, and so on." The child then went to his mother, asked her the same question and she told him, "We were monkeys then we evolved to become like we are now." The child ran back to his father and said, "You lied to me!" His father replied, "No, your mom was talking about her side of the family."
Anonymous
This is the true story of George Phillips of Meridian, Mississippi, who was going to bed when his wife told him that he'd left the light on in the shed. George opened the door to go turn off the light but saw there were people in the shed in the process of stealing things.

He immediately phoned the police, who asked, "Is someone in your house?" and George said, "No," and explained the situation. Then they explained that all patrols were busy, and that he should simply lock his door and an officer would be there when available.

George said, "Okay," hung up, counted to 30, and phoned the police again.

"Hello, I just called you a few seconds ago because there were people in my shed. Well, you don't have to worry about them now because I've just shot them all."

Then he hung up. Within five minutes three squad cars, an Armed Response unit, and an ambulance showed up. Of course, the police caught the burglars red-handed.

One of the policemen said to George, "I thought you said that you'd shot them!"

George said, "I thought you said there was nobody available!"
Anonymous
A taxi passenger taps the driver on the shoulder to ask him a question. The driver screams, loses control of the car, nearly hits a bus, goes up on the footpath, and stops centimeters from a shop window. For a second, everything goes quiet in the cab, then the driver says, "Look mate, don't ever do that again. You scared the daylights out of me!" The passenger apologizes and says, "I didn't realize that a little tap would scare you so much." The driver replies, "Sorry, it's not really your fault. Today is my first day as a cab driver. I've been driving a funeral van for the last 25 years."
Anonymous