Categories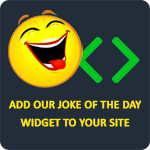 Yo momma is so stupid when an intruder broke into her house, she ran downstairs, dialed 9-1-1 on the microwave, and couldn't find the "CALL" button.
Anonymous
Yo momma's so fat, that when she fell, no one was laughing but the ground was cracking up.
LaughFactory
Yo momma is so fat when she sat on WalMart, she lowered the prices.
zacky
What did God say when he made the first black man? "Damn, I burnt one."
joe to good
Your momma is so ugly she made One Direction go another direction.
Anonymous