Categories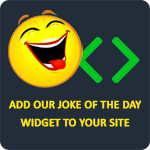 Yo mamma is so ugly when she tried to join an ugly contest they said, "Sorry, no professionals."
Anonymous
I asked a Chinese girl for her number. She said, "Sex! Sex! Sex! Free sex tonight!" I said, "Wow!" Then her friend said, "She means 666-3629."
Anonymous
Wife: "I look fat. Can you give me a compliment?"
Husband: "You have perfect eyesight."
coloured pencils
Wife: "How would you describe me?"
Husband: "ABCDEFGHIJK."
Wife: "What does that mean?"
Husband: "Adorable, beautiful, cute, delightful, elegant, fashionable, gorgeous, and hot."
Wife: "Aw, thank you, but what about IJK?"
Husband: "I'm just kidding!"
tiya
A blonde is overweight so her doctor puts her on a diet. "I want you to eat regularly for two days, then skip a day and repeat for two weeks and you'll lose at least five pounds." When the blonde returns, she's lost nearly 20 pounds. The doctor exclaims, "That's amazing! Did you follow my diet?" The blonde nods. "I thought I was going to drop dead every third day from all the skipping!"
Rhys