Categories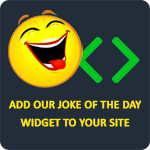 What did God say when he made the first black man? "Damn, I burnt one."
joe to good
Alfie was listening to his sister practice her singing. "Sis," he said, "I wish you'd sing Christmas carols." "Thats nice of you, Alfie," she replied, "but why?" Alfie replied, "Because then I'd only have to hear your voice once a year!"
ibryildiz
Blonde: "What does IDK stand for?"
Brunette: "I don't know."
Blonde: "OMG, nobody does!"
Anonymous
Two blondes fell down a hole. One said, "It's dark in here isn't it?" The other replied, "I don't know; I can't see."
Anonymous
Q: How do you count cows?
A: With a cowculator.
Anonymous