Categories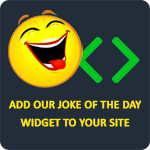 Two nuns from Ireland come to tour New York City. Before they come, they hear that Americans eat dogs, so they both agree to try it when they arrive. As they're walking around New York, they hear, "Hot Dogs! Get your hot dogs!" They rush over to get one! As the first nun opens hers, her face turns white and she gasps, "What part did you get?!"
mway0030
A teacher is teaching a class and she sees that Johnny isn't paying attention, so she asks him, "If there are three ducks sitting on a fence, and you shoot one, how many are left?" Johnny says, "None." The teacher asks, "Why?" Johnny says, "Because the shot scared them all off." The teacher says, "No, two, but I like how you're thinking." Johnny asks the teacher, "If you see three women walking out of an ice cream parlor, one is licking her ice cream, one is sucking her ice cream, and one is biting her ice cream, which one is married?" The teacher says, "The one sucking her ice cream." Johnny says, "No, the one with the wedding ring, but I like how you're thinking!"
rockabillyray
This is the true story of George Phillips of Meridian, Mississippi, who was going to bed when his wife told him that he'd left the light on in the shed. George opened the door to go turn off the light but saw there were people in the shed in the process of stealing things.

He immediately phoned the police, who asked, "Is someone in your house?" and George said, "No," and explained the situation. Then they explained that all patrols were busy, and that he should simply lock his door and an officer would be there when available.

George said, "Okay," hung up, counted to 30, and phoned the police again.

"Hello, I just called you a few seconds ago because there were people in my shed. Well, you don't have to worry about them now because I've just shot them all."

Then he hung up. Within five minutes three squad cars, an Armed Response unit, and an ambulance showed up. Of course, the police caught the burglars red-handed.

One of the policemen said to George, "I thought you said that you'd shot them!"

George said, "I thought you said there was nobody available!"
Anonymous
A teacher wanted to teach her students about self-esteem, so she asked anyone who thought they were stupid to stand up. One kid stood up and the teacher was surprised. She didn't think anyone would stand up so she asked him, "Why did you stand up?" He answered, "I didn't want to leave you standing up by yourself."
ronald34
A taxi passenger taps the driver on the shoulder to ask him a question. The driver screams, loses control of the car, nearly hits a bus, goes up on the footpath, and stops centimeters from a shop window. For a second, everything goes quiet in the cab, then the driver says, "Look mate, don't ever do that again. You scared the daylights out of me!" The passenger apologizes and says, "I didn't realize that a little tap would scare you so much." The driver replies, "Sorry, it's not really your fault. Today is my first day as a cab driver. I've been driving a funeral van for the last 25 years."
Anonymous