Categories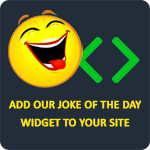 Yo momma's so stupid, she put two quarters in her ears and thought she was listening to 50 Cent.
marquez007
Paddy and Murphy are havin' a pint in the pub, when some scuba divers come on the TV. Paddy says, "Murphy, why is it them deep sea divers always sit on the side of the boat with them air tanks on their backs, and fall backwards out of the boat?" Murphy thinks for a minute then says, "That's easy. It's 'cos if they fell forwards, they'd still be in the friggin boat!"
c sud
Yo momma is so fat her bellybutton gets home 15 minutes before she does.
Anonymous
My friend thinks he is smart. He told me an onion is the only food that makes you cry, so I threw a coconut at his face.
funny jokes
A child asked his father, "How were people born?" So his father said, "Adam and Eve made babies, then their babies became adults and made babies, and so on." The child then went to his mother, asked her the same question and she told him, "We were monkeys then we evolved to become like we are now." The child ran back to his father and said, "You lied to me!" His father replied, "No, your mom was talking about her side of the family."
Anonymous