Categories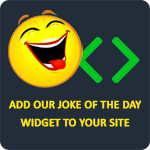 Q: Why can't a blonde dial 911?
A: She can't find the eleven.
TheLaughFactory
A woman had never seen Santa Claus before, but on Christmas Eve night she heard someone come down her chimney so she went downstairs to check it out. ''Oh, it's Santa Claus," she said, "Please stay and chat this is the first time I have met you." Santa replied, "Ho ho ho, I need to go. I need to go!" The lady took off her robe, but Santa said, "Ho ho ho, I need to go. I need to go!" The lady slipped off her nightgown and Santa told her, "Ho ho ho, I need to go. I need to go!" Then the lady removed her panties, and Santa said, ''Hey hey hey, I need to stay. I need to stay, 'cause I can't go up the chimney with my dick this way!"
mel
A man kills a deer and takes it home to cook for dinner. Both he and his wife decide that they won't tell the kids what kind of meat it is, but will give them a clue and let them guess. The dad said, "Well it's what Mommy calls me sometimes." The little girl screamed to her brother, "Don't eat it. Its an asshole!
blackray
What do you call people who are afraid of Santa Claus? Claustrophobic.
Anonymous
Alfie was listening to his sister practice her singing. "Sis," he said, "I wish you'd sing Christmas carols." "Thats nice of you, Alfie," she replied, "but why?" Alfie replied, "Because then I'd only have to hear your voice once a year!"
ibryildiz