Categories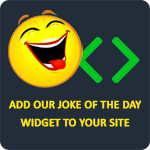 Three nuns are talking. The first nun says, "I was cleaning in Father's room the other day and do you know what I found? A bunch of pornographic magazines." "What did you do?" the other nun asks. "Well, of course I threw them in the trash." The second nun says, "Well, I can top that. I was in Father's room putting away the laundry and I found a bunch of condoms!" "Oh my!" gasp the other nuns. "What did you do?" they ask. "I poked holes in all of them!" she replies. The third nun faints.
Plurple
Little Sally came home from school with a smile on her face, and told her mother, "Frankie Brown showed me his weenie today at the playground!" Before the mother could raise a concern, Sally went on to say, "It reminded me of a peanut." Relaxing with a hidden smile, Sally's mom asked, "Really small, was it?" Sally replied, "No, salty." Mom fainted.
ezmoney
A blonde is overweight so her doctor puts her on a diet. "I want you to eat regularly for two days, then skip a day and repeat for two weeks and you'll lose at least five pounds." When the blonde returns, she's lost nearly 20 pounds. The doctor exclaims, "That's amazing! Did you follow my diet?" The blonde nods. "I thought I was going to drop dead every third day from all the skipping!"
Rhys
Ralph is driving home one evening, when he suddenly realizes that it's his daughter's birthday and he hasn't bought her a present. He drives to the mall, runs to the toy store, and says to the shop assistant, "How much is that Barbie in the window?" In a condescending manner, she says, "Which Barbie?" She continues, "We have Barbie Goes to the Gym for $19.95, Barbie Goes to the Ball for $19.95, Barbie Goes Shopping for $19.95, Barbie Goes to the Beach for $19.95, Barbie Goes Nightclubbing for $19.95, and Divorced Barbie for $265.00." Ralph asks, "Why is the Divorced Barbie $265.00 when all the others are only $19.95?" "That's obvious," the saleslady says. "Divorced Barbie comes with Ken's house, Ken's car, Ken's boat, Ken's furniture..."
Andrew
Q: What did the duck say when he bought lipstick?
A: "Put it on my bill."
TheLaughFactory