Categories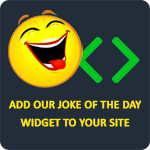 My friend thinks he is smart. He told me an onion is the only food that makes you cry, so I threw a coconut at his face.
funny jokes
Blonde: "What does IDK stand for?"
Brunette: "I don't know."
Blonde: "OMG, nobody does!"
Anonymous
Q: Why can't a blonde dial 911?
A: She can't find the eleven.
TheLaughFactory
A recent worldwide survey showed that out of 2,146,703,436 people, 94% were too lazy to actually read that number.
flolez
How do you make five pounds of fat look good? Put a nipple on it!
Dyslexa