Categories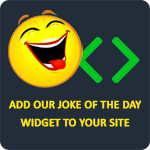 Two blondes fell down a hole. One said, "It's dark in here isn't it?" The other replied, "I don't know; I can't see."
Anonymous
A blonde, a redhead, and a brunette were all lost in the desert. They found a lamp and rubbed it. A genie popped out and granted them each one wish. The redhead wished to be back home. Poof! She was back home. The brunette wished to be at home with her family. Poof! She was back home with her family. The blonde said, "Awwww, I wish my friends were here."
Donovan
Your momma is so ugly she made One Direction go another direction.
Anonymous
Why are asprins white? Because they work!
ScottBackman
Q: What did the duck say when he bought lipstick?
A: "Put it on my bill."
TheLaughFactory