Categories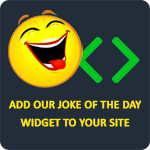 What happens to a frog's car when it breaks down?
It gets toad away.
ZDW
A man and woman had been married for 30 years, and in those 30 years, they always left the lights off when having sex. He was embarrassed and scared that he couldn't please her, so he always used a big dildo on her. All these years she had no clue. One day, she decided to reach over and flip the light switch on and saw that he was using a dildo. She said "I knew it, asshole, explain the dildo!" He said, "Explain the kids!"
skylertouchet
Whenever your ex says, "You'll never find someone like me," the answer to that is, "That's the point."
Ascelyn
Q: Why is diarrhea hereditary?
A: It runs in your genes.
Hamid
A guy took his blonde girlfriend to her first football game. They had great seats right behind their team's bench. After the game, he asked her how she liked the experience. "Oh, I really liked it," she replied, "especially the tight pants and all the big muscles, but I just couldn't understand why they were killing each other over 25 cents." Dumbfounded, her date asked, "What do you mean?" "Well, they flipped a coin, one team got it, and then for the rest of the game, all they kept screaming was, 'Get the quarterback! Get the quarterback!' I'm like, hello? It's only 25 cents!"
laurieleebrown