Categories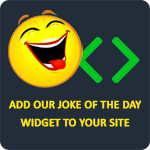 Your Halloween costume came in the mail today. I opened it. It was a rooster mask and a bag of lollipops. Going as a c*ck sucker again!?
jewelzee86
Q: What did the duck say when he bought lipstick?
A: "Put it on my bill."
TheLaughFactory
A man kills a deer and takes it home to cook for dinner. Both he and his wife decide that they won't tell the kids what kind of meat it is, but will give them a clue and let them guess. The dad said, "Well it's what Mommy calls me sometimes." The little girl screamed to her brother, "Don't eat it. Its an asshole!
blackray
A black Jewish boy runs home from school one day and asks his father, "Daddy, am I more Jewish or more black?" The dad replies, "Why do you want to know, son?" "Because a kid at school is selling a bike for $50 and I want to know if I should talk him down to $40 or just steal it!"
Anonymous
Q: Why did the pig leave the costume party?
A: Because everyone thought he was a boar.
Anonymous