Categories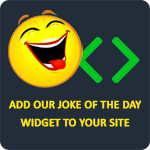 Yo momma is so stupid when an intruder broke into her house, she ran downstairs, dialed 9-1-1 on the microwave, and couldn't find the "CALL" button.
Anonymous
Q: My boyfriend is as beautiful as Frank Sinatra and as intelligent as Albert Einstein; what is his name?
A: Frankenstein.
Alejandro Jodorowsky
Why did the turkey cross the road? Because he wasn't a chicken.
bob
Why is it that your nose runs, but your feet smell?
Anonymous
Yo momma's so fat, that when she fell, no one was laughing but the ground was cracking up.
LaughFactory