Categories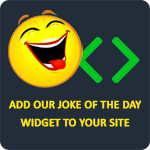 Yo momma is so fat when she sat on WalMart, she lowered the prices.
zacky
A little girl and boy are fighting about the differences between the sexes, and which one is better. Finally, the boy drops his pants and says, "Here's something I have that you'll never have!" The little girl is pretty upset by this, since it is clearly true, and runs home crying. A while later, she comes running back with a smile on her face. She drops her pants and says, "My mommy says that with one of these, I can have as many of those as I want!"
Anonymous
A man is talking to God. "God, how long is a million years?" God answers, "To me, it's about a minute." "God, how much is a million dollars?" "To me, it's a penny." "God, may I have a penny?" "Wait a minute."
Maysam
A black boy walks into the kitchen where his mother is baking and accidentally pulls the flour over onto his head. He turns to his mother and says, "Look Mama, I'm a white boy!" His mother smacks him and says, "Go tell your Daddy what you just said!" The boy finds his father and says, "Look Daddy, I'm a white boy!" His Daddy bends him over, spanks him, stands the boy back up, and says, "Now, what do you have to say for yourself?" The boy replies, "I've only been a white boy for five minutes and I already hate you black people!"
nghtvisn
A few months after his parents were divorced, little Johnny passed by his mom's bedroom and saw her rubbing her body and moaning, "I need a man, I need a man!" Over the next couple of months, he saw her doing this several times. One day, he came home from school and heard her moaning. When he peeked into her bedroom, he saw a man on top of her. Little Johnny ran into his room, took off his clothes, threw himself on his bed, started stroking himself, and moaning, "Ohh, I need a bike! I need a bike!"
kandue0962