Categories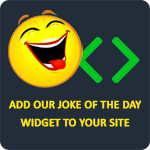 Q: Can a kangaroo jump higher than the Empire State Building?
A: Of course. The Empire State Building can't jump.
bobby
Your momma is so ugly she made One Direction go another direction.
Anonymous
Reaching the end of a job interview, the Human Resources Officer asks a young engineer fresh out of the Massachusetts Institute of Technology, "And what starting salary are you looking for?" The engineer replies, "In the region of $125,000 a year, depending on the benefits package." The interviewer inquires, "Well, what would you say to a package of five weeks vacation, 14 paid holidays, full medical and dental, company matching retirement fund to 50% of salary, and a company car leased every two years, say, a red Corvette?" The engineer sits up straight and says, "Wow! Are you kidding?" The interviewer replies, "Yeah, but you started it."
lauren
I met a one-legged woman outside of a club the other day. She was a bouncer.
Back Jertelsen
Q: Why did the blonde put her iPhone in a blender?
A: To make apple juice.
Anonymous