Categories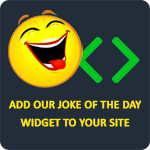 Every ten years, the monks in the monastery are allowed to break their vow of silence to speak two words. Ten years go by and it's one monk's first chance. He thinks for a second before saying, "Food bad." Ten years later, he says, "Bed hard." It's the big day, a decade later. He gives the head monk a long stare and says, "I quit." "I'm not surprised," the head monk says. "You've been complaining ever since you got here."
TheLaughFactory
Why do women make better soldiers? Because they can bleed for a week and not die.
srehak1
Teacher: "Name a bird with wings but can't fly."
Student: "A dead bird, sir."
Raiyan Rahman
Little Sally came home from school with a smile on her face, and told her mother, "Frankie Brown showed me his weenie today at the playground!" Before the mother could raise a concern, Sally went on to say, "It reminded me of a peanut." Relaxing with a hidden smile, Sally's mom asked, "Really small, was it?" Sally replied, "No, salty." Mom fainted.
ezmoney
Sarah goes to school, and the teacher says, "Today we are going to learn multi-syllable words, class. Does anybody have an example of a multi-syllable word?" Sarah waves her hand, "Me, Miss Rogers, me, me!" Miss Rogers says, "All right, Sarah, what is your multi-syllable word?" Sarah says, "Mas-tur-bate." Miss Rogers smiles and says, "Wow, Sarah, that's a mouthful." Sarah says, "No, Miss Rogers, you're thinking of a blowjob."
Rodderiqus11