Categories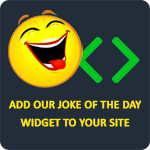 Q: How are fat girls and mopeds alike?
A: They are fun to ride, but you don't want your friends to find out.
Anonymous
Sarah goes to school, and the teacher says, "Today we are going to learn multi-syllable words, class. Does anybody have an example of a multi-syllable word?" Sarah waves her hand, "Me, Miss Rogers, me, me!" Miss Rogers says, "All right, Sarah, what is your multi-syllable word?" Sarah says, "Mas-tur-bate." Miss Rogers smiles and says, "Wow, Sarah, that's a mouthful." Sarah says, "No, Miss Rogers, you're thinking of a blowjob."
Rodderiqus11
Two blondes fell down a hole. One said, "It's dark in here isn't it?" The other replied, "I don't know; I can't see."
Anonymous
Whenever your ex says, "You'll never find someone like me," the answer to that is, "That's the point."
Ascelyn
Q: How do Chinese people name their babies?
A: They throw them down the stairs to see what noise they make.
Anonymous