Categories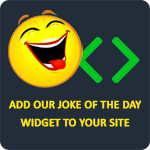 There was a blonde, a redhead, and a brunette. They were all trapped on an island and the nearest shore was 50 miles away. The redhead swam trying to make it to the other shore she swam 15 miles, drowned, and died. The brunette swam 24 miles, drowned, and died. The blonde swam 25 miles, got tired, and swam back.
Donovan
Q: Did you hear abut the hungry clock?
A: It went back four seconds.
LAMEGIRL23
A cowboy goes down to the stable, lifts his horse's tail, and plants a kiss smack dab on the horses butthole. Another cowboy sees this and yells, "What the hell are you doing?" He replies, "I've got chapped lips." The other cowboy asks, "Does that help?" "Nope," he answers, "It just keeps me from licking them."
Anonymous
How do you blindfold a Chinese person? Put floss over their eyes.
kallen007
Q: Why can't a blonde dial 911?
A: She can't find the eleven.
TheLaughFactory