Categories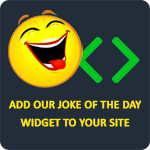 A woman named Shirley was from Beverly Hills. One day, she had a heart attack and was taken to Cedars Sinai Hospital. While on the operating table, she had a near death experience. She saw God and asked, "Is this it?" God said, "No, you have another 30 to 40 years to live." Upon her recovery, she decided to stay in the hospital and have collagen shots, cheek implants, a face lift, liposuction, and breast augmentation. She even had someone dye her hair. She figured since she had another 30 to 40 years, she might as well make the most of it. She walked out of Cedars Sinai lobby after the last operation, and was killed by an ambulance speeding up to the hospital. She arrived in front of God and said, "I thought you said I had another 30 to 40 years?" God replied, "Shirley! I'm sorry but I didn't recognize you!"
raquelgallardo1
Yo momma's so fat, that when she fell, no one was laughing but the ground was cracking up.
LaughFactory
Yo momma's so fat, when I swerved to avoid her in the street I ran outta gas.
LaughFactory
As an airplane is about to crash, a female passenger jumps up frantically and announces, "If I'm going to die, I want to die feeling like a woman." She removes all her clothing and asks, "Is there someone on this plane who is man enough to make me feel like a woman?" A man stands up, removes his shirt and says, "Here, iron this!".
cdiesel1208
Yo momma is so fat that Dora can't even explore her!
Haydenjr1