Categories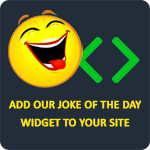 Yo momma's so fat she needs cheat codes for Wii Fit.
joshdavis1991
Q: Why doesn't Dracula have any friends?
A: Because he is a pain in the neck.
Anonymous
Yo momma is so stupid she brought a spoon to the super bowl.
Angel Stalone
Yo mamma is so fat she doesn't need the internet, because she's already world wide.
Anonymous
Q: Why did Adele cross the road?
A: To sing, "Hello from the other side!"
SOME DUDE