Categories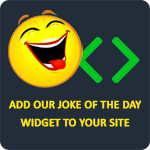 What do the Jews hate most about the Holocaust? THE COST!!!
ebrahima
A Mexican, a Cuban, and a Chinese guy are riding in a truck. Who's driving? Immigration.
jhonda
How many cops does it take to arrest a Mexican? Eight. One to carry him, the rest to carry his oranges.
darrenboy2
What's the difference between an Irish wedding and an Irish wake? One less drunk Irishman.
TheLaughFactory
Q: What's the difference between a black and an Asian?
A: 10 minutes in the oven.
Anonymous