Categories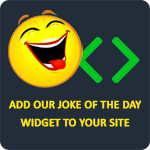 Q: How do you distinguish an arab from a terrorist?
A: You don't ..... that's the problem!
softwars
Being Asian and a woman definitely has its advantages. For example, when you've had a few drinks and have to drive home past midnight, you think you're driving perfectly fine, but in reality you're not. Next thing you know, there's a cop. The cop sees you and doesn't even bother pulling you over, let alone giving you a ticket. Why? Well, he's probably thinking, "This person's not under the influence, it's just an Asian woman driving!"
grrrbernyyy
I shop for shoes the way black men hit on women. It has to jump out and grab me.
NailedIt
What do you call a German virgin? Goodandtight.
greeneyez8205
A woman goes to a doctor named Dr. Wong. "Doctor, I can't get a date, no one will go out with me." In a very thick Asian accent, Dr. Wong says, "Take off clothes and get on all four hands and knees." She does. "Now crawl to wall." She does so and looks back at him. "I know what wrong." "What is it Doctor! What do I have?" "You have Ed Zachary disease." "Ed Zachary disease? What is that?!" "You face look Ed Zachary like you ass!"
Anonymous