Categories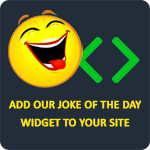 Reporter: "Excuse me, may I interview you?"
Man: "Yes!"
Reporter: "Name?"
Man: "Abdul Al-Rhazim."
Reporter: "Sex?"
Man: "Three to five times a week."
Reporter: "No no! I mean male or female?"
Man: "Yes, male, female... sometimes camel."
Reporter: "Holy cow!"
Man: "Yes, cow, sheep... animals in general."
Reporter: "But isn't that hostile?"
Man: "Yes, horse style, dog style, any style."
Reporter: "Oh dear!"
Man: "No, no deer. Deer run too fast. Hard to catch."
Dhunganasaroj3
What do you call an African-American whose spouse just died? A black widow.
Anonymous
A Jewish boy asks his father for $50. The father replies, "$40, what do you need $30 for?"
AlejandroBW
How many cops does it take to arrest a Mexican? Eight. One to carry him, the rest to carry his oranges.
darrenboy2
Women are just like fine wine. I only like the white ones.
AFurrow