Categories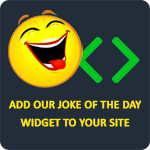 Q: How do you distinguish an arab from a terrorist?
A: You don't ..... that's the problem!
softwars
How many cops does it take to change a light bulb? One, unless it's a black bulb, then he'll call for backup!
IanSalmon
A friend of mine got in trouble for punching an african-american woman. In his defense, he was told to go to Home Depot and get a black and decker.

Herbert McCay
What's the difference between an Irish wedding and an Irish wake? One less drunk Irishman.
TheLaughFactory
A woman goes to a doctor named Dr. Wong. "Doctor, I can't get a date, no one will go out with me." In a very thick Asian accent, Dr. Wong says, "Take off clothes and get on all four hands and knees." She does. "Now crawl to wall." She does so and looks back at him. "I know what wrong." "What is it Doctor! What do I have?" "You have Ed Zachary disease." "Ed Zachary disease? What is that?!" "You face look Ed Zachary like you ass!"
Anonymous