Categories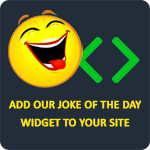 Q: How do you distinguish an arab from a terrorist?
A: You don't ..... that's the problem!
softwars
How many cops does it take to change a light bulb? One, unless it's a black bulb, then he'll call for backup!
IanSalmon
A friend of mine got in trouble for punching an african-american woman. In his defense, he was told to go to Home Depot and get a black and decker.

Herbert McCay
What's the difference between an Irish wedding and an Irish wake? One less drunk Irishman.
TheLaughFactory
Why did the Mexican guy throw his wife off of a cliff? Tequila!
dmoody