Categories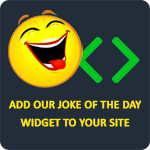 Q: What's the difference between a black man and Batman?
A: Batman can go inside a store without Robin.
Anonymous
Being Asian and a woman definitely has its advantages. For example, when you've had a few drinks and have to drive home past midnight, you think you're driving perfectly fine, but in reality you're not. Next thing you know, there's a cop. The cop sees you and doesn't even bother pulling you over, let alone giving you a ticket. Why? Well, he's probably thinking, "This person's not under the influence, it's just an Asian woman driving!"
grrrbernyyy
I am from the Middle East and when I was a kid, I had a bomb sniffing dog. It died of an overdose.
Jamalhattar
What do you call a German virgin? Goodandtight.
greeneyez8205
Q: Where do black people wear suits?
A: Courts & coffins
softwars