Categories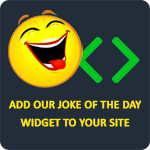 Q: What did the black boy say when he had diarrhea?
A: "Mommy, why am I melting?!"
ChickenSmackBoy
Q: Where do black people wear suits?
A: Courts & coffins
softwars
What do you call a German virgin? Goodandtight.
greeneyez8205
I am from the Middle East and when I was a kid, I had a bomb sniffing dog. It died of an overdose.
Jamalhattar
A baby duck and a baby skunk finish crossing the freeway after just narrowly escaping death. Their families however were all killed by a big-rig. Upon reaching the other side, the little duck tells the baby skunk, "My parents both died and didn't tell me what I am." "Well," says the baby skunk, "You are yellow and you have a bill and webbed feet. You must be a duck." The duck thanked him. The baby skunk then tells the duck, "You know what, my parents didn't tell me what I am either." "Well," says the baby duck, "You're not quite black and you're not quite white and you smell bad. You must be Mexican."
Mark My Words