Categories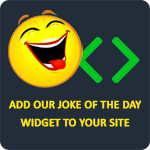 A baby duck and a baby skunk finish crossing the freeway after just narrowly escaping death. Their families however were all killed by a big-rig. Upon reaching the other side, the little duck tells the baby skunk, "My parents both died and didn't tell me what I am." "Well," says the baby skunk, "You are yellow and you have a bill and webbed feet. You must be a duck." The duck thanked him. The baby skunk then tells the duck, "You know what, my parents didn't tell me what I am either." "Well," says the baby duck, "You're not quite black and you're not quite white and you smell bad. You must be Mexican."
Mark My Words
A friend of mine got in trouble for punching an african-american woman. In his defense, he was told to go to Home Depot and get a black and decker.

Herbert McCay
What do you call a Greek with 500 girlfriends? A shepherd.
Anonymous
A woman goes to a doctor named Dr. Wong. "Doctor, I can't get a date, no one will go out with me." In a very thick Asian accent, Dr. Wong says, "Take off clothes and get on all four hands and knees." She does. "Now crawl to wall." She does so and looks back at him. "I know what wrong." "What is it Doctor! What do I have?" "You have Ed Zachary disease." "Ed Zachary disease? What is that?!" "You face look Ed Zachary like you ass!"
Anonymous
Q: What did the cholo say when the house fell on him?
A: "Get off me, homes!"
Brian Reppin Sur 13