Categories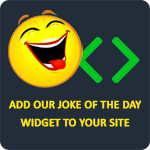 A guy believed that his wife is cheating on him, so he hired a private investigator. The cheapest he could find was a Chinese man. This was the Chinese PI's report about what he found: "Most honorable, sir. You leave house. I watch house. He come to house. I watch. He and she leave house. I follow. He and she go in hotel. I climb tree. I look in window. He kiss she. He strip she. She strip he. He play with she. She play with he. I play with me. I fall out tree. I not see. No fee. Cheng Lee."
lexi moss
What's an Irish seven course dinner? A six-pack and a potato.
Anonymous
A baby duck and a baby skunk finish crossing the freeway after just narrowly escaping death. Their families however were all killed by a big-rig. Upon reaching the other side, the little duck tells the baby skunk, "My parents both died and didn't tell me what I am." "Well," says the baby skunk, "You are yellow and you have a bill and webbed feet. You must be a duck." The duck thanked him. The baby skunk then tells the duck, "You know what, my parents didn't tell me what I am either." "Well," says the baby duck, "You're not quite black and you're not quite white and you smell bad. You must be Mexican."
Mark My Words
How do you get an Iranian out of a bathtub? You turn on the water.
Anonymous
Q: What did the black kid get for Christmas?
A: Your bike.
Anonymous