Categories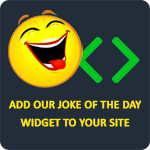 Q: What is the difference between the words "select" and "choose?"
A: "Select" is when you pick something and "choose" is what Mexicans put on their feet.
Joephace (Joe) Wogu
Q: What's the difference between a Mexican and a book?
A: A book has papers.
the internet
Why does the Polish Navy have glass-bottomed boats? So they can see the old Polish Navy.
Anonymous
What do you call a Mexican basketball player? Mexi-cant.
flaca1653
What do you call an Asian drive-by? Cappucino (Cap-a-chino)
paulwasthere