Categories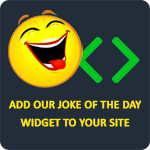 A cowboy walks into a bar, sits down, and asks for a shot. Across the bar, a Mexican man is sitting and glaring at the cowboy. The cowboy takes the shot and slams the shot glass down on the counter, yelling, "TGIF!" The Mexican orders a shot, takes it, and slams his glass down, yelling, "SPIT!" The cowboy looks over at him and notices the Mexican guy is still staring at him. The cowboy once again orders a shot, slams it down, and yells again "TGIF!" Once again, the Mexican orders a shot, slams it down after consuming it, and yells out, "SPIT!" This goes on for a while, and the bartender stands puzzled and annoyed. Finally, the bartender asks the cowboy, "Just checking, but do you know what TGIF means?" and the cowboy replies, "Hell ya I know what it means, 'Thank God It's Friday!'" The bartender asks the Mexican guy, "Okay, so what does 'SPIT' mean?" and the Mexican replies, "Stupid Pendejo It's Thursday!"
raulg
Q: Why did President Obama get two terms?
A: Because every black man gets a longer sentence.
CHRIS
How do you get the little black kids to stop jumping on the bed? Put Velcro on the ceiling. How do you get them down? Tell the Mexican kids it's a piñata.
b_demarco
What do you call a black pilot flying a plane? A pilot, you racist.
tmceachern28
A US Border Patrol Agent catches an illegal alien in the bushes right by the border fence, he pulls him out and says "Sorry, you know the law, you've got to go back across the border right now." The Mexican man pleads with them, "No, noooo Senor, I must stay in de USA! Pleeeze!" The Border Patrol Agent thinks to himself, I'm going to make it hard for him and says "Ok, I'll let you stay if you can use three english words in a sentence. The three words are 'green,' 'pink,' and 'yellow.'" The Mexican man thinks , then says, "Hmmm, okay. The phone, it went green, green, green. I pink it up and sez yellow?"
gsuber2472