Categories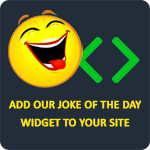 There was a redneckwho hit every black man he saw with his truck. One day he saw a priest walking down the road and thought, "For all the bad things I done, let me give this priest a ride." So he picked the priest up and they drove along. The redneck saw a black guy down the road and decided he would pretend to fall asleep and so the priest would think it was an accident. The redneck closed his eyes and heard a loud bang. "What happened?" he asked. "You missed him," the priest said, "but I got him with the door."
Anonymous
There were three guys in Hell - Iranian, American, and a Chinese man. They asked Satan to let them call their family. The American called and talked for 10 minutes. He payed $1,000. The Chinaman called and talked for 15 minutes. He payed $2,000. The Iranian talked for an hour and only paid $10. The other men complained and Satan responded, "A call from Hell to Hell is local."
alanwake
Why did so many black men get killed in Vietnam? When the generals would yell, "Get down!" they would all start dancing.
cleesix225
My uncle was a racist piano player, all his work sounded awful because he skipped all the black keys.
TonyYancey
78% of black men like sex in the shower. The other 22% haven't been to prison yet.
Doug