Categories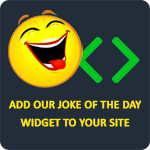 There was a redneckwho hit every black man he saw with his truck. One day he saw a priest walking down the road and thought, "For all the bad things I done, let me give this priest a ride." So he picked the priest up and they drove along. The redneck saw a black guy down the road and decided he would pretend to fall asleep and so the priest would think it was an accident. The redneck closed his eyes and heard a loud bang. "What happened?" he asked. "You missed him," the priest said, "but I got him with the door."
Anonymous
Why do Mexican kids eat tamales on Christmas? So they can have something to unwrap.
Gavin89
What do you call a Mexican with a rubber toe? Roberto
john0525
An Asian lady went into labor and her child came out black. The doctor asked her if she picked a name for the baby and she said, "Yea, Som Ting Wong!" (Something's wrong)
jphilip2
Q: Why can't Mexicans play Uno?
A: They always steal the green cards.
Anonymous