Categories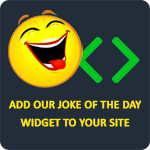 A husband and wife are moving out of their house and are starting to box everything up. The husband finds a box under the bed, pulls it out, and looks inside, where he finds two eggs and about $8,000. He approaches the wife and asks, "What are the eggs for?" She replies, "Every time I cheat on you, I put an egg in the box." He says, "That's alright, you've only cheated on me twice. What's the money for?" The wife replies, "Every time I get a dozen, I sell them!"
Kategory
Man: Your place or mine?
Woman: Both. You go to yours and I'll go to mine.
LaughFactory
Teacher: "Answer this math problem: if your father earns $500 a week and gives half to your mother. What will he have?"
Student: "A heart attack."
Anonymous
A funeral service was being held for a young woman who had just passed away. As the pallbearers carried the casket out, they accidentally bumped into a wall. They heard a faint moan come from inside the casket. They opened the casket and found that the woman was still alive! She went on to live 10 more years and then died, and they held another funeral for her. While the pallbearers were carrying her out, her husband yelled, "Watch out for that wall!"
sweetbutter
I've been in love with the same woman for 20 years. If my wife finds out, she'll kill me.
Samantha Stoker