Categories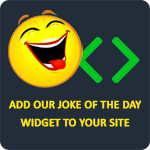 A funeral service was being held for a young woman who had just passed away. As the pallbearers carried the casket out, they accidentally bumped into a wall. They heard a faint moan come from inside the casket. They opened the casket and found that the woman was still alive! She went on to live 10 more years and then died, and they held another funeral for her. While the pallbearers were carrying her out, her husband yelled, "Watch out for that wall!"
sweetbutter
Teacher: "Answer this math problem: if your father earns $500 a week and gives half to your mother. What will he have?"
Student: "A heart attack."
Anonymous
A man drinks a shot of whiskey every night before bed. After years of this, the wife wants him to quit. She gets two shot glasses, fills one with water and the other with whiskey. After bringing him to the table that has the glasses, she brings his bait box. She says, "I want you to see this." She puts a worm in the water, and it swims around. She puts a worm in the whiskey, and the worm dies immediately. She then says, feeling that she has made her point clear, "What do you have to say about this experiment?" He responds by saying, "If I drink whiskey, I won't get worms!"
Viva173
I'm about three years into my relationship now and I've started to have erection difficulties. My girlfriend and I have different ideas as to what the problem is: she bought me some Viagra and I bought her a treadmill.
george
An old man goes into Victoria's Secret and tells the sales-person behind the counter he needs a present for his wife. "See," explains the man, "It is my fiftieth wedding anniversary and I would like to get something pretty to surprise the little lady, if you know what I mean." When he gets home, his wife asks with a scowl on her face, "Where have you been?" "Surprise," says the old man and hands her a sexy tiny teddy. The wife rips it from his hand and takes it to the bathroom to try it on. She struggles to make it fit, but it is two sizes too small. She take a long time in the bathroom and hopes her husband will lose interest and fall asleep because it is getting late into the evening. Finally she emerges from the bathroom with all the lights out. She is completely nude and pretends to model it in front of him. Her husband, still sitting up, squinting to try and see finally says, "For as much money I spent on it, they could of at least ironed out the wrinkles."
Mark My Words