Categories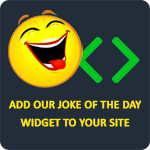 A wife comes home late one night and quietly opens the door to her bedroom. From under the blanket, she sees four legs instead of just her husband's two. She reaches for a baseball bat and starts hitting the blanket as hard as she can. Once she's done, she goes to the kitchen to have a drink. As she enters, she sees her husband there, reading a magazine. He says, "Hi darling, your parents have come to visit us, so let them stay in our bedroom. Did you say hello?"
Eddie k
I married Miss Right. I just didn't know her first name was Always.
LaughFactory
Girlfriend: Darling, will you give me a ring on our wedding day?
Boyfriend: Sure, what is your number?
Anonymous
A man comes home, finds his wife in bed with another man, and asks, "What is this?!?" The wife turns to her lover and says, "See, I told you he was stupid!"
tabya6
Boyfriend: "ILY."
Girlfriend: "Can you please say the words? It makes it better."
Boyfriend: "I'm leaving you."
Marcie