Categories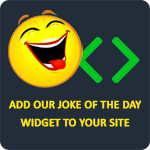 A young man looking to get married asked his friend. "Every woman I bring home to meet my parents, my mother doesn't like." "Oh, that's easy," his pal replied, "All you have to do is find someone who is just like your mother." "I did that already," he said, "and that one my father didn't like."
sadaf85
I married Miss Right. I just didn't know her first name was Always.
LaughFactory
Boyfriend: "ILY."
Girlfriend: "Can you please say the words? It makes it better."
Boyfriend: "I'm leaving you."
Marcie
During a bank robbery, the thief's mask slipped off. He fixed it and asked a hostage, "Did you see my face?" The hostage had, so the thief killed him. He asked the next hostage, same result. After he asked a third hostage, the guy responded, "No, but my wife did."
rgactr
A man and woman are sitting on their porch drinking a beer. The man says, "I love you." The woman says, "Is that you talking or the beer talking?" The man says, "That's me talking to the beer!"
Vicki from Fresno