Categories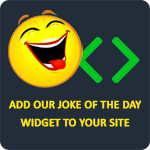 A funeral service was being held for a young woman who had just passed away. As the pallbearers carried the casket out, they accidentally bumped into a wall. They heard a faint moan come from inside the casket. They opened the casket and found that the woman was still alive! She went on to live 10 more years and then died, and they held another funeral for her. While the pallbearers were carrying her out, her husband yelled, "Watch out for that wall!"
sweetbutter
A man comes home, finds his wife in bed with another man, and asks, "What is this?!?" The wife turns to her lover and says, "See, I told you he was stupid!"
tabya6
A country wife came home just in time to find her husband in bed with another woman. With superhuman strength, borne of fury, and cutting firewood, lifting sacks of feed, and bales of hay, she dragged him down the stairs, out the back door, and into the barn. She put his manhood in a vice, secured it tightly, and removed the handle. Next, she picked up an old carpenter's saw. The banged up cheater was terrified and hollered, "Stop! Stop! You're not gonna cut it off with that rusty saw, are you?" The wife, with a gleam of revenge in her eye, put the saw in her husband's hand and said, "Nope. You are! I'm gonna burn down the barn!"
cecesntraffic
A bus full of housewives going on a picnic crashed with no survivors. Each husband cried for a week, but one husband continued for more than two weeks. When asked he replied miserably, "My wife missed the bus."
TheLaughFactory
My girlfriend wanted us to get a Sleep Number bed, so we went and checked it out. Turns out her sleep number is 61, and mine is $3500!
friskevision