Categories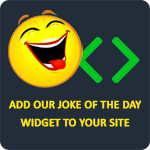 A husband and wife decide they need to spice up their sex life. The wife buys a pair of crotchless underwear, puts them on, and goes into the bedroom. She seductively asks her husband, "Hey Big Boy, do ya want some of this?" The husband takes one look at her underwear and replies, "Hell no! Look what that thing does to underwear!"
Greg
Man: I would go to the end of the world for you.
Woman: Yes, but would you stay there?
LaughFactory
Q: What the difference between your first and second honeymoon?
A: Niagara and Viagra.
Mark My Words
Most people want a perfect relationship; I just want a hamburger that looks like ones in commercials.
Faith Landon
Getting married is like going to a restaurant with friends. You order what you want, then when you see what the other fellow has, you wish you had ordered that instead.
naveen