Categories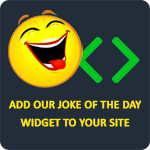 An old man goes into Victoria's Secret and tells the sales-person behind the counter he needs a present for his wife. "See," explains the man, "It is my fiftieth wedding anniversary and I would like to get something pretty to surprise the little lady, if you know what I mean." When he gets home, his wife asks with a scowl on her face, "Where have you been?" "Surprise," says the old man and hands her a sexy tiny teddy. The wife rips it from his hand and takes it to the bathroom to try it on. She struggles to make it fit, but it is two sizes too small. She take a long time in the bathroom and hopes her husband will lose interest and fall asleep because it is getting late into the evening. Finally she emerges from the bathroom with all the lights out. She is completely nude and pretends to model it in front of him. Her husband, still sitting up, squinting to try and see finally says, "For as much money I spent on it, they could of at least ironed out the wrinkles."
Mark My Words
Lady 1: "Why is your husband so punctual when returning home from work?"
Lady 2: "I made a simple rule: sex will begin at 9pm sharp, whether he is there or not."
tushar1th sharma
On the night of their honeymoon, a newlywed couple has an unfortunate accident, resulting in the amputation of the groom's left foot. Unable to control her grief, the bride calls her mother from the hospital. "Mother," she sobs, "my husband has only one foot." The mother, trying to console her daughter, says, "That's alright dear, your father has only six inches."
Anonymous
A farmer walks into his bedroom carrying a lamb under his arm. He walks over to his wife who's laying in bed. "See!" he yells, "This is the pig I have to have sex with whenever you get one of your headaches!" The wife says, "You know that's a lamb under your arm, don't you?" The farmer says, "I wasn't talking to you."
Anonymous
Q: My boyfriend is as beautiful as Frank Sinatra and as intelligent as Albert Einstein; what is his name?
A: Frankenstein.
Alejandro Jodorowsky