Categories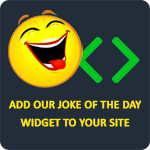 What do you call an ex-girlfriend with GPS capability? A crazy bitch that will find you!
rhodaricafranca
Man: Hey, come on, we're both here at this bar for the same reason.
Woman: Yeah! Let's pick up some chicks!
LaughFactory
There is a husband and a wife. The husband dies, and during the funeral, the wife starts to laugh. Everybody starts to ask her why, and she says, "This is the first time that I know where my husband is going."
Marwan9m
John and Bob were discussing their married lives. Although happily married to their wives, they admitted that there were arguments sometimes. John said, "I've made one great discovery. I know how to always have the last word." "Wow!" said Bob, "how did you manage that?" "It's easy," replied John, "my last word is always 'Yes, Dear.'"
isaacsaadian
My girlfriend told me if I join one more comedy group on the Internet, she's going to leave me. I'm really going to miss her.
JOHNNYGREEK