Categories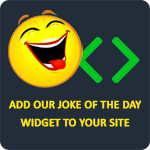 Is a date a fruit or a vegetables? You don't know until he's at the door.
jmschum
There is a husband and a wife. The husband dies, and during the funeral, the wife starts to laugh. Everybody starts to ask her why, and she says, "This is the first time that I know where my husband is going."
Marwan9m
Marriage is a three ring circus, engagement ring, wedding ring, and suffering.
lesliekimm
Man: Is this seat empty?
Woman: Yes, and this one will be too if you sit down.
LaughFactory
Man: How do you like your eggs in the morning?
Woman: Unfertilized!
LaughFactory