Categories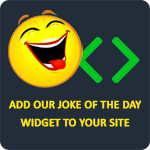 A man found a genie in a magic lamp and was granted three wishes. The genie said, "For every wish you make, your wife gets two." The man asked for a car and the genie gave his wife two. Then the man asked for a house and again his wife got double. The jealous husband said, "For my last wish, beat me half to death."
Funny haha bitch
When you are married, nobody asks about your sex life. They know that you don't have one!
at3418
A man was driving his wife home after a night out, when they were stopped by the police. "Sir, did you know you were speeding?" asked the officer. "No, I had no idea that I was speeding," replied the husband. "Of course you were," interrupted the wife, "you're always speeding." The officer looked at the rear of the vehicle and said, "And did you know your brake light is broken sir?" "No, I had no idea that it was broken," replied the husband. Again the wife interrupted, "Of course you knew it was broken. You're always saying you'll get it repaired, but you never have." The officer began to sympathize for the husband and said, "Does she always talk to you like this?" The wife said, "Only when he's drunk."
Anonymous
Man: Your body is like a temple.
Woman: Sorry, there are no services today.
LaughFactory
A country wife came home just in time to find her husband in bed with another woman. With superhuman strength, borne of fury, and cutting firewood, lifting sacks of feed, and bales of hay, she dragged him down the stairs, out the back door, and into the barn. She put his manhood in a vice, secured it tightly, and removed the handle. Next, she picked up an old carpenter's saw. The banged up cheater was terrified and hollered, "Stop! Stop! You're not gonna cut it off with that rusty saw, are you?" The wife, with a gleam of revenge in her eye, put the saw in her husband's hand and said, "Nope. You are! I'm gonna burn down the barn!"
cecesntraffic