Categories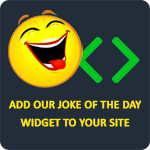 A man admitted he lied on his income tax return: he listed himself as the head of the household!
TheLaughFactory
A man is standing at a grave, staring at the head stone. A second man walks up and asks, "Is this someone you knew?" The first guy says, "Yes, it was my wife." The second guy says, "It must be hard to lose a wife." The first guys replies, "Yep, damn near impossible."
KSConn1
A husband and wife decide they need to spice up their sex life. The wife buys a pair of crotchless underwear, puts them on, and goes into the bedroom. She seductively asks her husband, "Hey Big Boy, do ya want some of this?" The husband takes one look at her underwear and replies, "Hell no! Look what that thing does to underwear!"
Greg
My wife and I are planning our 21st wedding anniversary celebration. Here lies the problem: she wants to go to Outback Steakhouse, I want sex, and my mother-in-law thinks we should renew our vows at church. Well, I'm all for compromise, so we should have sex outback of the church.
Mark My Words
A man was driving his wife home after a night out, when they were stopped by the police. "Sir, did you know you were speeding?" asked the officer. "No, I had no idea that I was speeding," replied the husband. "Of course you were," interrupted the wife, "you're always speeding." The officer looked at the rear of the vehicle and said, "And did you know your brake light is broken sir?" "No, I had no idea that it was broken," replied the husband. Again the wife interrupted, "Of course you knew it was broken. You're always saying you'll get it repaired, but you never have." The officer began to sympathize for the husband and said, "Does she always talk to you like this?" The wife said, "Only when he's drunk."
Anonymous