Categories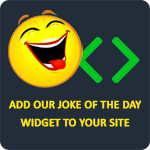 A man found a genie in a magic lamp and was granted three wishes. The genie said, "For every wish you make, your wife gets two." The man asked for a car and the genie gave his wife two. Then the man asked for a house and again his wife got double. The jealous husband said, "For my last wish, beat me half to death."
Funny haha bitch
How many honest, intelligent, caring men in the world does it take to do the dishes? Both of them.
LaughFactory
My wife and I are planning our 21st wedding anniversary celebration. Here lies the problem: she wants to go to Outback Steakhouse, I want sex, and my mother-in-law thinks we should renew our vows at church. Well, I'm all for compromise, so we should have sex outback of the church.
Mark My Words
Q: What worse than finding out your ex-wife got cancer? A: Finding out it's curable.
TheLaughFactory
When you are married, nobody asks about your sex life. They know that you don't have one!
at3418