Categories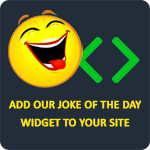 I told my wife that I would get a tattoo on my pecker of a one-million dollar bill. This way she can blow a million bucks without leaving the house.
Mark My Words
Boyfriend: "ILY."
Girlfriend: "Can you please say the words? It makes it better."
Boyfriend: "I'm leaving you."
Marcie
I married Miss Right. I just didn't know her first name was Always.
LaughFactory
A young man looking to get married asked his friend. "Every woman I bring home to meet my parents, my mother doesn't like." "Oh, that's easy," his pal replied, "All you have to do is find someone who is just like your mother." "I did that already," he said, "and that one my father didn't like."
sadaf85
Most people want a perfect relationship; I just want a hamburger that looks like ones in commercials.
Faith Landon