Categories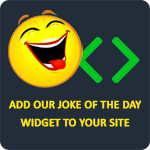 A man is at work one day, when he notices that his co-worker is wearing an earring. The man knows his co-worker to be a conservative guy, and is curious about his sudden change in fashion sense. The man walks up and says, "I didn't know you were into earrings." The co-worker responds sheepishly, "Don't make such a big deal out of this, it's only an earring." The man falls silent for a few minutes, but then his curiosity prods him to say, "So how long have you been wearing one?" The co-worker responds, "Ever since my wife found it in my truck."
markhorist
Our last fight was my fault. My wife asked me,"What's on the TV?" I said, "Dust."
LaughFactory
My wife and I are planning our 21st wedding anniversary celebration. Here lies the problem: she wants to go to Outback Steakhouse, I want sex, and my mother-in-law thinks we should renew our vows at church. Well, I'm all for compromise, so we should have sex outback of the church.
Mark My Words
I haven't spoken to my wife for 18 months. I don't like to interrupt her.
LaughFactory
My girlfriend wanted us to get a Sleep Number bed, so we went and checked it out. Turns out her sleep number is 61, and mine is $3500!
friskevision