Categories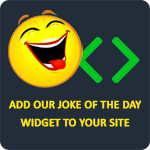 My wife is such a bad cook, the flies chipped in to fix the screens. - Rodney Dangerfield
fastfidos
Man: Hey, come on, we're both here at this bar for the same reason.
Woman: Yeah! Let's pick up some chicks!
LaughFactory
A husband suspected his wife was cheating on him. He explained his situation to a pet shop owner who replied, "I have a parrot that will let you know daily what goes on in your house. The bird has no legs, so he holds onto his perch with his penis." Reluctantly, the husband brought the bird home. At the end of the first day, the man asked the bird, "Did anything happen today?" The parrot said, "Yes, the milk man came over." The man asked, "What did he do with my wife?" The bird said, "I don't know; I got hard and fell."
luis
A man comes home from work and his wife greets him at the door and asks, "Is dinner ready yet?!?" She grabs him and points across the street as a husband comes home and tenderly kisses his wife. She say, "Why can't you do that?" The husband responds, "Well, I haven't met her yet."
roadangel3690
The five most important qualities in a woman: one who is independent and helps around the house, one who can make you laugh, one who you can trust, one who is good in bed, and most importantly, one who should make sure these four women never meet.
wildpuppy