Categories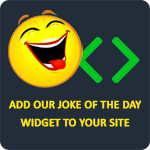 Why did the man cross the road? He heard the chicken was a slut.
LaughFactory
A man comes home from work and his wife greets him at the door and asks, "Is dinner ready yet?!?" She grabs him and points across the street as a husband comes home and tenderly kisses his wife. She say, "Why can't you do that?" The husband responds, "Well, I haven't met her yet."
roadangel3690
Two antennas met on a roof, fell in love, and got married. The ceremony wasn't much, but the reception was excellent!
stepbreaker
A husband says to his wife, "What would you do if I won the lottery?" She says, "I would take half and then leave you." "Excellent," he replies. "I won $12. Here's $6. Now get the f*ck out."
iTech
My wife and I were happy for 20 years. Then we met. - Rodney Dangerfield
evralph