Categories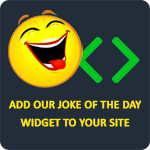 John and Bob were discussing their married lives. Although happily married to their wives, they admitted that there were arguments sometimes. John said, "I've made one great discovery. I know how to always have the last word." "Wow!" said Bob, "how did you manage that?" "It's easy," replied John, "my last word is always 'Yes, Dear.'"
isaacsaadian
My wife and I were happy for 20 years. Then we met. - Rodney Dangerfield
evralph
My girlfriend told me if I join one more comedy group on the Internet, she's going to leave me. I'm really going to miss her.
JOHNNYGREEK
Man: So what do you do for a living?
Woman: I'm a female impersonator.
LaughFactory
Man: How do you like your eggs in the morning?
Woman: Unfertilized!
LaughFactory