Categories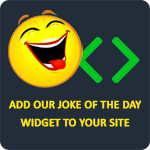 My wife and I were happy for 20 years. Then we met. - Rodney Dangerfield
evralph
There is a husband and a wife. The husband dies, and during the funeral, the wife starts to laugh. Everybody starts to ask her why, and she says, "This is the first time that I know where my husband is going."
Marwan9m
John and Bob were discussing their married lives. Although happily married to their wives, they admitted that there were arguments sometimes. John said, "I've made one great discovery. I know how to always have the last word." "Wow!" said Bob, "how did you manage that?" "It's easy," replied John, "my last word is always 'Yes, Dear.'"
isaacsaadian
Two antennas met on a roof, fell in love, and got married. The ceremony wasn't much, but the reception was excellent!
stepbreaker
I get no respect with my wife. I fell asleep with a cigarette in my hand. She lit it.
Aces