Categories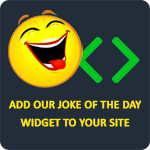 Peter sat at his dying wife's bedside. Her voice was little more than a whisper. "Pete darling," she breathed, "I've a confession to make before I go... I... I'm the one who took the $10,000 from your safe. I spent it on a fling with your best friend, Alex. And it was I who forced your mistress to leave the city. And I am the one who reported your income tax evasion to the government." "Don't give it a second thought, sweetheart. Who do you think gave you the poison?" answered Peter.
Anonymous
I haven't spoken to my wife for 18 months. I don't like to interrupt her.
LaughFactory
I've spent the last two years looking for my wife's killer, but nobody will do it.
TheLaughFactory
Why do married men gain weight and bachelors don't? The bachelors go to the refrigerator, see nothing they want, then go to bed. Married guys go to bed, see nothing they want, then go to the refrigerator.
Anonymous
A wife says, "Hey! Look at that funny guy whose been drinking a lot." The husband responds, "Who is he?" The wife answers, "Well, five years ago, he was my boyfriend and I denied him for marriage." "Oh my God! He's still celebrating his freedom!" says the husband.
aksoyozgur