Categories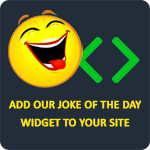 A man is about to enter a meeting at work when he realizes that he forgot some important paperwork. He calls home so that his wife can retrieve them. The maid answers the phone and says that his wife is busy. He demands that the maid put his wife on the phone. The maid informs the man that his wife is in bed with the gardener. The man goes nuts, and offers the maid one million dollars to shoot them both. The maid agrees and he soon hears two gunshots. The maid returns to the phone and he asks her what happened. The maid says she shot his wife in bed and the gardener ran, so she shot him by the pool. The man says, "Pool??? Is this 555-4320???"
TheBaddboy
Why do married men gain weight and bachelors don't? The bachelors go to the refrigerator, see nothing they want, then go to bed. Married guys go to bed, see nothing they want, then go to the refrigerator.
Anonymous
What do marriage and a tornado have in common? In the beginning there's a lot of blowing and sucking, and in the end someone loses a house.
Shalia
A couple drives to the hospital because the wife is in labor. The doctor alerts them that she invented a machine that will transfer some of the labor pain to the father, if they'd like. The husband eagerly says, "Give it all to me!" The couple returns home with a bouncing baby boy, only to find the mailman dead on their lawn.
pattyvasquez
Lady 1: "Why is your husband so punctual when returning home from work?"
Lady 2: "I made a simple rule: sex will begin at 9pm sharp, whether he is there or not."
tushar1th sharma