Categories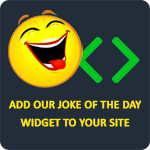 Girlfriend: Darling, will you give me a ring on our wedding day?
Boyfriend: Sure, what is your number?
Anonymous
Most people want a perfect relationship; I just want a hamburger that looks like ones in commercials.
Faith Landon
One day, a man came home and was greeted by his wife dressed in stunningly sexy lingerie. "Tie me up," she purred, "And you can do anything you want." So he tied her up and went golfing.
Zinga
An old man and old woman got married and went on their honeymoon. They were in bed getting ready to have sex for the first time and the old woman said, "I should tell you I have acute angina." The old man says, "I hope so. You sure don't have cute tits."
TheLaughFactory
A husband and wife are moving out of their house and are starting to box everything up. The husband finds a box under the bed, pulls it out, and looks inside, where he finds two eggs and about $8,000. He approaches the wife and asks, "What are the eggs for?" She replies, "Every time I cheat on you, I put an egg in the box." He says, "That's alright, you've only cheated on me twice. What's the money for?" The wife replies, "Every time I get a dozen, I sell them!"
Anonymous