Categories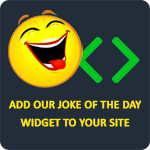 Stan is seconds away from receiving a vasectomy when his brother and sister-in-law barge in holding their newborn baby. "Stop! You can't do this!" exclaims the brother. "And why not?" asks Stan. "Don't you want to have a beautiful baby someday? Like my wife and I have here?" Stan says nothing. The brother grows impatient, "C'mon Stan, I want a nephew. Stan, make me an uncle." Stan can't take it anymore. He gives his sister-in-law an apologetic look and asks his brother, "You're sure you want a nephew?" "Yes," the brother replies. "It would be an honor." "Well, congratulations, you're holding him."
Foxie
A guy takes his girlfriend to his bedroom, drops his pants, and says, "Meet my little brother." The girlfriend picks up her purse on the way out and says, "Call me when he grows up."
dkfg
On New Year's Eve, a woman stood up at a local pub and said it was time to get ready for the midnight countdown. At the stroke of midnight, she wanted every husband to stand next to the one person who made his life worth living. As the clock struck midnight, the bartender was almost crushed to death.
amorourk
A man is about to enter a meeting at work when he realizes that he forgot some important paperwork. He calls home so that his wife can retrieve them. The maid answers the phone and says that his wife is busy. He demands that the maid put his wife on the phone. The maid informs the man that his wife is in bed with the gardener. The man goes nuts, and offers the maid one million dollars to shoot them both. The maid agrees and he soon hears two gunshots. The maid returns to the phone and he asks her what happened. The maid says she shot his wife in bed and the gardener ran, so she shot him by the pool. The man says, "Pool??? Is this 555-4320???"
TheBaddboy
Why do married men gain weight and bachelors don't? The bachelors go to the refrigerator, see nothing they want, then go to bed. Married guys go to bed, see nothing they want, then go to the refrigerator.
Anonymous