Categories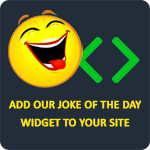 There was a preacher who fell in the ocean and he couldn't swim. When a boat came by, the captain yelled, "Do you need help, sir?" The preacher calmly said "No, God will save me." A little later, another boat came by and a fisherman asked, "Hey, do you need help?" The preacher replied again, "No God will save me." Eventually the preacher drowned & went to heaven. The preacher asked God, "Why didn't you save me?" God replied, "Fool, I sent you two boats!"
rodski
Q: What do a Christmas tree and a priest have in common?
A: Their balls are just for decoration.
TheLaughFactory
A man is talking to God. "God, how long is a million years?" God answers, "To me, it's about a minute." "God, how much is a million dollars?" "To me, it's a penny." "God, may I have a penny?" "Wait a minute."
Maysam
Josey wasn't the best pupil at Sunday school. She often fell asleep and one day while she was sleeping, the teacher asked her a question. "Who is the creator of the universe?" Joe was sitting next to Josey and decided to poke her with a pin to wake her up. Josey jumped and yelled, "God almighty!" The teacher congratulated her. A little later the teacher asked her another question, "Tell me who is our lord and savior?" Joe poked Josey again and she yelled out, "Jesus Christ!" The teacher congratulated her again. Later on the teacher asked, "What did Eve say to Adam after their 26th child?" Joe poked Josey again and she shouted, "If you stick that thing in me again, I'll snap it in half and stick it up your ass!"
I\\\'m hilarious
Jesus, Moses, and an old man go golfing. The first one to tee off is Moses. He smashes the ball and it is heading right for the water hazard before the green. Moses raises his club, the water parts, and the ball makes it to the green. Jesus gets up to swing, cranks it out, and it is headed for the water hazard. Jesus closes his eyes and prays. The ball skips across the water and lands on the green two feet from the hole. The old man's turn comes and he drives the ball. The ball looks like it is going to drop directly into the water. A fish jumps from the water hazard swallowing the ball, as an eagle drops from the sky, grabbing the fish. As the eagle flies over the green, a bolt of lightning strikes the eagle, making it drop the fish. As the fish hits the green, it spits out the ball and the ball falls into the hole, making a hole in one. Jesus looks at Moses and says, "I really think I'm leaving Dad at home next time!"
dcjames73