Categories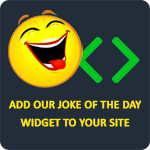 Two old timers were talking after church one day and the one asks the other, "So tell me brother, what did you think of the soul food this morning?" The other replies, "The food was excellent but the service sucked!"
NOAHLOT2
What's the best part about being a Rabbi? You get to keep the tips.
jel562
When Paddy's dog died, he took it to the local Catholic church. He asked the preacher if he could have a funeral service for his much loved pet, but the preacher explained that they didn't do services like that for animals. Paddy asked who would and the preacher suggested that the Baptist church up the road would probably give the dog a funeral service. Paddy asked, "Preacher, do you think $5,000 would be enough payment for the dog's funeral?" The preacher relied, "Dearest Paddy, why didn't you tell me that your dog was a Catholic?"
Nina JOBLING
What does the Pope use to cut potatoes? El pela papas.
notacholo
Q: Where in the Bible is the first tennis match mentioned? A: When Joseph served in the Pharaoh's court.
Nina Jobling