Categories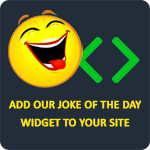 A Baptist, a Catholic, and a Mormon are in the maternity ward. The Baptist says, "One more son and I have a basketball team." The Catholic says, "That's nothing, one more kid and I have a baseball team." The Mormon guy says, "That's nothing, one more wife and I have a golf course."
Anonymous
Jesus and Satan are having a competition on who can finish an essay first. 1, 2, 3, GO. Jesus starts and takes his time while Satan is typing up a storm. Satan is typing so fast that the power goes out and both computers are shut off. They start back up, and Jesus states that he is done with the essay. Riddled, Satan asks how he wrote that fast. Jesus turns to him and simply says, "Jesus saves."
Anonymous
A man walks into the ladies department of Macy's, walks up to the woman behind the counter and says, "I'd like to buy a bra for my wife." "What type of bra?" asks the clerk. "Type?" inquires the man. "There is more than one type?" "Look around," says the saleslady, as she shows a sea of bras in every shape, size, color, and material. "Actually, even with all of this variety, there are really only three types of bras," replies the salesclerk. Confused, the man asks what the types are. The saleslady replies, "The Catholic type, the Salvation Army type, and the Baptist type. Which one do you need?" Still confused, the man asks, "What is the difference between them?" The lady responds, "It is all really quite simple. The Catholic type supports the masses, the Salvation Army type lifts up the fallen, and the Baptist type makes mountains out of mole hills."
mkriley
Q: Did you hear about the Buddhist who refused Novocaine during a root canal?
A: His goal: transcend dental medication.
TheLaughFactory
A substitute for a Catholic priest is hearing confessions. He is confused about what to recommend a confessor should do to rectify guilt sustained, after doing a sexual favor for her boss. He sticks his head out of the confessional and asks a nearby alter boy what the father gives for a bl*wjob. The alter boy responds, "Usually a Snickers and a ride home."
seanmcgrier12