Categories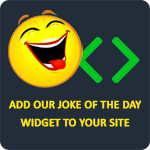 Two nuns are doing their grocery shopping. As they pass the cooler full of beer, one nun says longingly to the other one, "A cold beer would go down great tonight!" "Indeed," the other nun replies, "but how can we show up with beer at the check-out counter?" "Don't worry, I have a plan," the other nun answers. "Grab a six-pack." The cashier is surprised when he sees the beer, but the one nun is ready with an explanation. "We use the beer to wash our hair" she says. "At the convent, we call it 'Catholic shampoo.'" Without hesitation the cashier bends down, grabs a package of pretzels, and throws it in one of the nuns' groceries bags, saying "The curlers are on the house."
the world
A Baptist, a Catholic, and a Mormon are in the maternity ward. The Baptist says, "One more son and I have a basketball team." The Catholic says, "That's nothing, one more kid and I have a baseball team." The Mormon guy says, "That's nothing, one more wife and I have a golf course."
Anonymous
How do you get a nun pregnant? Dress her up as an altar boy!
DarinFox
What's faster than a cheetah? A Jew with a coupon!
afshani
Two nuns were riding their bicycles down the street. The first nun says, "I've never came this way before." The second nun says, "Yeah, it's the cobblestones!"
Stevie