Categories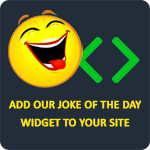 Three nuns walk into a bar, the fourth one ducks.
kaleajean
Late one night, a preacher was driving on a country road and had a wreck. A farmer stopped and said, "Sir, are you okay?" The preacher said, "Yes, I had the Lord riding with me." The farmer said, "Well, you better let him ride with me, because you're gonna kill him."
Anonymous
It's the day of Jesus' crucifixion, and Peter is consoling Mary at the bottom of the hill in Golgotha. Suddenly, Peter hears Jesus calling to him, summoning him up the hill. Frantically, Peter sets off to make his way to his Savior. Unwillingly, he is stopped by two guards. Again, Jesus calls to Peter, and again, Peter attempts to answer, but the guards bring him to a hault. Peter weeps in remorse. One last time, Jesus moans for Peter's appearance. Determined not to fail his Grace, Peter shoves past the standing guards and triumphantly stands at the bleeding feet of his King. "My Lord, anything for you. What is it, my King?" "Peter," Jesus painstakingly replies. "Yes, what is it you must tell me?" Peter anxiously asks. "Peter, I, I, I can see your house from up here."
Bruhkouski
Religion is like a penis: it's good to have one and it's good to be proud of it, but the problem starts when you begin flaunting it in public.
Lorris Simon
When Paddy's dog died, he took it to the local Catholic church. He asked the preacher if he could have a funeral service for his much loved pet, but the preacher explained that they didn't do services like that for animals. Paddy asked who would and the preacher suggested that the Baptist church up the road would probably give the dog a funeral service. Paddy asked, "Preacher, do you think $5,000 would be enough payment for the dog's funeral?" The preacher relied, "Dearest Paddy, why didn't you tell me that your dog was a Catholic?"
Nina JOBLING