Categories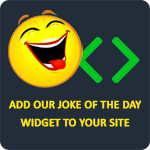 Two nuns were riding their bicycles down the street. The first nun says, "I've never came this way before." The second nun says, "Yeah, it's the cobblestones!"
Stevie
What's the difference between a Jewish wife and a Catholic wife? A Jewish wife has real diamonds, a Catholic wife has real orgasms.
Anonymous
Q: How much pussy do priests get?
A: Nun.
FInn Guy
One fine day, a priest, a rabbi, and a high priestess decide to all go fishing. They manage to get to the water, and off they go. One hour later, the high priestess says, "I think I forgot the food!" She steps off the boat, walks across the water, gets the picnic basket, and walks back! As they are eating, the priest thinks, "What a display. Jeez, where does she get off walkin' on the water?" Right then, the rabbi says, "Oye! I forgot the drinks." He steps right off the boat, and walks across the water to get the drinks. By this time, the priest is very frustrated! He excuses himself, and as the priest steps out of the boat, he falls in the water. The high priestess turns to the rabbi and says, "You think we should have told him about the rocks?"
mskatieb
What is the difference between acne and a Catholic priest? Acne usually comes on a boy's face after he turns 12.
Rhyknow