Categories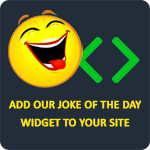 Why did God create alcohol? So ugly people could have sex, too.
juliettaylor
How many Catholic priests does it take to screw in a light bulb? Two. One to screw the light bulb and the other to screw the altar boy in the corner!
secretajntpedro
When Paddy's dog died, he took it to the local Catholic church. He asked the preacher if he could have a funeral service for his much loved pet, but the preacher explained that they didn't do services like that for animals. Paddy asked who would and the preacher suggested that the Baptist church up the road would probably give the dog a funeral service. Paddy asked, "Preacher, do you think $5,000 would be enough payment for the dog's funeral?" The preacher relied, "Dearest Paddy, why didn't you tell me that your dog was a Catholic?"
Nina JOBLING
Jesus' away message on Good Friday, "BRB."
Lucey
A new priest does his first mass. He is very nervous and he stammers his way through. Afterwards, he approaches the Monsignor to ask how he thought it went. "Well," says the monsignor, "Try a little wine before you do your next mass." So the next time the priest delivers a real fire and brimstone sermon, after which he asks the monsignor, "How did I do this time?" The fellow clergyman replies, "You did well, son, but I need to clear up a few of your misconceptions. First off, it was the Father, Son, and the Holy Spirit, not 'Big Daddy, Junior, and the Spook.' Next, David slew Goliath; he didn't 'whip the shit out of him.' And last of all we are planning a taffy pulling contest here at St. Peter, not a 'Peter pulling contest at St. Taffy.'
Mark My Words