Categories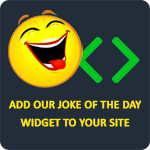 Late one night, a preacher was driving on a country road and had a wreck. A farmer stopped and said, "Sir, are you okay?" The preacher said, "Yes, I had the Lord riding with me." The farmer said, "Well, you better let him ride with me, because you're gonna kill him."
Anonymous
Q: Where in the Bible is the first tennis match mentioned? A: When Joseph served in the Pharaoh's court.
Nina Jobling
Q: Why do Jewish mothers make great parole officers?
A: They never let anyone finish a sentence!
Bookworm
Q: What's the most expensive Jewish wine?
A: "I wanna go to Florida!"
Mark My Words
What's the best part about being a Rabbi? You get to keep the tips.
jel562