Categories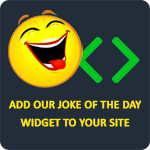 Religion is like a penis: it's good to have one and it's good to be proud of it, but the problem starts when you begin flaunting it in public.
Lorris Simon
Two old timers were talking after church one day and the one asks the other, "So tell me brother, what did you think of the soul food this morning?" The other replies, "The food was excellent but the service sucked!"
NOAHLOT2
What's the difference between a Jewish wife and a Catholic wife? A Jewish wife has real diamonds, a Catholic wife has real orgasms.
Anonymous
Three nuns walk into a bar, the fourth one ducks.
kaleajean
Q: What's the most expensive Jewish wine?
A: "I wanna go to Florida!"
Mark My Words