Categories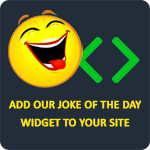 The biggest swindler in the world dies and finds himself before the gates of Heaven and St. Peter, who says, "Come on in man!" Confused, the swindler questions, "But I thought I would be going to Hell for all of the bad things I did." St. Peter replies, "Oh, we don't keep records here, it's too much work!" The swindler goes in, and is once again surprised to see tons of beautiful girls whipping themselves. He asks St. Peter, "Why are they doing that?" St. Peter answers, "Ah, those are all of our virgins. They just found out we don't keep records, too!"
renethuh
One Sunday morning, Satan appeared before a small town congregation. Everyone started screaming and running for the front church door, trampling each other in a frantic effort to get away. Soon, everyone was gone, except for an elderly gentleman who sat calmly. Satan walked up to the man and said, "Don't you know who I am?" The man replied, "Yep, sure do." Satan asked, "Aren't you going to run?" "Nope, sure ain't," said the man. Perturbed, Satan asked, "Why aren't you afraid of me?" The man calmly replied, "Been married to your sister for over 48 years."
Monty & Sam
Why did God create alcohol? So ugly people could have sex, too.
juliettaylor
When Paddy's dog died, he took it to the local Catholic church. He asked the preacher if he could have a funeral service for his much loved pet, but the preacher explained that they didn't do services like that for animals. Paddy asked who would and the preacher suggested that the Baptist church up the road would probably give the dog a funeral service. Paddy asked, "Preacher, do you think $5,000 would be enough payment for the dog's funeral?" The preacher relied, "Dearest Paddy, why didn't you tell me that your dog was a Catholic?"
Nina JOBLING
Q: What's the most expensive Jewish wine?
A: "I wanna go to Florida!"
Mark My Words