Categories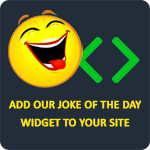 When Paddy's dog died, he took it to the local Catholic church. He asked the preacher if he could have a funeral service for his much loved pet, but the preacher explained that they didn't do services like that for animals. Paddy asked who would and the preacher suggested that the Baptist church up the road would probably give the dog a funeral service. Paddy asked, "Preacher, do you think $5,000 would be enough payment for the dog's funeral?" The preacher relied, "Dearest Paddy, why didn't you tell me that your dog was a Catholic?"
Nina JOBLING
Yo mama is so ugly when the devil saw her, he started praying.
200
What's the difference between a Jewish wife and a Catholic wife? A Jewish wife has real diamonds, a Catholic wife has real orgasms.
Anonymous
Why did God create alcohol? So ugly people could have sex, too.
juliettaylor
What did the Buddhist say to the hot dog vendor? Make me one with everything.
vagrant13