Categories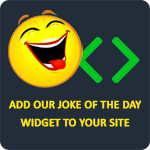 Q: Did you hear about the Buddhist who refused Novocaine during a root canal?
A: His goal: transcend dental medication.
TheLaughFactory
Yo mama is so ugly when the devil saw her, he started praying.
200
Q: What did Gandhi say to the British, after they asked him to move?
A: Nah, mastay.
Anonymous
Why do Mormon women stop having kids at 29? Because 30 is too many!
chuckwarner
Q: What's the most expensive Jewish wine?
A: "I wanna go to Florida!"
Mark My Words