Categories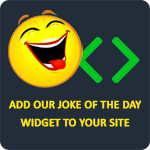 Every ten years, the monks in the monastery are allowed to break their vow of silence to speak two words. Ten years go by and it's one monk's first chance. He thinks for a second before saying, "Food bad." Ten years later, he says, "Bed hard." It's the big day, a decade later. He gives the head monk a long stare and says, "I quit." "I'm not surprised," the head monk says. "You've been complaining ever since you got here."
TheLaughFactory
Q: How does Moses make his tea?
A: Hebrews it.
Anonymous
Q: What does Mortal Kombat and a church in Helsinki have in common?
A: Finnish Hymn!
Anonymous
One Sunday morning, Satan appeared before a small town congregation. Everyone started screaming and running for the front church door, trampling each other in a frantic effort to get away. Soon, everyone was gone, except for an elderly gentleman who sat calmly. Satan walked up to the man and said, "Don't you know who I am?" The man replied, "Yep, sure do." Satan asked, "Aren't you going to run?" "Nope, sure ain't," said the man. Perturbed, Satan asked, "Why aren't you afraid of me?" The man calmly replied, "Been married to your sister for over 48 years."
Monty & Sam
What does the Pope use to cut potatoes? El pela papas.
notacholo