Categories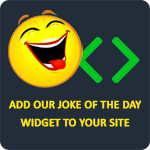 A Jewish businessman in America decided to send his son to Israel to absorb some of the culture of the homeland. When the son returned, the father asked him to tell him about his trip.
The son said, "Pop, I had a great time in Israel. By the way, I converted to Christianity." "Oy vey," said the father. "What have I done?"
He decided to go ask his friend Jacob what to do. Jacob said, "Funny you should ask. I too sent my son to Israel, and he also came back a Christian. Perhaps we should go see the rabbi and ask him what we should do."
So they went to see the Rabbi. The Rabbi said, "Funny you should ask.I too sent my son to Israel. He also came back a Christian. What is happening to our young people? Perhaps we should go talk to God and ask him what to do."
The three of them prayed and explained what had happened to their sons and asked God what to do. Suddenly a voice came loud and clear from Heaven. The Voice said, "funny you should ask, I too sent my son to Isreal..."
adm_hou
A Bible group study leader says to his group, "What would you do if you knew you only had four weeks left before the great Judgment Day?" A gentleman says, "I would go out into my community and minister the Gospel to those that have not yet accepted the Lord into their lives." "Very good!" says the group leader. One lady speaks up and says enthusiastically, "I would dedicate all of my remaining time to serving God, my family, my church, and my fellow man with a greater conviction." "That's wonderful!" the group leader comments. One gentleman in the back finally speaks up loudly and says, "I would go to my mother-in-laws house for the four weeks." The group leader asks, "Why your mother-in-law's home?" "Because that will make it the longest four weeks of my life!"
Anonymous
Contest in a girl's college: write a short story which contains religion, sex and mystery.
Winner's story: "Oh god, I am pregnant, I wonder who did it."
marcus walker
Q: How do you make holy water?
A: Boil the hell out of it.
Silenxio Maximeaning Ultimious
In heaven, the angels asked God where he would spend his next holiday. God said, "Definitely not on Earth. Last time I went there, I left a girl pregnant and those people haven't stopped talking about it since!"
riley