Categories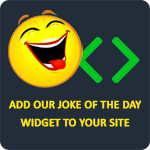 Why did God create alcohol? So ugly people could have sex, too.
juliettaylor
How many Catholic priests does it take to screw in a light bulb? Two. One to screw the light bulb and the other to screw the altar boy in the corner!
secretajntpedro
A priest, a rabbi, and a dwarf walk into a bar and the bartender says, "What is this, some kind of a joke?!"
trailertrashrnr
It's the day of Jesus' crucifixion, and Peter is consoling Mary at the bottom of the hill in Golgotha. Suddenly, Peter hears Jesus calling to him, summoning him up the hill. Frantically, Peter sets off to make his way to his Savior. Unwillingly, he is stopped by two guards. Again, Jesus calls to Peter, and again, Peter attempts to answer, but the guards bring him to a hault. Peter weeps in remorse. One last time, Jesus moans for Peter's appearance. Determined not to fail his Grace, Peter shoves past the standing guards and triumphantly stands at the bleeding feet of his King. "My Lord, anything for you. What is it, my King?" "Peter," Jesus painstakingly replies. "Yes, what is it you must tell me?" Peter anxiously asks. "Peter, I, I, I can see your house from up here."
Bruhkouski
You know what Adam said to Eve? "Watch out, I don't know how big this gets."
Anonymous