Categories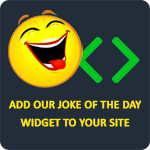 Q: What's the difference between a nun and a woman in a bathtub?
A: One has hope in her soul and one has soap in her hole.
Anonymous
How do you get a nun pregnant? Dress her up as an altar boy!
DarinFox
A Bible group study leader says to his group, "What would you do if you knew you only had four weeks left before the great Judgment Day?" A gentleman says, "I would go out into my community and minister the Gospel to those that have not yet accepted the Lord into their lives." "Very good!" says the group leader. One lady speaks up and says enthusiastically, "I would dedicate all of my remaining time to serving God, my family, my church, and my fellow man with a greater conviction." "That's wonderful!" the group leader comments. One gentleman in the back finally speaks up loudly and says, "I would go to my mother-in-laws house for the four weeks." The group leader asks, "Why your mother-in-law's home?" "Because that will make it the longest four weeks of my life!"
Anonymous
Two nuns were riding their bicycles down the street. The first nun says, "I've never came this way before." The second nun says, "Yeah, it's the cobblestones!"
Stevie
What's faster than a cheetah? A Jew with a coupon!
afshani