Categories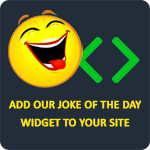 What did the Buddhist say to the hot dog vendor? Make me one with everything.
vagrant13
Why did God create alcohol? So ugly people could have sex, too.
juliettaylor
A bus full of ugly people had a head on collision with a truck. When they died, God granted all of them one wish. The first person said, "I want to be gorgeous." God snapped his fingers and it happened. The second person said the same thing and God did the same thing. This want on and on throughout the group. God noticed the last man in line was laughing hysterically. By the time God got to the last ten people, the last man was laughing and rolling on the ground. When the man's turn came, he laughed and said, "I wish they were all ugly again."
LOVE LAUGH FACTORY
It's the day of Jesus' crucifixion, and Peter is consoling Mary at the bottom of the hill in Golgotha. Suddenly, Peter hears Jesus calling to him, summoning him up the hill. Frantically, Peter sets off to make his way to his Savior. Unwillingly, he is stopped by two guards. Again, Jesus calls to Peter, and again, Peter attempts to answer, but the guards bring him to a hault. Peter weeps in remorse. One last time, Jesus moans for Peter's appearance. Determined not to fail his Grace, Peter shoves past the standing guards and triumphantly stands at the bleeding feet of his King. "My Lord, anything for you. What is it, my King?" "Peter," Jesus painstakingly replies. "Yes, what is it you must tell me?" Peter anxiously asks. "Peter, I, I, I can see your house from up here."
Bruhkouski
How many Catholic priests does it take to screw in a light bulb? Two. One to screw the light bulb and the other to screw the altar boy in the corner!
secretajntpedro