Categories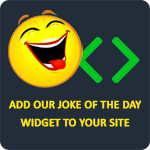 What did the Buddhist say to the hot dog vendor? Make me one with everything.
vagrant13
A man walks into the ladies department of Macy's, walks up to the woman behind the counter and says, "I'd like to buy a bra for my wife." "What type of bra?" asks the clerk. "Type?" inquires the man. "There is more than one type?" "Look around," says the saleslady, as she shows a sea of bras in every shape, size, color, and material. "Actually, even with all of this variety, there are really only three types of bras," replies the salesclerk. Confused, the man asks what the types are. The saleslady replies, "The Catholic type, the Salvation Army type, and the Baptist type. Which one do you need?" Still confused, the man asks, "What is the difference between them?" The lady responds, "It is all really quite simple. The Catholic type supports the masses, the Salvation Army type lifts up the fallen, and the Baptist type makes mountains out of mole hills."
mkriley
A substitute for a Catholic priest is hearing confessions. He is confused about what to recommend a confessor should do to rectify guilt sustained, after doing a sexual favor for her boss. He sticks his head out of the confessional and asks a nearby alter boy what the father gives for a bl*wjob. The alter boy responds, "Usually a Snickers and a ride home."
seanmcgrier12
Why do Mormon women stop having kids at 29? Because 30 is too many!
chuckwarner
The biggest swindler in the world dies and finds himself before the gates of Heaven and St. Peter, who says, "Come on in man!" Confused, the swindler questions, "But I thought I would be going to Hell for all of the bad things I did." St. Peter replies, "Oh, we don't keep records here, it's too much work!" The swindler goes in, and is once again surprised to see tons of beautiful girls whipping themselves. He asks St. Peter, "Why are they doing that?" St. Peter answers, "Ah, those are all of our virgins. They just found out we don't keep records, too!"
renethuh