Categories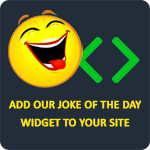 A substitute for a Catholic priest is hearing confessions. He is confused about what to recommend a confessor should do to rectify guilt sustained, after doing a sexual favor for her boss. He sticks his head out of the confessional and asks a nearby alter boy what the father gives for a bl*wjob. The alter boy responds, "Usually a Snickers and a ride home."
seanmcgrier12
Why do Mormon women stop having kids at 29? Because 30 is too many!
chuckwarner
The biggest swindler in the world dies and finds himself before the gates of Heaven and St. Peter, who says, "Come on in man!" Confused, the swindler questions, "But I thought I would be going to Hell for all of the bad things I did." St. Peter replies, "Oh, we don't keep records here, it's too much work!" The swindler goes in, and is once again surprised to see tons of beautiful girls whipping themselves. He asks St. Peter, "Why are they doing that?" St. Peter answers, "Ah, those are all of our virgins. They just found out we don't keep records, too!"
renethuh
Jesus' away message on Good Friday, "BRB."
Lucey
Why did God create alcohol? So ugly people could have sex, too.
juliettaylor