Categories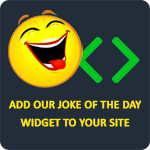 Q: How do you make holy water?
A: Boil the hell out of it.
Silenxio Maximeaning Ultimious
A Jewish businessman in America decided to send his son to Israel to absorb some of the culture of the homeland. When the son returned, the father asked him to tell him about his trip.
The son said, "Pop, I had a great time in Israel. By the way, I converted to Christianity." "Oy vey," said the father. "What have I done?"
He decided to go ask his friend Jacob what to do. Jacob said, "Funny you should ask. I too sent my son to Israel, and he also came back a Christian. Perhaps we should go see the rabbi and ask him what we should do."
So they went to see the Rabbi. The Rabbi said, "Funny you should ask.I too sent my son to Israel. He also came back a Christian. What is happening to our young people? Perhaps we should go talk to God and ask him what to do."
The three of them prayed and explained what had happened to their sons and asked God what to do. Suddenly a voice came loud and clear from Heaven. The Voice said, "funny you should ask, I too sent my son to Isreal..."
adm_hou
Q: What's the difference between a nun and a woman in a bathtub?
A: One has hope in her soul and one has soap in her hole.
Anonymous
A woman starts dating a doctor. She eventually becomes pregnant and they don't know what to do. About nine months later, just about the time she is going to give birth, a priest goes into the hospital for a prostate gland infection. The doctor says to the woman, "I know what we'll do. After I've operated on the priest, I'll give the baby to him and tell him it was a miracle." "Do you think it will work?" she asks. "It's worth a try," he says. The doctor delivers the baby and then operates on the priest. After the operation, he goes to the priest and says, "Father, you're not going to believe this." "What happened?" asks the priest. "You gave birth to a child!" "But that's impossible!" says the priest. "I just did the operation," insists the doctor. "It's a miracle! Here's your baby." About 15 years go by, and the priest realizes he must tell his son the truth. One day, he sits the boy down and says, "Son, I have something to tell you. I'm not your father." The son says, "What do you mean, you're not my father?" The priest replies, "I am your mother. The archbishop is your father."
Kingman
A new priest does his first mass. He is very nervous and he stammers his way through. Afterwards, he approaches the Monsignor to ask how he thought it went. "Well," says the monsignor, "Try a little wine before you do your next mass." So the next time the priest delivers a real fire and brimstone sermon, after which he asks the monsignor, "How did I do this time?" The fellow clergyman replies, "You did well, son, but I need to clear up a few of your misconceptions. First off, it was the Father, Son, and the Holy Spirit, not 'Big Daddy, Junior, and the Spook.' Next, David slew Goliath; he didn't 'whip the shit out of him.' And last of all we are planning a taffy pulling contest here at St. Peter, not a 'Peter pulling contest at St. Taffy.'
Mark My Words