Categories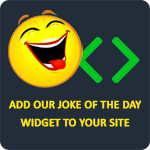 Women are like rocks. They're only cool after they get wet.
Nolan Ramage
A man is walking down the street, when he notices that his grandfather is sitting on the porch in a rocking chair, with nothing on from the waist down. "Grandpa, what are you doing?" the man exclaims. The old man looks off in the distance and does not answer his grandson. "Grandpa, what are you doing sitting out here with nothing on below the waist?" he asks again. The old man slyly looks at him and says, "Well, last week I sat out here with no shirt on, and I got a stiff neck. This was your Grandma's idea!"
Anonymous
Q: Why is sex like math?
A: You add a bed, subtract the clothes, divide the legs, and pray there's no multiplying.
Anonymous
What did the left p*ssy lip say to the right p*ssy lip? "We used to be really tight until you let that d*ck come between us."
comedylover81
Q: What kind of bees make milk instead of honey?
A: Boo-bees
academik