Categories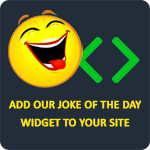 Scientists have proven that there are two things in the air that have been known to cause women to get pregnant: their legs.
Mark My Words
Mickey Mouse is in the middle of a nasty divorce from Minnie Mouse. Mickey spoke to the judge about the separation. "I'm sorry Mickey, but I can't legally separate you two on the grounds that Minnie is mentally insane," said the judge. Mickey replied, "I didn't say she was mentally insane, I said that she's f*cking Goofy!"
5emtio4yra
Q: What is the difference between Tiger Woods and Santa Claus?
A: Santa stops after three hos.
Brandon Lewis
A married man was having an affair with his secretary. One day, their passions overcame them in the office and they took off for her house. Exhausted from the afternoon's activities, they fell asleep and awoke at around 8 p.m. As the man threw on his clothes, he told the woman to take his shoes outside and rub them through the grass and dirt. Confused, she nonetheless complied and he slipped into his shoes and drove home. "Where have you been?" demanded his wife when he entered the house. "Darling," replied the man, "I can't lie to you. I've been having an affair with my secretary. I fell asleep in her bed and didn't wake up until eight o'clock." The wife glanced down at his shoes and said, "You liar! You've been playing golf!"
Anonymous
A wife comes home late one night and quietly opens the door to her bedroom. From under the blanket, she sees four legs instead of just her husband's two. She reaches for a baseball bat and starts hitting the blanket as hard as she can. Once she's done, she goes to the kitchen to have a drink. As she enters, she sees her husband there, reading a magazine. He says, "Hi darling, your parents have come to visit us, so I let them stay in our bedroom. Did you say hello?"
Eddie k