Categories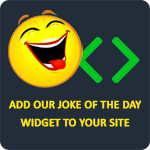 A man boards a plane with six kids. After they get settled in their seats, a woman sitting across the aisle leans over to him and asks, "Are all of those kids yours?" He replies, "No. I work for a condom company. These are customer complaints."
aggtown2010
A mom of an eight year old boy is awaiting her son's arrival from school. As he runs in, he says he needs to talk to her about making babies. He claims he knows about the development of a fetus, but doesn't understand the answer to the million dollar question. Namely, how does the sperm get into the woman? The mom asks the boy what he thinks the answer is. The boy says that the sperm is manufactured in the man's stomach, rises up to his chest, then throat, and into his mouth, where he then kisses the woman and deposits the sperm into her mouth. The mom tells her boy that it is a good guess, but it's wrong. She gives him a hint by telling him that the sperm comes out of the man's penis. Suddenly, the boy's face becomes quite red and he says, "You mean you put your mouth on that thing?"
julia
A boy asks his mom, "Why am I black and you're white?" She says, "Don't even go there. The way that party went, you're lucky you don't bark."
Veronica
I was having sex with my girlfriend the other day and she kept yelling some other guy's name. Who the heck is Rape?
LaughManJon
Grandma and Grandpa were visiting their kids overnight . When Grandpa found a bottle of Viagra in his son's medicine cabinet, he asked about using one of the pills. The son said, "I don't think you should take one Dad, they're very strong and very expensive." "How much?" asked Grandpa. "$10.00 a pill," answered the son. "I don't care," said Grandpa, "I'd still like to try one, and before we leave in the morning, I'll put the money under the pillow. " Later the next morning, the son found $110 under the pillow. He called Grandpa and said, "I told you each pill was $10, not $110. "I know," said Grandpa. "The hundred is from Grandma!"
nellychokler