Categories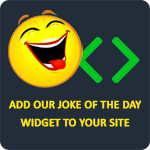 Mickey Mouse is in the middle of a nasty divorce from Minnie Mouse. Mickey spoke to the judge about the separation. "I'm sorry Mickey, but I can't legally separate you two on the grounds that Minnie is mentally insane," said the judge. Mickey replied, "I didn't say she was mentally insane, I said that she's f*cking Goofy!"
5emtio4yra
A man boards a plane with six kids. After they get settled in their seats, a woman sitting across the aisle leans over to him and asks, "Are all of those kids yours?" He replies, "No. I work for a condom company. These are customer complaints."
aggtown2010
Q: What kind of bees make milk instead of honey?
A: Boo-bees
academik
A man gets on a bus, and ends up sitting next to a very attractive nun. Enamored with her, he asks if he can have sex with her. Naturally, she says no, and gets off the bus. The man goes to the bus driver and asks him if he knows of a way for him to have sex with the nun. "Well," says the bus driver, "every night at 8 o'clock, she goes to the cemetery to pray. If you dress up as God, I'm sure you could convince her to have sex with you." The man decides to try it, and dresses up in his best God costume. At eight, he sees the nun and appears before her. "Oh, God!" she exclaims. "Take me with you!" The man tells the nun that she must first have sex with him to prove her loyalty. The nun says yes, but tells him she prefers anal sex. Before you know it, they're getting down to it, having nasty, grunty, loud sex. After it's over, the man pulls off his God disguise. "Ha, ha!" he says, "I'm the man from the bus!" "Ha, ha!" says the nun, removing her costume, "I'm the bus driver!"
Monty & Sam
A man is walking down the street, when he notices that his grandfather is sitting on the porch in a rocking chair, with nothing on from the waist down. "Grandpa, what are you doing?" the man exclaims. The old man looks off in the distance and does not answer his grandson. "Grandpa, what are you doing sitting out here with nothing on below the waist?" he asks again. The old man slyly looks at him and says, "Well, last week I sat out here with no shirt on, and I got a stiff neck. This was your Grandma's idea!"
Anonymous