Categories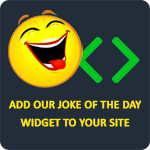 The bell rang for school to start and John walked in late. Mr. Clark asked, "John, why are you late?" He replied, "I was on Cherry Hill." Then he sat down. Ten minutes later Nathan walked in late and Mr. Clark repeated, "Why are you late?" Nathan answered, "I was on top of Cherry Hill." Five minutes later Kevin walked in late and Mr. Clark said to him, "Kevin, where have you been?" Kevin replied, "I was on Cherry Hill." Ten minutes later a girl walked in the classroom and Mr. Clark asked, "Hi there, what's your name?" The girl replied, "Cherry Hill."
Anonymous
They say that during sex you burn off as many calories as running 8 miles. Who the hell runs 8 miles in 30 seconds?
TheLaughFactory
Grandma and Grandpa were visiting their kids overnight . When Grandpa found a bottle of Viagra in his son's medicine cabinet, he asked about using one of the pills. The son said, "I don't think you should take one Dad, they're very strong and very expensive." "How much?" asked Grandpa. "$10.00 a pill," answered the son. "I don't care," said Grandpa, "I'd still like to try one, and before we leave in the morning, I'll put the money under the pillow. " Later the next morning, the son found $110 under the pillow. He called Grandpa and said, "I told you each pill was $10, not $110. "I know," said Grandpa. "The hundred is from Grandma!"
nellychokler
A boy asks his mom, "Why am I black and you're white?" She says, "Don't even go there. The way that party went, you're lucky you don't bark."
Veronica
Why do women wear panties with flowers on them? In loving memory of all the faces that have been buried there.
tiddliewinks