Categories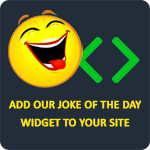 Q: What did the penis say to the condom?
A: "Cover me. I'm going in."
mammad85
A boy asks his mom, "Why am I black and you're white?" She says, "Don't even go there. The way that party went, you're lucky you don't bark."
Veronica
Q: What does the receptionist at the sperm clinic say when clients are leaving?
A: "Thanks for coming!"
TheLaughFactory
They say that during sex you burn off as many calories as running 8 miles. Who the hell runs 8 miles in 30 seconds?
TheLaughFactory
Three words to ruin a man's ego. "Is it in?"
ELIZETH