Categories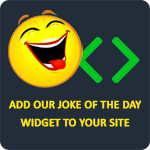 Q: What kind of bees make milk instead of honey?
A: Boo-bees
academik
A man is walking down the street, when he notices that his grandfather is sitting on the porch in a rocking chair, with nothing on from the waist down. "Grandpa, what are you doing?" the man exclaims. The old man looks off in the distance and does not answer his grandson. "Grandpa, what are you doing sitting out here with nothing on below the waist?" he asks again. The old man slyly looks at him and says, "Well, last week I sat out here with no shirt on, and I got a stiff neck. This was your Grandma's idea!"
Anonymous
A married man was having an affair with his secretary. One day, their passions overcame them in the office and they took off for her house. Exhausted from the afternoon's activities, they fell asleep and awoke at around 8 p.m. As the man threw on his clothes, he told the woman to take his shoes outside and rub them through the grass and dirt. Confused, she nonetheless complied and he slipped into his shoes and drove home. "Where have you been?" demanded his wife when he entered the house. "Darling," replied the man, "I can't lie to you. I've been having an affair with my secretary. I fell asleep in her bed and didn't wake up until eight o'clock." The wife glanced down at his shoes and said, "You liar! You've been playing golf!"
Anonymous
A wealthy man was having an affair with an Italian woman for a few years. One night, during one of their rendezvous, she confided in him that she was pregnant. Not wanting to ruin his reputation or his marriage, he paid her a large sum of money if she would go to Italy to have the child. If she stayed in Italy, he would also provide child support until the child turned 18. She agreed, but wondered how he would know when the baby was born. To keep it discrete, he told her to mail him a postcard, and write "Spaghetti" on the back. He would then arrange for child support. One day, about 9 months later, he came home to his confused wife. "Honey," she said, "you received a very strange postcard today." "Oh, just give it to me and I'll explain it later," he said. The wife handed the card over and watched as her husband read the card, turned white, and fainted. On the card was written "Spaghetti, Spaghetti, Spaghetti. Two with meatballs, one without."
89321117
Q: What is the difference between Tiger Woods and Santa Claus?
A: Santa stops after three hos.
Brandon Lewis