Categories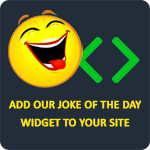 There's an elderly couple who has reached that point in life, where sex isn't part of the itinerary anymore. One night, the wife turns to her husband and says, "Everytime one of us wants to have a bit of a slap and tickle, we just have to say, "Washing machine.'" A night passes, and the husband leans over and whispers, "Washing machine." The wife gives him a shove and informs him that she has a headache. A few nights go by and the same thing happens, but the husband is determined and he reckons he'll just give it one more try. He leans over and whispers seductively, "Washing machine." Yet again, the wife turns him away. However, a few moments pass and the wife's needs arises so she rolls over and recites the word, but the husband turns over and says, "Sorry love, it was only a small wash so I did it by hand."
fe11robk
One day Little Johnny asks his Mum, "How come when I come in to your room you and you're on top of Daddy, you say you're making a sandwich, but after a while I come in again, you're eating a sausage?!"
chloe99
Josey wasn't the best pupil at Sunday school. She often fell asleep and one day while she was sleeping, the teacher asked her a question. "Who is the creator of the universe?" Joe was sitting next to Josey and decided to poke her with a pin to wake her up. Josey jumped and yelled, "God almighty!" The teacher congratulated her. A little later the teacher asked her another question, "Tell me who is our lord and savior?" Joe poked Josey again and she yelled out, "Jesus Christ!" The teacher congratulated her again. Later on the teacher asked, "What did Eve say to Adam after their 26th child?" Joe poked Josey again and she shouted, "If you stick that thing in me again, I'll snap it in half and stick it up your ass!"
I\'m hilarious
Did you hear about the guy who died of a Viagra overdose? They couldn't close his casket.
Anonymous
A professor was giving a lecture on involuntary muscular contractions to his first year medical students. Realizing that this was not the most riveting subject, he decided to lighten the mood. He pointed to a young woman in the front row and asked, "Do you know what your asshole is doing while you're having an orgasm?" She replied, "He's probably playing golf with his friends."
classxsick