Categories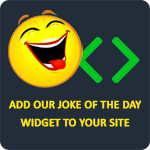 Grandma and Grandpa were visiting their kids overnight . When Grandpa found a bottle of Viagra in his son's medicine cabinet, he asked about using one of the pills. The son said, "I don't think you should take one Dad, they're very strong and very expensive." "How much?" asked Grandpa. "$10.00 a pill," answered the son. "I don't care," said Grandpa, "I'd still like to try one, and before we leave in the morning, I'll put the money under the pillow. " Later the next morning, the son found $110 under the pillow. He called Grandpa and said, "I told you each pill was $10, not $110. "I know," said Grandpa. "The hundred is from Grandma!"
nellychokler
They say that during sex you burn off as many calories as running 8 miles. Who the hell runs 8 miles in 30 seconds?
TheLaughFactory
There's an elderly couple who has reached that point in life, where sex isn't part of the itinerary anymore. One night, the wife turns to her husband and says, "Everytime one of us wants to have a bit of a slap and tickle, we just have to say, "Washing machine.'" A night passes, and the husband leans over and whispers, "Washing machine." The wife gives him a shove and informs him that she has a headache. A few nights go by and the same thing happens, but the husband is determined and he reckons he'll just give it one more try. He leans over and whispers seductively, "Washing machine." Yet again, the wife turns him away. However, a few moments pass and the wife's needs arises so she rolls over and recites the word, but the husband turns over and says, "Sorry love, it was only a small wash so I did it by hand."
fe11robk
One day Little Johnny asks his Mum, "How come when I come in to your room you and you're on top of Daddy, you say you're making a sandwich, but after a while I come in again, you're eating a sausage?!"
chloe99
Why can't you hear rabbits making love? Because they have cotton balls.
denstream