Categories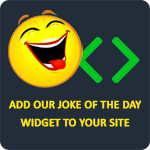 One day Little Johnny asks his Mum, "How come when I come in to your room you and you're on top of Daddy, you say you're making a sandwich, but after a while I come in again, you're eating a sausage?!"
chloe99
Why can't you hear rabbits making love? Because they have cotton balls.
denstream
A professor was giving a lecture on involuntary muscular contractions to his first year medical students. Realizing that this was not the most riveting subject, he decided to lighten the mood. He pointed to a young woman in the front row and asked, "Do you know what your asshole is doing while you're having an orgasm?" She replied, "He's probably playing golf with his friends."
classxsick
Did you hear about the guy who died of a Viagra overdose? They couldn't close his casket.
Anonymous
At school, Little Johnny's classmate tells him that most adults are hiding at least one dark secret, so it's very easy to blackmail them by saying, "I know the whole truth." Little Johnny decides to go home and try it out.

Johnny's mother greets him at home, and he tells her, "I know the whole truth." His mother quickly hands him $20 and says, "Just don't tell your father." Quite pleased, the boy waits for his father to get home from work, and greets him with, "I know the whole truth." The father promptly hands him $40 and says, "Please don't say a word to your mother."

Very pleased, the boy is on his way to school the next day when he sees the mailman at his front door. The boy greets him by saying, "I know the whole truth." The mailman immediately drops the mail, opens his arms, and says, "Then come give your Daddy a great big hug!"
Anonymous