Categories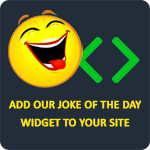 Two friends die. One goes to Heaven and the other goes to Hell. The one that goes to Heaven begs the angel to let him visit his friend in Hell, and the angel agrees. He gets to Hell and sees his friend surrounded by beautiful women and alcohol everywhere. He says to his friend, "Wow, you were a son of a bitch when we were alive! Hell looks better than Heaven." So the friend in Hell says, "Pour yourself a glass of wine." The heavenly friend pours the wine, and notices that the glass has no bottom. The good friend looks at the bad one in confusion, and the bad friend says, "The glass has no bottom, and neither do the girls. Welcome to Hell."
hchristina7
A professor was giving a lecture on involuntary muscular contractions to his first year medical students. Realizing that this was not the most riveting subject, he decided to lighten the mood. He pointed to a young woman in the front row and asked, "Do you know what your asshole is doing while you're having an orgasm?" She replied, "He's probably playing golf with his friends."
classxsick
What do a pizza boy and a gyneocologist have in common? They both smell it but they can't eat it.
Babydoggie
What does Pinocchio's lover say to him? "Lie to me! Lie to me!"
jessicanneby
A super hot chick walks into her church and says to the priest, "Forgive me Father, for I have sinned." The priest says, "Tell me dear, what's on your mind?" "Well Father, I am a sex addict, and lately I discovered that I like doing it with priests. I had sex with the one from the church two blocks from here, the one five blocks from here, and also the one from the church nearby." The priest says, "It's okay, just pray three times a day for one week and it will all be okay." As the girl tries to go out, the priest says, "Oh, and dont forget that I will always be here for you!"
Davidalxnd