Categories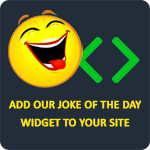 Two friends die. One goes to Heaven and the other goes to Hell. The one that goes to Heaven begs the angel to let him visit his friend in Hell, and the angel agrees. He gets to Hell and sees his friend surrounded by beautiful women and alcohol everywhere. He says to his friend, "Wow, you were a son of a bitch when we were alive! Hell looks better than Heaven." So the friend in Hell says, "Pour yourself a glass of wine." The heavenly friend pours the wine, and notices that the glass has no bottom. The good friend looks at the bad one in confusion, and the bad friend says, "The glass has no bottom, and neither do the girls. Welcome to Hell."
hchristina7
What do a pizza boy and a gyneocologist have in common? They both smell it but they can't eat it.
Babydoggie
Why did the bald man cut a hole in his pocket? He wanted to run his fingers through his hair.
Anonymous
A mom of an eight year old boy is awaiting her son's arrival from school. As he runs in, he says he needs to talk to her about making babies. He claims he knows about the development of a fetus, but doesn't understand the answer to the million dollar question. Namely, how does the sperm get into the woman? The mom asks the boy what he thinks the answer is. The boy says that the sperm is manufactured in the man's stomach, rises up to his chest, then throat, and into his mouth, where he then kisses the woman and deposits the sperm into her mouth. The mom tells her boy that it is a good guess, but it's wrong. She gives him a hint by telling him that the sperm comes out of the man's penis. Suddenly, the boy's face becomes quite red and he says, "You mean you put your mouth on that thing?"
julia
The Penis Study. The American Government funded a study to see why the head of a man's penis was larger than the shaft. After one year and $180,000, they concluded that the reason that the head was larger than the shaft was to give the man more pleasure during sex. After the US published the study, the French decided to do their own study. After $250,000 and three years of research, they concluded that the reason the head was larger than the shaft was to give the woman more pleasure during sex. Canadians, unsatisfied with these findings, conducted their own study. After two weeks and a cost of around $75.46, and two cases of beer, they concluded that it was to keep a man's hand from flying off and hitting himself in the forehead.
jto62t