Categories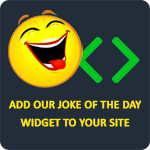 A professor was giving a lecture on involuntary muscular contractions to his first year medical students. Realizing that this was not the most riveting subject, he decided to lighten the mood. He pointed to a young woman in the front row and asked, "Do you know what your asshole is doing while you're having an orgasm?" She replied, "He's probably playing golf with his friends."
classxsick
Did you hear about the guy who died of a Viagra overdose? They couldn't close his casket.
Anonymous
I asked a Chinese girl for her number. She said, "Sex! Sex! Sex! Free sex tonight!" I said, "Wow!" Then her friend said, "She means 666-3629."
Anonymous
Two friends die. One goes to Heaven and the other goes to Hell. The one that goes to Heaven begs the angel to let him visit his friend in Hell, and the angel agrees. He gets to Hell and sees his friend surrounded by beautiful women and alcohol everywhere. He says to his friend, "Wow, you were a son of a bitch when we were alive! Hell looks better than Heaven." So the friend in Hell says, "Pour yourself a glass of wine." The heavenly friend pours the wine, and notices that the glass has no bottom. The good friend looks at the bad one in confusion, and the bad friend says, "The glass has no bottom, and neither do the girls. Welcome to Hell."
hchristina7
What do a pizza boy and a gyneocologist have in common? They both smell it but they can't eat it.
Babydoggie