Categories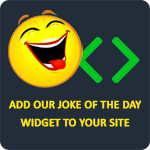 They say that during sex you burn off as many calories as running 8 miles. Who the hell runs 8 miles in 30 seconds?
TheLaughFactory
Q: What did the penis say to the condom?
A: "Cover me. I'm going in."
mammad85
I was having sex with my girlfriend the other day and she kept yelling some other guy's name. Who the heck is Rape?
LaughManJon
Three words to ruin a man's ego. "Is it in?"
ELIZETH
What do a pizza boy and a gyneocologist have in common? They both smell it but they can't eat it.
Babydoggie