Categories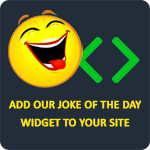 Two friends die. One goes to Heaven and the other goes to Hell. The one that goes to Heaven begs the angel to let him visit his friend in Hell, and the angel agrees. He gets to Hell and sees his friend surrounded by beautiful women and alcohol everywhere. He says to his friend, "Wow, you were a son of a bitch when we were alive! Hell looks better than Heaven." So the friend in Hell says, "Pour yourself a glass of wine." The heavenly friend pours the wine, and notices that the glass has no bottom. The good friend looks at the bad one in confusion, and the bad friend says, "The glass has no bottom, and neither do the girls. Welcome to Hell."
hchristina7
What does Pinocchio's lover say to him? "Lie to me! Lie to me!"
jessicanneby
A mom of an eight year old boy is awaiting her son's arrival from school. As he runs in, he says he needs to talk to her about making babies. He claims he knows about the development of a fetus, but doesn't understand the answer to the million dollar question. Namely, how does the sperm get into the woman? The mom asks the boy what he thinks the answer is. The boy says that the sperm is manufactured in the man's stomach, rises up to his chest, then throat, and into his mouth, where he then kisses the woman and deposits the sperm into her mouth. The mom tells her boy that it is a good guess, but it's wrong. She gives him a hint by telling him that the sperm comes out of the man's penis. Suddenly, the boy's face becomes quite red and he says, "You mean you put your mouth on that thing?"
julia
A super hot chick walks into her church and says to the priest, "Forgive me Father, for I have sinned." The priest says, "Tell me dear, what's on your mind?" "Well Father, I am a sex addict, and lately I discovered that I like doing it with priests. I had sex with the one from the church two blocks from here, the one five blocks from here, and also the one from the church nearby." The priest says, "It's okay, just pray three times a day for one week and it will all be okay." As the girl tries to go out, the priest says, "Oh, and dont forget that I will always be here for you!"
Davidalxnd
Did you know there's a speed limit for sex? When you hit 69, you have to flip a you turn.
pulga10