Categories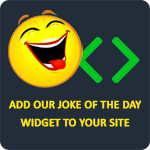 What does Pinocchio's lover say to him? "Lie to me! Lie to me!"
jessicanneby
A super hot chick walks into her church and says to the priest, "Forgive me Father, for I have sinned." The priest says, "Tell me dear, what's on your mind?" "Well Father, I am a sex addict, and lately I discovered that I like doing it with priests. I had sex with the one from the church two blocks from here, the one five blocks from here, and also the one from the church nearby." The priest says, "It's okay, just pray three times a day for one week and it will all be okay." As the girl tries to go out, the priest says, "Oh, and dont forget that I will always be here for you!"
Davidalxnd
Why did I get divorced? Well, last week was my birthday. My wife didn't wish me a happy birthday. My parents forgot and so did my kids. I went to work and even my colleagues didn't wish me a happy birthday. As I entered my office, my secretary said, "Happy birthday, boss!" I felt so special. She asked me out for lunch. After lunch, she invited me to her apartment. We went there and she said, "Do you mind if I go into the bedroom for a minute?" "Okay," I said. She came out 5 minutes later with a birthday cake, my wife, my parents, my kids, my friends, & my colleagues all yelling, "SURPRISE!!!" while I was waiting on the sofa... naked.
Anonymous
I asked a Chinese girl for her number. She said, "Sex! Sex! Sex! Free sex tonight!" I said, "Wow!" Then her friend said, "She means 666-3629."
Anonymous
Why can't you hear rabbits making love? Because they have cotton balls.
denstream