Categories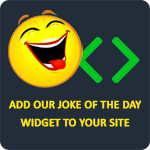 A married man was having an affair with his secretary. One day, their passions overcame them in the office and they took off for her house. Exhausted from the afternoon's activities, they fell asleep and awoke at around 8 p.m. As the man threw on his clothes, he told the woman to take his shoes outside and rub them through the grass and dirt. Confused, she nonetheless complied and he slipped into his shoes and drove home. "Where have you been?" demanded his wife when he entered the house. "Darling," replied the man, "I can't lie to you. I've been having an affair with my secretary. I fell asleep in her bed and didn't wake up until eight o'clock." The wife glanced down at his shoes and said, "You liar! You've been playing golf!"
Anonymous
A mom of an eight year old boy is awaiting her son's arrival from school. As he runs in, he says he needs to talk to her about making babies. He claims he knows about the development of a fetus, but doesn't understand the answer to the million dollar question. Namely, how does the sperm get into the woman? The mom asks the boy what he thinks the answer is. The boy says that the sperm is manufactured in the man's stomach, rises up to his chest, then throat, and into his mouth, where he then kisses the woman and deposits the sperm into her mouth. The mom tells her boy that it is a good guess, but it's wrong. She gives him a hint by telling him that the sperm comes out of the man's penis. Suddenly, the boy's face becomes quite red and he says, "You mean you put your mouth on that thing?"
julia
Why do women wear panties with flowers on them? In loving memory of all the faces that have been buried there.
tiddliewinks
Grandma and Grandpa were visiting their kids overnight . When Grandpa found a bottle of Viagra in his son's medicine cabinet, he asked about using one of the pills. The son said, "I don't think you should take one Dad, they're very strong and very expensive." "How much?" asked Grandpa. "$10.00 a pill," answered the son. "I don't care," said Grandpa, "I'd still like to try one, and before we leave in the morning, I'll put the money under the pillow. " Later the next morning, the son found $110 under the pillow. He called Grandpa and said, "I told you each pill was $10, not $110. "I know," said Grandpa. "The hundred is from Grandma!"
nellychokler
Why did the bald man cut a hole in his pocket? He wanted to run his fingers through his hair.
Anonymous