Categories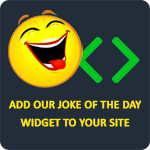 Three words to ruin a man's ego. "Is it in?"
ELIZETH
What do a pizza boy and a gyneocologist have in common? They both smell it but they can't eat it.
Babydoggie
Q: What does the receptionist at the sperm clinic say when clients are leaving?
A: "Thanks for coming!"
TheLaughFactory
One weekend, a husband is in the bathroom shaving when the local kid Bubba he hired to mow his lawn, comes in to pee. The husband slyly looks over and is shocked at how immensely endowed Bubba is. He can't help himself, and asks Bubba what his secret is. "Well," says Bubba, "every night before I climb into bed with a girl, I whack my penis on the bedpost three times. It works, and it sure impresses the girls!" The husband was excited at this easy suggestion and decided to try it that very night. So before climbing into bed with his wife, he took out his penis and whacked it three times on the bedpost. His wife, half-asleep, said, "Bubba? Is that you?"
joejoej13
A mom of an eight year old boy is awaiting her son's arrival from school. As he runs in, he says he needs to talk to her about making babies. He claims he knows about the development of a fetus, but doesn't understand the answer to the million dollar question. Namely, how does the sperm get into the woman? The mom asks the boy what he thinks the answer is. The boy says that the sperm is manufactured in the man's stomach, rises up to his chest, then throat, and into his mouth, where he then kisses the woman and deposits the sperm into her mouth. The mom tells her boy that it is a good guess, but it's wrong. She gives him a hint by telling him that the sperm comes out of the man's penis. Suddenly, the boy's face becomes quite red and he says, "You mean you put your mouth on that thing?"
julia