Categories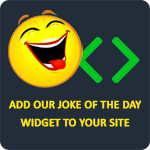 A man joins a soccer team and his new teammates inform him, "At your first team dinner as the new guy, you will have to give us a talk about sex." The evening arrives and he gives a detailed, humorous account of his sex life. When he got home, his wife asked how the evening went and not wanting to lie, but also not wanting to explain exactly what happened, he said, "Oh, I had to make a talk about yachting," his wife thought this a little peculiar but said nothing more and went to sleep. The next day she bumped into one of his new teammates at the supermarket and asked, "I heard my husband had to make a speech last night. How did it go?" His mate said smiling, 'Oh, it was excellent! Your husband is clearly very experienced!." The wife looked confused and replied to his mate, "Strange, he has only done it twice and the second time he was sick."
Anonymous
A group of fathers are sitting around talking about their teenage daughters. One dad says, " I think my 16 year old is smoking; I found a empty cigarette pack under her bed." All the other fathers say in unison, "Oh no!" Then a second dad says, "That's nothing. I found an empty liquor bottle under my 16 year old's bed." All the other fathers say in unison, "Oh dear!" Then a third dad says, "Mine's worse than both of those combined: I went into my 16 year old daughter's room and found a used condom." All the other fathers say in unison, "Jesus Christ!" The third father replies "Yeah, I didn't know she had a dick!"
josh.p. :)
There's an elderly couple who has reached that point in life, where sex isn't part of the itinerary anymore. One night, the wife turns to her husband and says, "Everytime one of us wants to have a bit of a slap and tickle, we just have to say, "Washing machine.'" A night passes, and the husband leans over and whispers, "Washing machine." The wife gives him a shove and informs him that she has a headache. A few nights go by and the same thing happens, but the husband is determined and he reckons he'll just give it one more try. He leans over and whispers seductively, "Washing machine." Yet again, the wife turns him away. However, a few moments pass and the wife's needs arises so she rolls over and recites the word, but the husband turns over and says, "Sorry love, it was only a small wash so I did it by hand."
fe11robk
A professor was giving a lecture on involuntary muscular contractions to his first year medical students. Realizing that this was not the most riveting subject, he decided to lighten the mood. He pointed to a young woman in the front row and asked, "Do you know what your asshole is doing while you're having an orgasm?" She replied, "He's probably playing golf with his friends."
classxsick
Q: What is the difference between Tiger Woods and Santa Claus?
A: Santa stops after three hos.
Brandon Lewis