Categories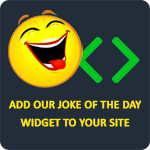 Three words to ruin a man's ego. "Is it in?"
ELIZETH
What do a pizza boy and a gyneocologist have in common? They both smell it but they can't eat it.
Babydoggie
Maria, a devout Catholic, got married and had 15 children. After her first husband died, she remarried and had 15 more children. A few weeks after her second husband died, Maria also passed away. At Maria's funeral, the priest looked skyward and said, "At last, they're finally together." Her sister sitting in the front row said, "Excuse me, Father, but do you mean she and her first husband, or she and her second husband?" The priest replied, "I mean her legs."
Otto Stewart
One weekend, a husband is in the bathroom shaving when the local kid Bubba he hired to mow his lawn, comes in to pee. The husband slyly looks over and is shocked at how immensely endowed Bubba is. He can't help himself, and asks Bubba what his secret is. "Well," says Bubba, "every night before I climb into bed with a girl, I whack my penis on the bedpost three times. It works, and it sure impresses the girls!" The husband was excited at this easy suggestion and decided to try it that very night. So before climbing into bed with his wife, he took out his penis and whacked it three times on the bedpost. His wife, half-asleep, said, "Bubba? Is that you?"
joejoej13
Q: What does the receptionist at the sperm clinic say when clients are leaving?
A: "Thanks for coming!"
TheLaughFactory