Categories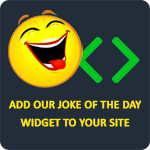 A group of fathers are sitting around talking about their teenage daughters. One dad says, " I think my 16 year old is smoking; I found a empty cigarette pack under her bed." All the other fathers say in unison, "Oh no!" Then a second dad says, "That's nothing. I found an empty liquor bottle under my 16 year old's bed." All the other fathers say in unison, "Oh dear!" Then a third dad says, "Mine's worse than both of those combined: I went into my 16 year old daughter's room and found a used condom." All the other fathers say in unison, "Jesus Christ!" The third father replies "Yeah, I didn't know she had a dick!"
josh.p. :)
What do a pizza boy and a gyneocologist have in common? They both smell it but they can't eat it.
Babydoggie
A girl realized that she had grown hair between her legs. She got worried and asked her mom about that hair. Her mom calmly said, "That part where the hair has grown is called your monkey. Be proud that your monkey has grown hair." The girl smiled. At dinner, she told her sister, "My monkey has grown hair." Her sister smiled and said, "That's nothing; mine is already eating bananas."
Anna Fox
Q: What does the receptionist at the sperm clinic say when clients are leaving?
A: "Thanks for coming!"
TheLaughFactory
A mom of an eight year old boy is awaiting her son's arrival from school. As he runs in, he says he needs to talk to her about making babies. He claims he knows about the development of a fetus, but doesn't understand the answer to the million dollar question. Namely, how does the sperm get into the woman? The mom asks the boy what he thinks the answer is. The boy says that the sperm is manufactured in the man's stomach, rises up to his chest, then throat, and into his mouth, where he then kisses the woman and deposits the sperm into her mouth. The mom tells her boy that it is a good guess, but it's wrong. She gives him a hint by telling him that the sperm comes out of the man's penis. Suddenly, the boy's face becomes quite red and he says, "You mean you put your mouth on that thing?"
julia