Categories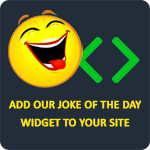 PMS jokes aren't funny. Period.
Silenxio Maximeaning Ultimious
What is a man's ultimate shame? When he runs into a wall with a hard-on and grabs his nose first!
NKEEFER401
How many men does it take to change a roll of toilet paper? I don't know, it has never happened.
LaughFactory
Three women were trapped on an island. They needed to get across the water to the mainland. They came across a genie who said, "I will grant you ladies three wishes." The first woman said, "Turn me into a fish" and she swam across the water to the other island. The second woman said, "Give me a boat" and she rowed to the other side. The third woman said, "Turn me into a man" and she walked across the bridge.
minecrap2000
A boy asked his dad, "What's the difference between a woman and a slave?" His father replies, "I don't know, what?" His son says, "No, I was asking a question."
cayres01