Categories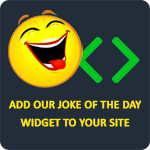 Q: What has eight arms and an IQ of 60?
A: Four guys drinking Bud Light and watching a football game!
P.J
If women aren't supposed to be in the kitchen, then why do they have milk and eggs inside them?!
Anonymous
Doris is sitting in a bar and says to her friend that she wants to have plastic surgery to enlarge her breasts. The bartender tells her, "Hey, you don't need surgery to do that. I know how to do it without surgery." Doris asks, "How do I do it without surgery?" "Just rub toilet paper between them." Fascinated, Doris says, "How does that make them bigger?" "I don't know, but it sure worked for your ass!"
Anonymous
The average woman would rather have beauty than brains, because the average man can see better than he can think.
LaughFactory
One day three women went for a job interview. The man interviewing them posed all three the same question. What would you do if you found an extra €50 in on your paycheck that you shouldn't have received? The first one said, "I'd give it back as it wasn't mine and I wasn't entitled to it." When he asked the second one she replied, "I'd give it to Charity." When he asked the third one, she was more honest and she said, "I'd keep it for myself and go out for a drink." Which one of the three women got the job? The one with the biggest tits!
Marcus Mac An Bhaird