Categories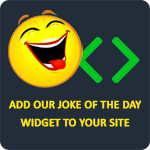 As an airplane is about to crash, a female passenger jumps up frantically and announces, "If I'm going to die, I want to die feeling like a woman." She removes all her clothing and asks, "Is there someone on this plane who is man enough to make me feel like a woman?" A man stands up, removes his shirt and says, "Here, iron this!"
RainbowFish18
I have received hundreds of replies to my ad for a husband. They all say the same thing - "Take mine."
alipatak
Q: When can women make you a millionaire? A: When you're a billionaire.
TheLaughFactory
A man calls 911 and says, "I think my wife is dead." The operator says, "How do you know?" The man says, "The sex is about the same, but the ironing is piling up!"
Aaron Fechter
Doris is sitting in a bar and says to her friend that she wants to have plastic surgery to enlarge her breasts. The bartender tells her, "Hey, you don't need surgery to do that. I know how to do it without surgery." Doris asks, "How do I do it without surgery?" "Just rub toilet paper between them." Fascinated, Doris says, "How does that make them bigger?" "I don't know, but it sure worked for your ass!"
Anonymous