Categories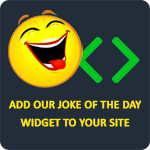 They say that married men live the longest. It's ironic, since they're the ones most willing to die.
ahudson1982
What is a man's ultimate shame? When he runs into a wall with a hard-on and grabs his nose first!
NKEEFER401
Three women were trapped on an island. They needed to get across the water to the mainland. They came across a genie who said, "I will grant you ladies three wishes." The first woman said, "Turn me into a fish" and she swam across the water to the other island. The second woman said, "Give me a boat" and she rowed to the other side. The third woman said, "Turn me into a man" and she walked across the bridge.
minecrap2000
How many men does it take to change a roll of toilet paper? I don't know, it has never happened.
LaughFactory
Two drunks are sitting in a bar when one of them turns to the other one and asks, "Hey, isn't that Hortense?" The other drunk chimes in and says, "No, she looks pretty relaxed to me."
Mark My Words