Categories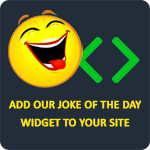 I have received hundreds of replies to my ad for a husband. They all say the same thing - "Take mine."
alipatak
How do you get a dishwasher to dig a hole? Give the woman a shovel!
Scoot32
Doris is sitting in a bar and says to her friend that she wants to have plastic surgery to enlarge her breasts. The bartender tells her, "Hey, you don't need surgery to do that. I know how to do it without surgery." Doris asks, "How do I do it without surgery?" "Just rub toilet paper between them." Fascinated, Doris says, "How does that make them bigger?" "I don't know, but it sure worked for your ass!"
Anonymous
A man is only as faithful as his options.
Chris Rock
I like my women like I like my pizzas: cheap and ready to go.
Emily and Harli