Categories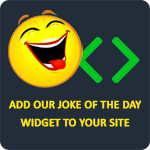 Girl: "Girls are better than boys."
Boy: "Then why did God make boys first?"
Girl: "Duh, you have to have a rough draft before the final copy."
FuzzyPanda123
Two drunks are sitting in a bar when one of them turns to the other one and asks, "Hey, isn't that Hortense?" The other drunk chimes in and says, "No, she looks pretty relaxed to me."
Mark My Words
Did you hear about the gay midget? He came out of the cupboard.
gregorcollins
What did one lesbian vampire say to the other? Same time next month?
FletcherSloan
A man is being arrested by a female police officer, who informs him, "Anything you say can and will be held against you." The man replies, "Boobs!"
Chris Gunson