Categories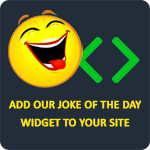 What is a man's ultimate shame? When he runs into a wall with a hard-on and grabs his nose first!
NKEEFER401
How many men does it take to change a roll of toilet paper? I don't know, it has never happened.
LaughFactory
A boy asked his dad, "What's the difference between a woman and a slave?" His father replies, "I don't know, what?" His son says, "No, I was asking a question."
cayres01
PMS jokes aren't funny. Period.
Silenxio Maximeaning Ultimious
Two drunks are sitting in a bar when one of them turns to the other one and asks, "Hey, isn't that Hortense?" The other drunk chimes in and says, "No, she looks pretty relaxed to me."
Mark My Words