Categories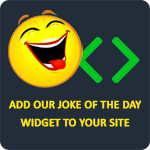 If women aren't supposed to be in the kitchen, then why do they have milk and eggs inside them?!
Anonymous
One day three women went for a job interview. The man interviewing them posed all three the same question. What would you do if you found an extra €50 in on your paycheck that you shouldn't have received? The first one said, "I'd give it back as it wasn't mine and I wasn't entitled to it." When he asked the second one she replied, "I'd give it to Charity." When he asked the third one, she was more honest and she said, "I'd keep it for myself and go out for a drink." Which one of the three women got the job? The one with the biggest tits!
Marcus Mac An Bhaird
The average woman would rather have beauty than brains, because the average man can see better than he can think.
LaughFactory
Q: Why are women's feet so small?
A: So they can stand closer to the sink while washing dishes.
R1234567890ya
They say that married men live the longest. It's ironic, since they're the ones most willing to die.
ahudson1982