Categories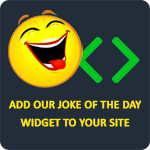 As an airplane is about to crash, a female passenger jumps up frantically and announces, "If I'm going to die, I want to die feeling like a woman." She removes all her clothing and asks, "Is there someone on this plane who is man enough to make me feel like a woman?" A man stands up, removes his shirt and says, "Here, iron this!"
RainbowFish18
I have discovered the answer to a question that has been puzzling scientists for hundreds of years. What is the exact difference between a split second and a nanosecond? My girlfriend and I were getting ready to go to a movie when, right as we were about to leave home, my girlfriend asked me the question all guys dread. She asked, "Does this make my butt look big?" If I had said "no" in a nanosecond, we'd have been out the door. Since I took a split second, she had to go to the mall and buy new outfits with jewelry, shoes, and purses to match.
shedpal
A man is being arrested by a female police officer, who informs him, "Anything you say can and will be held against you." The man replies, "Boobs!"
Chris Gunson
Q: Why do Jewish mothers make great parole officers?
A: They never let anyone finish a sentence!
Bookworm
Girl: "Girls are better than boys."
Boy: "Then why did God make boys first?"
Girl: "Duh, you have to have a rough draft before the final copy."
FuzzyPanda123