Categories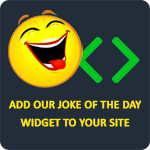 Life is like a penis: women make it hard for no reason.
Lorris Simon
Q: Why are women's feet so small?
A: So they can stand closer to the sink while washing dishes.
R1234567890ya
Three women were trapped on an island. They needed to get across the water to the mainland. They came across a genie who said, "I will grant you ladies three wishes." The first woman said, "Turn me into a fish" and she swam across the water to the other island. The second woman said, "Give me a boat" and she rowed to the other side. The third woman said, "Turn me into a man" and she walked across the bridge.
minecrap2000
They say that married men live the longest. It's ironic, since they're the ones most willing to die.
ahudson1982
A father and son are out shopping for Christmas presents for their family. The son asks, "What present are my sister and I going to get?" The dad answers, "I got you guys an iPad and iPod." "Wow, thanks," the son replies, "What will you give mom?" The dad says, "Your mom is getting an iRon."
zac bailie