Categories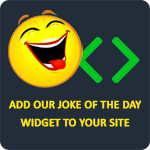 Why not to trust women? It's simple, how can you trust something that bleeds for five days and doesn't die.
Deen1983
How did the medical community come up with the term PMS? Mad Cow Disease was already taken.
Anonymous
How does a man show that he is planning for the future? He buys two cases of beer.
LaughFactory
Did you hear about the gay midget? He came out of the cupboard.
gregorcollins
If women aren't supposed to be in the kitchen, then why do they have milk and eggs inside them?!
Anonymous