Categories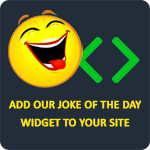 Two drunks are sitting in a bar when one of them turns to the other one and asks, "Hey, isn't that Hortense?" The other drunk chimes in and says, "No, she looks pretty relaxed to me."
Mark My Words
What did one lesbian vampire say to the other? Same time next month?
FletcherSloan
How does a man show that he is planning for the future? He buys two cases of beer.
LaughFactory
Did you hear about the gay midget? He came out of the cupboard.
gregorcollins
What do women and screen doors have in common? The more you bang them, the looser they get.
Paige123